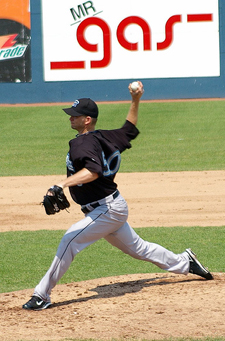 A topic we've hotly debated in the comments over the past few months is A.J. Burnett. He's eligible to opt out of the five-year, $55 million deal he signed after the 2005 season, and most people think he will. After he made his final start of the 2008 season last night, many Blue Jays bloggers bid him adieu, admitting that the chances of his return are slim. The Jays are rumored to be negotiating an extension, but at this point, this close to free agency, it's not probable.
It's not difficult to concoct an argument against signing Burnett. He'll be 32 for the start of the 2009 season, and will likely require a four- or five-year contract with an average annual value of around $15 million, possibly more. That's quite a risk to take on a guy who has just three 200-inning seasons in his career — and followed two of them up with injury-shortened campaigns. In short, taking on Burnett would be a considerable risk.
When he's on, though, he's nearly unhittable. Even with his ERA north of 4.00 this season (though just barely), he's still struck out 231 in 221 innings, walking 86 in that time. His 19 home runs is quite low, too.
One case I've heard for signing him is that he's a Yankee killer, so it makes sense to have him pitching for us instead of against us. He does, after all, hold a career 2.43 ERA against the Yankees in 77.2 innings of work. That alone, though, isn't good enough a reason to ink him. Yeah, he might hurt us if he's pitching for another AL team, though that damage is far lessened by just getting him out of the A.L. East.
You know what other team he's succeeded against? Yep. The Red Sox. In 56.1 career innings against Boston, he's pitched to a 2.56 ERA, including a 2.60 mark over 27.2 innings this year. In four starts, two of them in Fenway, he allowed just two homers, striking out 24 and walking 13. They hit a paltry .206 against him this year, and have managed just a .212 average over his career.
Does this mean that we should sign Burnett? Hardly. It does provide another point for the team to consider, though. Not only does he pitch well against them, but he pitches well against the Sox — and wasn't too shabby against the Rays this year, striking out 26 to 8 walks in 20 innings (3.15 ERA). Which, of course, makes me wonder if the Red Sox will be in on him. While I'm open to the idea of Burnett, I'm not too keen on a bidding war over him. I hope the Yanks front office isn't, either.
Image from flickr user Larry Coor under a Creative Commons license.