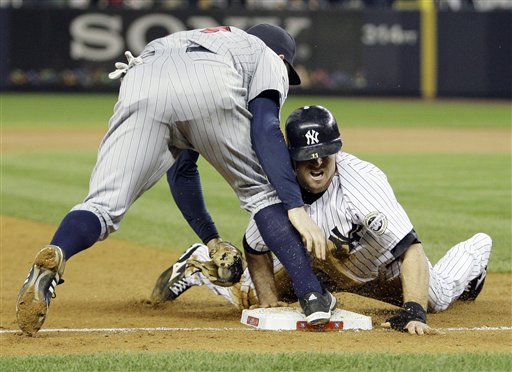 The Twins finished the regular season with the fourth best record in baseball (94-68) and on a three-plus month hot streak that saw them go 47-25 down the stretch. They did that primarily by crushing their own division and the AL West, because their 15-18 record against the AL East is hardly awe-inspiring. Like every other team they have their flaws, some more noticeable than others. Exploiting those weaknesses is going to be important for any team playing the Twins, and it just so happens that they draw the Yankees in the ALDS.
Here are two of Minnesota's biggest drawbacks, two things that the Yankees wouldn't have been able to take advantage of in years past because they lacked a little something called speed.
Running On Carl Pavano
Yankee fans are well aware of their team's problem with allowing stolen bases. Jorge Posada and Frankie Cervelli hardly ever throw anyone out (just 17.3% combined), and some pitchers on the staff seem allergic to holding runners (coughA.J. Burnettcough). The Twins have a bit of a stolen base problem of their own, and it comes in the form of former Yankee Carl Pavano.
Pavano, who has always been slow to the plate, allowed 31 stolen bases in 39 opportunities this year (79.5%). Essentially one out of every seven baserunners with an opportunity to steal have at least attempted it, and most of them were successful. Joe Mauer, who threw out 42.2% of attempted basestealers from 2004-2008 is down to just 26.2% over the last two seasons. He also battled some shoulder soreness this summer, so he's more susceptible to the stolen base than ever before. Brett Gardner, Curtis Granderson, and Derek Jeter need to take advantage in Game Two and swipe bases whenever possible.
It's not just about stealing bases to get runners in scoring position either. Pavano is a ground ball pitcher (51.2% grounders this season) and has gotten a double play in 11.5% of his opportunities this year, so swiping some bases will help avoid those twins killings, particularly when Jeter and his league leading 65.7% ground ball rate are at the plate. Run boys run.
Jason Kubel's Defense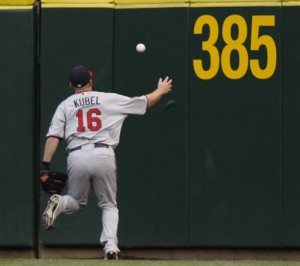 Justin Morneau's injury hurt the Twins in more ways than one. Sure, replacing his .447 wOBA is basically impossible (though Jim Thome did a helluva job trying), but it also forced an unfavorable defensive shift. Michael Cuddyer stepped in as the everyday first baseman, pushing Jason Kubel into rightfield full-time. There's a reason that 60% of Kubel's starts in 2008 and 2009 came as a designated hitter, and that's because the man is awful with the glove.
Over the last three seasons, his -17.5 UZR in right ranks 35th out of 39 qualified fielders (min. 1,000 innings), and that's mostly because of an awful range score (-14.5). Kubel simply doesn't get to all that many balls out there, and that's a bit exacerbated by spacious Target Field. Beyond just catching the ball, his throwing is a big time liability and something the Yanks can absolutely take advantage of.
In baserunning situations such as first-to-third on a single, first-to-home on a double, second-to-home on a single, and sacrifice flies with the runner at second and/or third, Kubel's "hold" rate is just 39.3%. The league average is close to 46%. His "kill" rate checks in at just 3.4%, well below the 6% league average. A "hold" is when he limits to the runner to just one base on a single or two on a double (so first-to-second on a single, not first-to-third, etc.), nothing more. A "kill" is when he actually threw a runner out attempting to take the extra base.
Clearly, Kubel's arm is something guys like Gardner, Granderson, Jeter, Robbie Cano, and even Alex Rodriguez need to exploit. He's very unlikely to throw them out trying to take the extra base, so they should push the envelope as much as possible, particularly with Francisco Liriano on the mound. They simply won't get many opportunities to generate extended rallies against him, so they have to create offense in other ways.
It's also worth noting that Delmon Young is equally awful in left, with a -43.3 UZR over the last three seasons (dead last among qualified fielders). His hold rate on first-to-homes on a doubles, second-to-home to singles, and sacrifice flies to score a run (it's not often a runner goes first-to-third on a single to left, or advances from second on a sac fly) is just 38.3%, his kill rate 5.3%. Like I said earlier, run boys run.
* * *
I know it's hard to believe, but it's not just the Yankees that have weaknesses heading into the playoffs. In addition to the above, the Twins are likely to be without top setup man Jon Rauch because of a knee injury (though he had it drained and claims he's good to go), and their bullpen had the fourth worst strikeout rate in baseball this year at 6.74 K/9. If you're going to let the Yanks put balls in play in the late innings, bad things will happen. With any luck they'll take advantage.