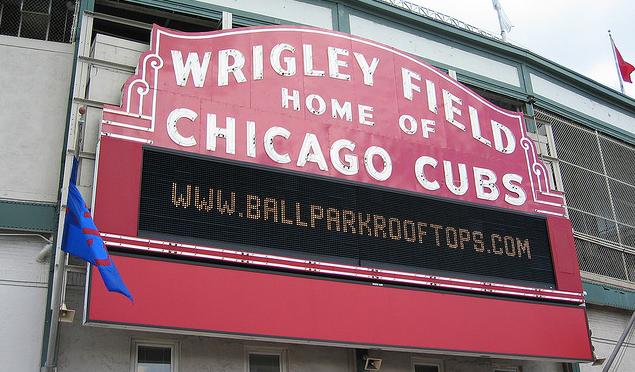 Only interleague play could bring these two storied franchises together, though they're historic for very different reasons. The Yankees have won more World Championships than anyone else while the Cubs have gone more than a century since their last title. Wrigley Field is a homer friendly place, so we could be in for some very high scoring games as the NL park portion of the Yankees' interleague scheduled begins.
What Have The Cubs Done Lately?
The Cubs are gonna Cub. Yesterday's 12-7 win over Zack Greinke and the Brewers was their third win in four games, but just their fifth win in their last 17 games and their 19th win in their last 50 games. At 28-40, Chicago's north siders are ten games back in the NL Central and their -66 run differential is second worst in all of baseball. Talk of a fire sale has been met with "who would take those contracts?" responses. The looks like that World Series drought will extend to 104 years this season.
Cubs On Offense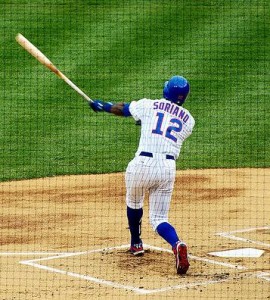 The Cubbies' lineup changes by the day but it's anchored by a handful of stalwarts. Kosuke Fukudome is not the player they thought they were getting with that four year, $48M deal, but you know what? A .301/.409/.419 batting line is fine work from a leadoff guy. Superstar in training Starlin Castro sports a .312/.342/.426 batting line, which is damn impressive for a kid that turned 21 in Spring Training. Yankee killer Carlos Pena is hitting just .211/.355/.402 on the year, but you know he'll have two or three homers by time the series ends. It's just the way it is, he kills them. Aramis Ramirez is the other middle of the order mainstay, though he's at .275/.327/.408 on the season. That's not the Aramis we're used to seeing. Former Yankee Alfonso Soriano is at .275/.300/.538, though he's hit just one homer since hitting eleven in the first month of the season.
Those guys are the core, everyone else just fills in around them. Geovany Soto missed a big chunk of the season due to injury, and he's at just .220/.307/.384 on the year. My fantasy team weeps. You'll hear many references about Darwin Barney being a winner and playing the game the right way and all of that this weekend, but his .294/.321/.359 batting line lacks substance and he was just placed on the disabled list anyway.. Jeff Baker is fresh off the disabled list with a .347/.366/.480 line, then you've got bit pieces Blake DeWitt (.273/.286/.400), Reed Johnson (.362/.423/.652 in limited time), Lou Montanez (.281/.303/.344 in very limited time), Tony Campana (.239/.255/.283 in very limited time), and D.J. LeMahieu (.294/.294/.294 in extremely limited time). Manager Mike Quade fashions a lineup of those guys around Fukudome, Castro, Soriano, Aramis, and Pena.
Overall, the Cubs are limping along with a .264/.319/.390 batting line as a team, pretty much middle of the pack among the 30 clubs. They don't steal many bases (Campana has seven, Castro six) and they're near the bottom of the NL in sacrifice bunts, so they don't do the small ball thing very well. Essentially, Chicago is a power and patience team without much power or patience. Castro's a bonafide stud, but the rest of the offense is a bunch of square pegs jammed into round holes.
Cubs On The Mound
Friday, LHP Doug Davis: Signed to a minor league deal after the season started, Davis has made just six starts so far this year. He's always struck out a fair amount of guys thanks to his big breaking curveball, and he continues to do so this year (8.38 K/9) despite a sky high walk rate (5.59 BB/9). Davis is a typical finesse lefty that throws both a cutter and four seamer in the low-80's with that curveball as well as a changeup. He's one of those guys that can be frustrating because he throws junk and keeps hitters off balance, though the Yankees have to patient and let him work himself into trouble, because he will do it if given the opportunity.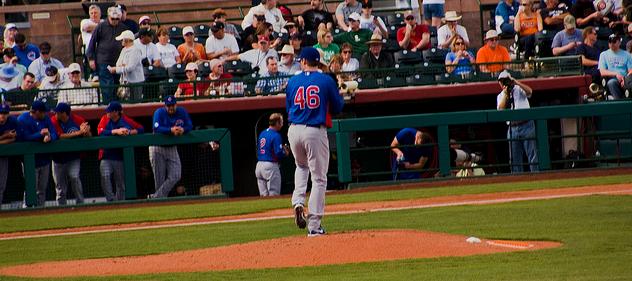 Saturday, RHP Ryan Dempster: Chicago's Opening Day starter, Dempster was absolutely brutal early in the year, like eight homers allowed with a 7.63 ERA in his first five starts brutal. He's settled down since then and looks much more like himself, striking out 8.47 and walking just 2.87 batters per nine innings pitching with a 4.31 ERA in his last ten starts. Dempster will throw strikes and get ground balls with a true five pitch mix. His two and four seam fastballs sit in the low-90's, his put away slider hums in around the mid-80's, and he'll also show a low-80's changeup and a high-80's splitter. He's surrendered two earned runs or fewer in seven of his last nine starts and will be the toughest assignment of the weekend (on paper).
Sunday, RHP Randy Wells: Wells has made four starts since coming off the disabled list (forearm), though he's allowed 15 runs and put 28 men on base in 18 IP during that time. He's usually a ground ball guy (46+% grounder rate last three years) but it's just not happening this season (35.1% grounders), maybe because his fastball velocity fell off a cliff. Wells will usually work with low-90's four and two-seamers, plus low-80's sliders and changeup, but for whatever reason it just hasn't worked for him. Keep an eye on his location, if he's spotting his stuff down in the zone, he'll do alright. Anything at the thigh or above will get crushed.
Bullpen: Remember our old pal Kerry Wood? He did a bang up job for the Yankees down the stretch last year before taking that well below market deal to return to the team that drafted him, and guess what? He's on the disabled list, which is his home away from home. Thankfully it's just a blister this time and nothing serious. Wood's injury puts the setup onus on Jeff Samardzija (41 K but 26 BB in 37.2 IP) and the tremendously underrated Sean Marshall (32 K and nine walks in 32.1 IP). He's a lefty capable of getting anyone out, but the good news is that he threw two innings and 33 pitches last night, so he might not be available today.
The rest of the bullpen seems to be one big revolving door. The only mainstay is lefty specialist John Grabow, who does the job against same side batters but is prone to meltdowns. Rodrigo Lopez (6.57 ERA in 12.1 IP) is the recently acquired long man, former (unsigned) Yankees draft pick Chris Carpenter (seven batters faced, two hits and a walk) the recently called up flamethrower without a defined role. James Russell (5.30 ERA in 37.1) is the swingman with some spots starts under his belt. Oh, I guess I should mention Carlos Marmol. The closer has actually cut his walk rate from 6.0 BB/9 last year to 4.4 BB/9 this year, but his strikeout rate has plummeted from 16.0 K/9 last year to 11.6 this year. More than half of the 400-something batters he's faced over the last two years failed to put the ball in play, but that's who he is. Marmol's just a freak, and I mean that in a good way. His slider might be the best in the game, but damn does he make it interesting. Fun to watch though.
Recommended Cubs Reading: The Cub Reporter
Ticket Info: If you're in Chicago this weekend and want to catch a game or three, make sure you check out RAB Tickets. After the jump is a graphic from the wonderful people at TiqIQ with some pricing info.