In the aftermath of yet another strong Jeff Niemann performance against the Yankees — whose seven-inning, one-run outing last night improved his career ERA against New York to 2.75 over six starts — I couldn't help but wonder what Niemann's overall numbers against the Bombers looked like in relation to other starters that have consistently had success when facing the team.
Going back to the beginning of 2009, here are the top 10 starters against the Yankees by lowest ERA (minimum three starts), courtesy of David Pinto's wonderful day-by-day database:

Most of the names on this list would probably align with Yankee fans' perceptions of pitchers the team typically struggles against — and frankly I was shocked that King Felix's name didn't top the list. His aberrant start last September slightly skewed his numbers, but prior to that completely out-of-character dud, no pitcher in baseball had had more success against the Yankees. Felix had thrown 40 innings of six-run ball (1.35 ERA) against the Yankees, including 24 innings of one-run ball (0.38 ERA!) at Yankee Stadium dating back to the beginning of 2010, and not having been saddled with a loss against the Bombers since May 3, 2008.
However, there are a couple of eye-openers — I can't say I expected Carl Pavano to make the top 10, although I suppose that makes some sense given his unique brand of right-handed slop. And the other is Niemann, who, believe it or not, has the third-lowest ERA among all starters against the Yankees since the beginning of 2009, his first full season in the bigs. Now, I don't mean to knock on Niemann, who clearly has the Yankees' number, but it does seem a bit odd that a hurler who's been a decidedly average — if not below-average — right-hander during his career (102 ERA-; 105 FIP-) would be so successful against the best offensive team in baseball during that timeframe.
For the most part, aside from Niemann and Pavano, almost everyone else in that group makes sense — hard-throwing, high-strikeout right-handers, but I was also curious to see whether there were any other similarities among this group that might uncover why they've routinely stymied the Bombers' bats. Courtesy of Brooks' Pitcher Cards, here's what each pitcher in the top 10 throws and how hard they throw it: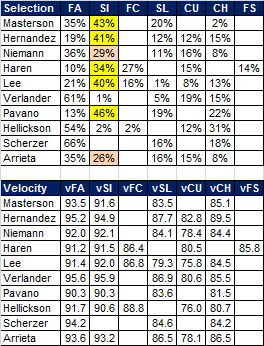 Here's where things get interesting. Four of the top five pitchers in this study throw a sinker more than 30% of the time, and the fifth — Niemann — just misses that cutoff, at 29% of the time. Additionally, both Pavano and Jake Arrieta are also sinker-heavy, which means that seven of the top 10 throw a sinker more than 25% of the time.
Of course, it'd be easy to say, "well maybe the Yankees just stink against sinkers," but that's not even remotely true, as they have the second-best wSI/C in baseball since 2009. Still, there's something about this variety of sinkerballer — several of whom also prominently feature a curve (Hernandez, Niemann, Haren and Arrieta each go to the hook more than 10% of the time) — that seem to have the Yankees' goose cooked.