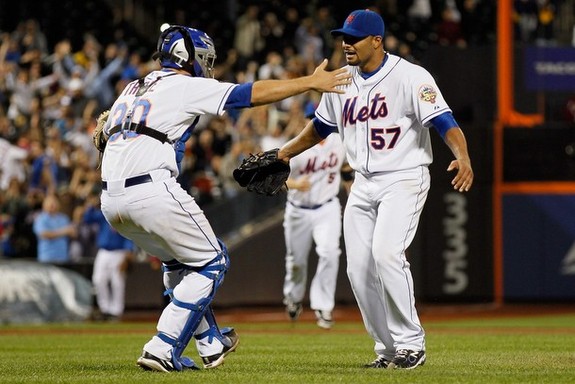 I didn't see the top half of the eighth inning in last night's win  because I was busy watching Johan Santana throw the first no-hitter in Mets history. Having grown up in a family full of Mets fans, it was pretty exciting. I have a bit of a soft spot for the Amazin's though I never actively root for them like I did last night. It was a lot of fun and that's what baseball is supposed to be all about.
As you know, Johan came back this season from major shoulder surgery. He tore the capsule in his left shoulder, the same injury that kept Chien-Ming Wang on the shelf for the better half of two seasons. It was a long road back and Santana deserves a ton of credit for getting back in time for Opening Day and throwing a career-high 134 pitches to finish off the no-no. The Cardinals went into the game leading the NL in AVG, OBP, and SLG, so he certainly earned it.
The Yankees are currently waiting for one of their own to return from a serious shoulder procedure, though it's still kinda weird to consider Michael Pineda a member of the team given the zero meaningful innings he's thrown in pinstripes. His shoulder injury was significant but not as significant as Johan's, who had to have the joint cut open and fashioned back together. Pineda's surgery was arthroscopic, just a scope. That doesn't make it insignificant, but it's better than having an incision.
Santana's no-hitter and successful return from shoulder surgery don't really mean anything as far as Pineda is concerned. The Yankees have invested a lot in the young right-hander — in terms of players, not necessarily money — and need him to become a big part of the future, but it's very easy to feel like he'll contribute nothing of substance to New York and that's disappointing. Pineda is no more likely to make a full recovery today than he was yesterday, but Johan's historic night was a nice little reminder that shoulder surgery is not always a career death sentence.