The 2013 season is over and now it's time to review all aspects of the year that was, continuing today with yet another player who was exposed by far too much playing time.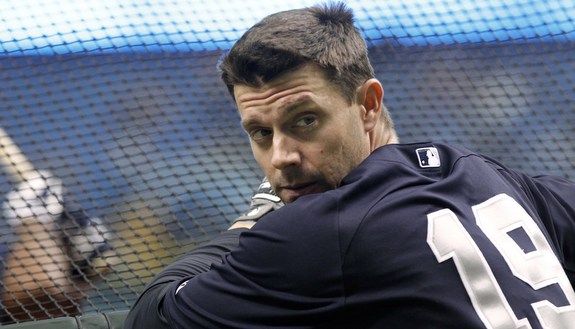 Before every season, usually sometime in Spring Training, MLB's people get together and start piecing together the All-Star ballot. The ballots are released in late-April for fan voting and it takes a few weeks to actually print these things and get them in every ballpark, so they have to prep before the season. As part of that preparation, they confer with every team about their positions and All-Star candidates. Some are obvious, like Robinson Cano at second base for the Yankees. Others aren't so clear.
The Yankees listed Chris Stewart as their catcher on this year's All-Star ballot.
Not Frankie Cervelli, who eventually took over as the starting catcher late in camp and early in the season, but Stewart. The guy who we heard was in line to be the starter all winter after Russell Martin bolted for the Pirates because dammit, his defense was that good. He couldn't hit, but he'll help the team by throwing out runners and framing the hell out of some borderline pitches. The Yankees were planning to play him so much that they dubbed him worthy of the All-Star ballot.
On April 26th, after a foul tip broke Cervelli's hand, Stewart became the starter. It was clear Joe Girardi had little faith in Austin Romine, and, frankly, Romine didn't exactly force the issue either. Stewart was the starter almost by default. He actually wrapped up April with a perfectly fine .294/.333/.382 (97 wRC+) batting line, production any of us would have happily taken over the full season. I would have signed up for that in a heartbeat.
Instead, Stewart predictably crashed. He fell into a 3-for-22 (.192) slump in early-May and hit .240/.286/.360 (73 wRC+) for the month overall. June was more of the same, with an ugly 7-for-37 (.189) stretch and an overall .255/.354/.291 (84 wRC+) line. Romine stole a few starts in early-July and Stewart went into the All-Star break hitting .241/.316/.306 (73 wRC+) with three homers in 170 plate appearances. He had started 54 of the team's 95 games up to that point, more starts than he had in any other full season of his career.
As expected, Stewart completely collapsed in the second half. You can't expect a career backup, even a reasonably young one like Stewart (he turns 32 in February), to suddenly play every single day without wearing down. He went 7-for-49 (.143) in his first 18 games after the All-Star break, dragging his overall season batting line down to .219/.296/.279. This is where I remind you he came into this past season a career .217/.281/.302 hitter. Stewart was played exactly as any reasonable person would have expected.
The second half slide continued all the way through the end of the season, and things got so bad at one point that on September 13th against the Orioles, Stewart struck out on two strikes:
If that's not rock bottom, I don't want to know what is. On the other hand, Stewart did make what might have been the Yankees' best defensive play of the year. I don't remember any better off the top of my head.
Stewart hit an unfathomably bad .169/.262/.226 (37 wRC+) in 124 plate appearances in the second half as Romine and J.R. Murphy saw more playing time behind the plate not necessarily because they earned it, but because Stewart played himself out of the lineup. That dragged his overall season batting line down to .211/.293/.272 (58 wRC+) in 340 plate appearances. Two-hundreds across the slash line board. Among the 32 catchers to bat at least 300 times this year, Stewart ranked 31st in wRC+. J.P. Arencibia (57 wRC+) should be ashamed of himself.
So yeah, Stewart was an unmitigated disaster on offense. I don't think anyone seriously expected otherwise. But what about defensively? Well, Stewart was second in baseball with 12 passed balls — Arencibia had 13 and he had to catch knuckleballer R.A. Dickey — despite ranking 17th in innings caught. He did throw out 17 of 54 attempted base-stealers, a 31% success rate that was quite a bit better than the 26% league average. Pitch framing data is hard to come by, but a late-September update at Baseball Prospectus said Stewart was one of the ten best pitch-framers in the game (but not one of the top five) without giving us a runs saved value. An early-September update at ESPN had him at 17 runs saved. Overall catcher defense is damn near impossible to quantify even these days, but Stewart was obviously very good at framing pitches and a bit above-average at throwing out base-runners, but he didn't do a good job blocking balls in the dirt.
If it wasn't for the pitch-framing, Stewart would have been below replacement level this season, even for a catcher. An above-average but not truly excellent throw-out rate isn't enough to make up for the passed ball issues and overall awful offense, both at the plate and on the bases. Framing pitches is his only redeeming quality and he's lucky he's so good at it, otherwise he probably would have been out of league by now. Similar to Jayson Nix, Stewart is a backup player who is best used once or twice a week but was forced in regular duty this past season. It's not his fault he can't hit or got worn down in the second half, it's the team's fault for putting him in that position in the first place.