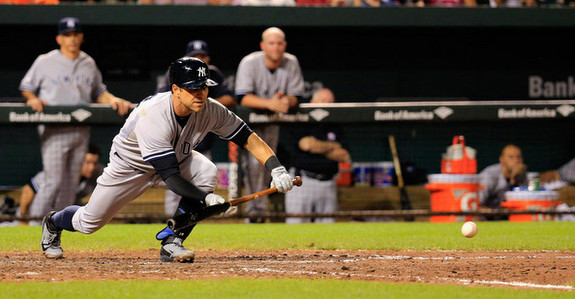 Mark Teixeira returned to the starting lineup and hit a homerun last night after being sidelined for eight days with a mild lower lat strain. That was good to see. Here is another round of injury updates, courtesy of Bryan Hoch, Chad Jennings, and George King.
Michael Pineda (shoulder) threw a 45-pitch simulated game yesterday and it went "really good." He'll begin an official minor league rehab assignment on Sunday. "He will make a start somewhere. Four innings and 60-65 pitches will be his next move. Not exactly sure where it's going to be — they were talking about that today — but it will be a regular game," said Joe Girardi.
Brian Roberts is worn down and will get the next few days off. The 36-year-old has played 91 games this year, his most since 2009. He averaged 48 games played from 2010-13. Being worn down at this point of the season isn't much of a surprise. "He's been beat up pretty good this year physically," said Girardi. "He's dealing with soreness that players have. Legs get beat up, you hit balls off your feet, shins. It's all part of it."
Kelly Johnson (groin) will play in a minor league rehab game or two and is expected to come off the disabled list when eligible next Thursday. Girardi said he may give Johnson more time at second base down the stretch. "It's something I could think about. If we feel there is a need to put him there we will put him there," said the skipper.