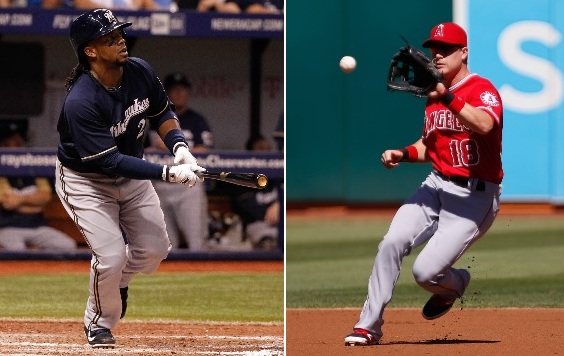 Two weeks ago the Yankees robbed Peter to pay Paul by trading their starting second baseman for rotation help. Martin Prado was swapped for Nathan Eovaldi, leaving the team with a bunch of low cost options at second base. As of right now, Jose Pirela and Rob Refsnyder are expected to compete with non-roster invitees like Nick Noonan, Cole Figueroa, and Jonathan Galvez for the second base job in Spring Training.
Of course, these are the Yankees, and they could always go into free agency and bring in a more veteran second baseman. I don't think it will happen — the team definitely seems to be making a concerted effort to get younger this winter — but I wouldn't rule it out completely either. Among the two most notable free agent second basemen still available are Rickie Weeks and Gordon Beckham, a pair of former elite prospects who didn't quite live up to the hype. Is either a fit for the Yankees? Let's look.
Recent Performance
He wasn't Robinson Cano or anything, but from 2010-11, Weeks was a damn fine player, hitting .269/.360/.466 (126 wRC+) with 58 doubles, 49 homers, and 20 stolen bases in 278 total games. The last three seasons haven't been nearly as productive, however.
| | PA | AVG/OBP/SLG | wRC+ | BABIP | K% | BB% | GB% | wRC+ vs. RHP | wRC+ vs. LHP |
| --- | --- | --- | --- | --- | --- | --- | --- | --- | --- |
| 2012 | 677 | .230/.328/.400 | 97 | .285 | 25.0% | 10.9% | 45.1% | 94 | 108 |
| 2013 | 399 | .209/.306/.357 | 85 | .268 | 26.3% | 10.0% | 49.4% | 79 | 97 |
| 2014 | 286 | .274/.357/.452 | 127 | .355 | 25.5% | 8.7% | 56.7% | 109 | 142 |
Weeks kinda stunk in 2012, got hurt in 2013, then was used mostly as a platoon player in 2014, with 47% of his plate appearances coming against southpaws. It's also worth noting his walk rate has declined because he's swinging at more and more pitches out of the zone — he swung at 18.6% of pitches out of the zone in 2012, and that shot up to 20.7% in 2013 and 25.2% in 2014. And when Weeks swings out of the zone, it can be ugly. Hilarious, but ugly:
As for Beckham, he had a very promising MLB debut in 2009, hitting .270/.346/.460 (109 wRC+) with 14 homers in 430 plate appearances just a year after being the eighth overall pick in the 2008 draft. Since then though, Beckham has hit an awful .241/.300/.361 (79 wRC+) in just over 2,500 plate appearances, including a career-worst 70 wRC+ in 2014. His strikeout (17.0%) and walk (6.4%) rates from 2010-14 were fine, nothing extreme, but he just didn't hit at all. He doesn't have a platoon split either: career 82 wRC+ against righties and 85 against lefties.
This isn't a small sample either. We have nearly 3,000 plate appearances telling us Beckham flat out can not hit MLB caliber pitching. That 2009 debut was nice, but it happened so long ago that it's not even relevant anymore. At this point, the only reasons Beckham remains interesting are his age (just turned 28) and his status as a former elite prospect. And, just for the record, Baseball America ranked Beckham has the 20th best prospect in baseball before the 2009 season, a few spots behind Lars Anderson and a few spots ahead of Matt LaPorta. Yeah, it's been a while since he was a prospect.
Defense & Versatility
One thing Beckham has on Weeks is his versatility. He's spent the vast majority of his career at second base, but he's also played some third base and shortstop, including after being traded to the Angels this past August. Weeks, on the other hand, has never played a position other than second base in his career. In fact, the Brewers asked him to try left field this past season and Weeks said no. That's … not good.
The various defense stats say Beckham has been about average at second base throughout his career, and the samples aren't nearly big enough for the numbers to mean anything about his abilities at short and third. The fact that he's actually willing to play elsewhere is a plus though, at least compared to Weeks. The defense stats crush Weeks at second, by the way. Far below average. Defense and versatility are easily advantage Beckham.
Injury Histories
Weeks missed the final two months of the 2013 season after tearing his left hamstring running out a ground ball, an injury that was severe enough to require surgery. He also has a history of wrist problems: tendon surgery (right wrist) in 2006, inflammation (right wrist) in 2007, and tendon sheath surgery (left wrist) in 2009. Weeks also visited the DL for a knee sprain in 2008 and an ankle sprain in 2011. During his time as an everyday player from 2006-13, Weeks played in only 918 of 1,296 possible games, or 71%. At age 32, he probably isn't getting any healthier.
Beckham, on the other hand, missed a month with an oblique strain this past season and two months with a broken hamate bone in his right wrist early last season. (The hamate required surgery.) Otherwise Beckham has been healthy throughout his career. Some minor day-to-day stuff, but that's it. Oblique and hamstring injuries happen, the wrist injuries are much more worrisome, and Weeks has a longer history of 'em.
Contract Estimates
Both Weeks and Beckham were cut loose by their former teams earlier this offseason — the Brewers declined their $11.5M club option for Weeks while the Angels opted to non-tender Beckham rather than pay him a projected $5M salary in 2015. Both moves were expected and understandable. Because Beckham did not become a free agent until late-November, there are no contract estimates for him anywhere. Here's what we have for Weeks:
Weeks definitely seems like a one-year contract candidate, but, then again, we live in a world where Omar Infante got four years and Brendan Ryan got two years (and a player option!). I wouldn't be surprised if Weeks ends up with two guaranteed years. Also, it's probably worth noting Weeks is very close friends with CC Sabathia dating back to Sabathia's short stint with the Brewers — the photo of super skinny CC that went around last offseason was taken at Weeks' wedding — so, if nothing else, Sabathia could probably serve as a recruiter if the Yankees have interest.
I have to think Beckham is a one-year deal guy — 2015 would have been his final year of arbitration-eligibility, so he won't remain under control in 2016 or anything like that — because he simply hasn't hit for five years now. At least Weeks was pretty good in a limited role this past season. The going rate for free agent utility infielders seems to be $2M or so annually, which makes sense for Beckham. Maybe he gets a little more because he's still young and teams like to spend money. Two years though? For a no hit, average defender? Eh. Hard to see that.
Both Weeks and Beckham will presumably look to join a team that will let them play everyday — the Cardinals reportedly had interest in Weeks as a utility guy but that went nowhere — and the Yankees could give them that opportunity if they really wanted. As I've said before, I'm not a fan of handing non-elite prospects like Pirela and Refsnyder a job out of Spring Training. A veteran to add depth and a safety net ain't a bad idea in my opinion.
Personally, I prefer Beckham over Weeks because he's better able to slide into a traditional utility role and can at least catch the ball. Weeks is terrible in the field and, given the last few years, it's not safe to assume he will hit when playing everyday either. That Beckham is several years younger and figures to cost less are secondary concerns. Based on what they are at this point in time, Beckham seems to be a better fit for the roster. The Yankees haven't shown interest in either as far as we know, but they are among the available options.