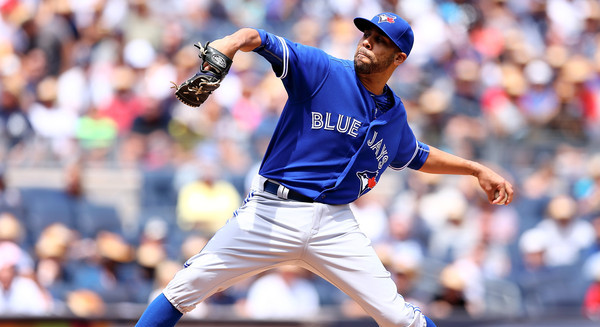 The Yankees swung just one minor deal before the trade deadline ten days ago, landing Dustin Ackley in a three-player swap with the Mariners. The lack of activity was not due to a lack of effort, however. The Yankees were reportedly in on all the available pitchers, starters and relievers, plus some second base candidates. Nothing made sense, I guess. Here are some postmortem trade deadline notes, most via Jon Heyman.
Yanks "shut out" of Price race when Norris was offered
The Yankees tried to acquire David Price before the trade deadline but they and several other teams were "shut out" of the race once the Blue Jays offered lefty Daniel Norris. For what it's worth Luis Severino and Norris were ranked 17th and 18th, respectively, in Baseball America's midseason top 50 prospects list a few weeks ago, but that doesn't mean much. Prospect rankings are subjective as hell and the Tigers could have liked Norris much more than Severino. Could the Yankees have made up the difference by improving the quality of the secondary pieces? Maybe. Doesn't really matter now. The Tigers seemed to prioritize Norris.
Reyes came up in talks
Most people, myself included, figured the Rockies would flip Jose Reyes after landing him in the Troy Tulowitzki trade, either at the deadline or this coming offseason. Heyman says Colorado did not shop Reyes at the deadline but his name did come up in trade talks, and if the Yankees made a call to get involved in talks for Reyes, "they were very brief." Reyes hasn't played second base in more than a decade now and that's the only place he'd fit with the Yankees. Didi Gregorius has made way too much progress this summer to move him off short. I could definitely see "Reyes to the Yankees?" being a thing all winter.
Yankees checked in on Prado
The Yankees were one of several teams to check in on Martin Prado prior to the trade deadline. They were presumably looking to bring him back to play second base, or at least spend some time there while bouncing around other positions. Prado is under contract at a pricey $11M next season — the Yankees are paying $3M of that — and he's not having a good season, hitting .268/.310/.351 (82 wRC+) overall, but he still hits lefties (111 wRC+) and is versatile, which is not nothing. You can do worst for your tenth position player. The Marlins seem to have allusions of contending next year and Prado is penciled in as their starting third baseman.
Yankees planned to platoon Gyorko with Drew
As part of their talks with the Padres about Craig Kimbrel, the Yankees offered to take on at least part of Jedd Gyorko's albatross contract to facilitate a trade. Had it gone down, their plan was to platoon Gyorko with Stephen Drew at second base. Gyorko, who is owed $33M through 2019, is hitting a miserable .218/.284/.336 (78 wRC+) since signing his extension prior to last season, though he has a 118 wRC+ against lefties during that time, including a 148 wRC+ against southpaws this year. Gyorko is only 26, so I guess there is a chance of a rebound, but gosh, betting that much money on it?
Shields clears trade waivers
As expected, James Shields has passed through trade waivers unclaimed, reports Buster Olney. That's not surprising. Big salary guys almost always clear trade waivers. His contract is backloaded — Shields made $10M this year and has $21M annually coming to him from 2016-18 — and I think there's at least a small chance the Padres would have dumped him on the claiming team just to rid themselves of the contract, but no one bit. Shields is having his worst season in a long time (3.75 ERA and 4.22 FIP), and at age 33 with all those innings on his arm, you have to wonder if this is the start of his Sabathia-esque decline. Either way, the Yankees can talk to San Diego about Shields if they want, he's already cleared waivers. Jack Curry says they're not interested, for what it's worth.