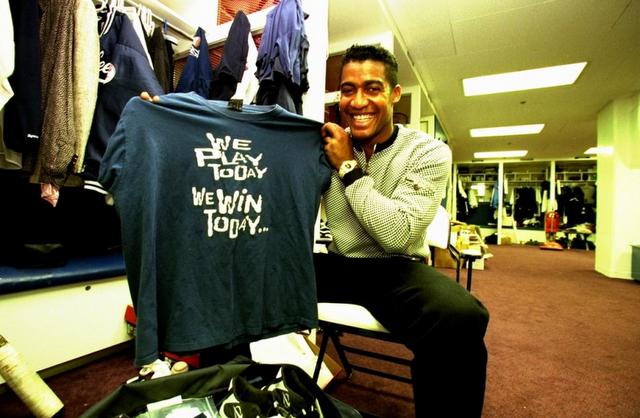 To win a championship in any sport, a team is going to need some players to come out of nowhere and be surprise contributors. Very few teams are truly far above everyone else in terms of talent level and very rarely does everything go right. There are injuries and poor performances, especially in baseball. Those unsung heroes are a necessity to win a title, not a luxury.
In 1996, no player made a bigger out of nowhere contribution to the Yankees than Mariano Duncan. Signed to a two-year contract before the season, the team planned to use the then 33-year-old Duncan as a bench player. He spent the first eleven seasons of his career in the NL and had experience at every position other than pitcher and catcher. Duncan was a quality reserve player.
"I'm here for one reason. I signed with the Yankees to do what's best for the ball club," said Duncan to Charlie Nobles in Spring Training. The Yankees wanted to break in rookie shortstop Derek Jeter with veteran Tony Fernandez sliding over to second base, but Fernandez broke his elbow diving for a ball late in camp. Duncan suddenly went from backup player to starting second baseman.
"I hate to use the word desperate, but we really need to make a deal," said Joe Torre following Fernandez's injury. A deal never came. Jeter started at shortstop, Duncan started at second base, and young Andy Fox made the club as the backup infielder. And it worked perfectly. Jeter was great and Duncan opened the season with an eleven-game hitting streak. He hit .333 and drove in nine runs from the bottom of the lineup during the eleven games.
On July 4th, Duncan's batting line was sitting at .295/.318/.420, which is better than anything the Yankees could have reasonably expected from their utility player turned started second baseman. This is a guy who hit .272/.297/.407 (90 OPS+) in over 2,000 plate appearances from 1991-95. Duncan went 3-for-4 with a triple and a home run on July 5th. His batting average never dipped below .305 the rest of the season.
From that July 5th game through the end of the season, a span of 80 team games, Duncan hit .382/.383/.575 with 21 doubles in 214 plate appearances. He rarely walked as the on-base percentage suggests, but he was living the good BABIP life (.428) and hit close to .400 for half-a-season. On top of that, Duncan was a Grade-A clubhouse dude.
"He's been a good pickup for us," said Torre to Nobles at the end of Spring Training. "Besides being a great utility player, he's outstanding in the clubhouse with the younger players. When you have a guy like that around, he tells the young players what they need to know before you have to."
As Duncan tells it, he and Jeter were working out on the field before a game in the middle of the season. Duncan asked Jeter whether he was ready to play that day, but it didn't come out as intended because English is Duncan's second language.
"We play today?" asked Duncan.
"We win today," Jeter replied.
"Das it," said Duncan.
The slogan for a championship team was born. Duncan had t-shirts made and the Yankees wore them around the clubhouse. Soon fans were bringing banners to the ballpark and hanging them from the facing of the upper deck. "We play today, we win today, das it."
And the Yankees did a lot of winning that summer. At one point from late-April through late-July they went 51-30 during an 81-game stretch. Duncan was not necessarily a catalyst, but he was one of those surprise contributors. He closed out the season with a .340/.352/.500 (112 OPS+) batting line in 417 plate appearances. It was only the second time in his career that he finished a season as a league-average or better hitter.
In the ALDS against the Rangers, Duncan went 5-for-16 (.313) and drove in three runs in four games. His two-out single in the top of the ninth in Game Three capped off the team's come from behind rally and gave the Yankees a 3-2 lead in the eventual win.
Duncan didn't hit a whole lot in the ALCS or World Series — he went 4-for-34 (.118) in the ten games — but he helped the Yankees get there during the regular season and the ALDS. He wasn't supposed to play much at all, remember. The plan was something like 250 at-bats at all sorts of different positions.
Instead, the Fernandez injury pushed Duncan into the everyday second base job, and he ran with it. He had an out of nowhere above-average offensive season, he played solid defense on the middle infield, he was a plus in the clubhouse, and he was responsible for the slogan that stuck with the team all season. They played, they won. Das it.