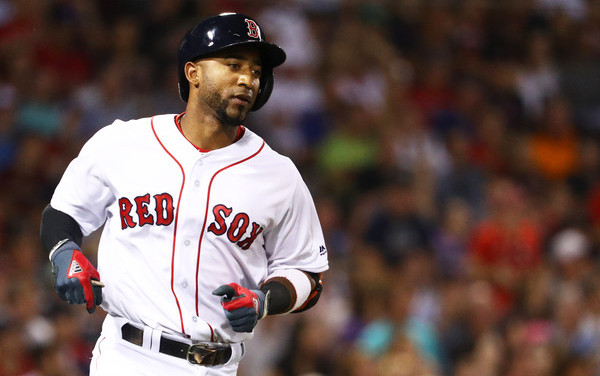 As things stand, the Yankees both have and do not have starting second and third basemen. They traded away Starlin Castro and Chase Headley earlier this month, so the veterans are gone. Young players like Gleyber Torres, Tyler Wade, and Miguel Andujar will soon be able to step in though, either on Opening Day or soon thereafter. The Yankees don't have established second and third basemen, but they do have options.
I have a hard time thinking the Yankees will go into next season with two rookies on the infield. Or one rookie and Ronald Torreyes. It seems pretty risky. I expect the Yankees to nab a veteran infielder at some point this offseason for depth. Not necessarily a big name player that requires a big free agent contract or giving up top prospects in a trade. Just someone who can play the position and be a stopgap until Gleyber and Andujar are truly ready.
One available free agent infielder is former Yankee Eduardo Nunez, most recently of the Red Sox. The Yankees traded Nunez to the Twins almost four years ago now — the move cleared an Opening Day roster spot for Yangervis Solarte — and that trade didn't work out for New York. Miguel Sulbaran, the prospect acquired in the trade, threw 187 bleh innings in the system before being released. Is Nunez a fit for the 2018 Yankees? Let's look.
Offensive Performance
Nunez, now 30, hit .313/.341/.460 (112 wRC+) with 12 home runs and 24 steals in 491 total plate appearances with the Giants and Red Sox this past season. That is broken down into .308/.334/.417 (100 wRC+) with San Francisco and .321/.353/.539 (133 wRC+) with Boston. Nunez had a hot streak after that trade that made people go crazy because OMG the Red Sox did a thing, but he went 21-for-50 (.420) in his first eleven games with the BoSox and 32-for-115 (.278) in 27 games thereafter. It didn't last.
Anyway, Nunez has always done two things very well: make contact and run. His ability to get the bat on the ball and run like hell are his two best traits. Either by design or coincidence, Nunez started hitting the ball on the ground more often after being traded away, which led to consistently higher BABIPs despite no change in his hard contact or strikeout rates.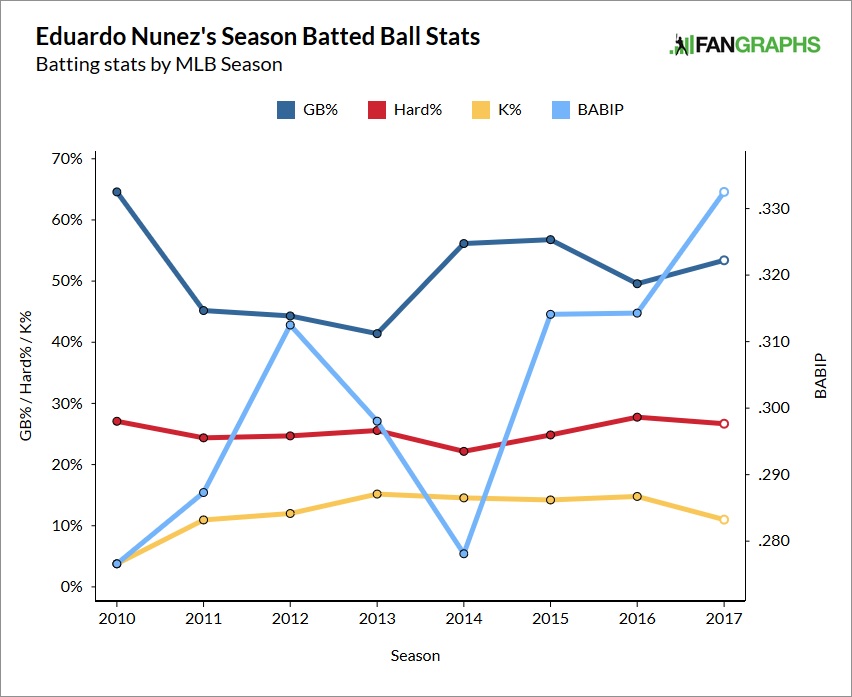 When you're not a big time power guy, putting the ball on the ground and running like crazy can work. Nunez had a .275 expected wOBA based on his batted ball profile in 2017 and a .348 actual wOBA. A year ago he had a .296 xwOBA and a .329 wOBA. The year before that it was .268 xwOBA and a .327 wOBA. Hmmm. That's nearly 1,300 plate appearances with a .283 xwOBA and a .336 wOBA. A 53-point difference across 1,300 plate appearances!
On one hand, the theory behind xwOBA could just be wrong and broken. On the other, Nunez's speed and contact skills may be conducive to him outperforming his batted ball profiles. Pitchers can underperform or overperform their FIP based on the kind of contact they allow. Why can't a hitter underform or overperform his expected wOBA based on the type of contact he generates?
Nunez hit 12 homers this season after hitting 16 last year, his only two double-digit homer seasons. I think part of that is the fact he is in what should be the prime of his career, and part of it is the ball being juiced. I don't think you sign Nunez looking for power production. You sign him for the contact and the ability to run the bases aggressively. Whatever damage he does hitting the ball over the fence is a bonus.
On the bases, Nunez has always been an efficient basestealer — he has a career 79% success rate, and went 24-for-31 (77%) this year and 40-for-50 (80%) last year — who has consistently produced +2 runs on the bases per year throughout his career. Even dating back to his time with the Yankees. In the grand scheme of things, two runs across 162 games is nothing. A stolen base or a first-to-third can mean a whole lot in an individual game though.
Defensive Performance
Good old Eduardo Scissorhands. Nunez came up as a shortstop and is now more of a utility guy who can play all around the infield and even some outfield, just not well. Here are his defensive assignments the last three seasons:
Second Base: 33 games (-7 DRS)
Shortstop: 98 games (-6 DRS)
Third Base: 153 games (-1 DRS)
Left Field: 22 games (-2 DRS)
Right Field: 4 games (+0 DRS)
We all saw Nunez play the field during his time with the Yankees. The dude has a very strong arm and he's quick with good range. He's always had problems with careless errors though, and there are times the game looks too fast for him. Nunez has been known to flub grounders, knock down soft liners, things like that. He's been in the league for parts of eight seasons now and he's played over 4,600 innings in the field. This is just who he is defensively. He makes lots of contact, runs well, will occasionally hit the ball out of the park, and will cost you runs in the field.
Injury History
In his final game of the 2017 season, Nunez had to be carried off the field with a knee injury. He pulled up lame running down to first base in his first at-bat of the ALDS. This is the last time we saw Nunez:
Nunez suffered a posterior cruciate ligament sprain in his right knee on September 9th and did not play again until September 25th, when he reaggravated the injury. He did not play again until Game One of the ALDS — Nunez started at DH in that game — which is when he reaggravated the injury yet again.
"We tried to rush twice because we didn't have a lot of time," said Nunez to Maria Guardado after ALDS Game One. "We did a lot of tests. Obviously no one expected that. I thought I was a little more ready than what I am."
I can't find an update on Nunez since the ALDS, though he didn't have surgery and it seems as though he is expected to be ready in time for Spring Training. I imagine whichever teams signs him will give the knee a thorough examination during his pre-signing physical.
Aside from the knee, Nunez missed a bunch of time with hamstring injuries in 2014, 2016, and 2017. He also had oblique strains in 2013 and 2015. Given the fact he is a speed player, all the lower body injuries (hamstring and knee) are worrisome. Once Nunez starts to lose his legs, that's it. His value on the field will crater.
Contract Estimates
This has been a quiet offseason for Nunez. As of this writing, his MLB Trade Rumors archive has two entries since his September knee setback. One is a free agent profile and the other is a Jon Heyman report saying the Reds Sox, Blue Jays, and "possibly" the Yankees are in play for Nunez. Here are some contract estimates:
Pretty big gap there! MLBTR has Nunez getting less than half the guaranteed money than the FanGraphs crowd. If the market gets Nunez three years and $33M, there's basically no chance the Yankees will be involved. Two years and $14M? Eh, even that might be a little pricey. It seems like New York's best hope involves the knee injury knocking Nunez's price down.
Does He Make Sense For The Yankees?
Yes in that he's an infielder capable of playing second or third base, and that his contact/speed approach would help balance a lineup that features more strikeouts than I think most would like. The problems with Nunez are the knee injury, the price, and his pretty terrible defense. I feel like we wouldn't spend much time talking about Nunez as a free agent target if he hadn't a) played for the Yankees, and b) had that crazy hot streak with the Red Sox.
Personally, I think the Yankees need a more reliable defender on the infield given their ground ball heavy rotation — Yankees starters had a 48.1% ground ball rate in 2017, fifth highest in baseball, and the same five guys will be back in 2018 — and I'd also prefer someone who is healthy too. A pretty serious knee injury is a red flag for a speed guy. Nunez would be an okay stopgap. He'd be fine. That's about it. He's fine.