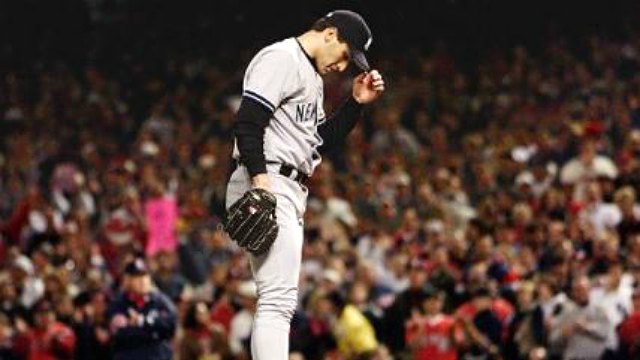 The 1998 Yankees were perhaps the most infallible team in baseball history. They went from a 1-4 start to a 61-20 first half and rode that all the way to the best regular season record in franchise history.
But in the postseason, for one brief moment, they were on the brink. They were seemingly the underdogs. They were ripe for the picking.
That's because as good as the 98 Yankees were, the late 90s Cleveland Indians were a force to be reckoned with, particularly on the offensive side of things. Having appeared in two of the last three World Series, Cleveland was on the verge of a dynasty of its own if the cards broke right and could have very well been known as the American League's team of the 90s.
Mike already detailed their lineup in his Orlando Hernandez piece, but it's worth taking a second look. They had in-his-prime Manny Ramirez, who had hit 45 home runs and driven in a ridiculous 145 runs. Future Hall of Famer Jim Thome, who was batting sixth for some reason despite a team-best 152 wRC+. Travis Fryman, David Justice and Mark Whiten provided a veteran backbone to the lineup while Kenny Lofton and Omar Vizquel combined for 91 steals in what was each of their age-31 seasons.
Yet the Yankees jumped ahead of Cleveland in Game 1 as expected and had David Cone on the hill for Game 2. After how well the Yankees hit in the first inning to blitz Jaret Wright, it seemed like the Bombers would have little trouble with a team that finished with 25 fewer wins than them in the regular season.
Yet Game 2 didn't go according to plan.
***
The Chuck Knoblauch play is what sticks out from the stunning defeat. Future Yankee Enrique Wilson stumbling around third and ending up nearly flat on his face while scoring the winning run, all while Knoblauch (justifiably) protested that Fryman had run in the basepath.
"We were all yelling, 'Get the ball, get the ball,'" Tino Martinez told Jack Curry. "It's just one of those plays."
"If there's a ball rolling around now, I'm sure nine guys will be running after it," Paul O'Neill added a day later. "It's easy to say now. It's almost comical."
But it wasn't just one play that lost the game. No, it was a lackluster offense that did the Yankees in. They stranded six runners in scoring position and only pushed across one run across 12 frames.
Martinez was one of the culprits, putting together just a walk in 10 plate appearances while failing to drive in O'Neill from third in the fourth inning. Knoblauch went hitless in six at-bats and the team was just 7-for-43 against Charles Nagy and six relievers. Welp.
"It's very frustrating," Martinez said to Curry. "I feel good, I'm relaxed and, all of a sudden, I'm trying to make things happen that are not there. I'm swinging at 3-2 pitches that are out of the zone. I'm striking out on bad pitches. I'm trying to do too much instead of letting things happen and unfold."
Still, the team wasn't about to lose its head after one bad game.
"I think it's good for us to come back and keep doing what got us here," Tim Raines said before Game 3. "I don't think anyone is about to jump ship. We still think we've got the best team in the American League. We had opportunities to win that game and we didn't. No one in here thinks it's the end of the world."
***
Game 3 somehow went worse. The Yanks pushed across a run in the first inning and that was it. Just one run once again.
But in this one, it wouldn't be a pitchers' duel; The Cleveland offense came alive and showed what got them there.
Andy Pettitte ran into trouble from the start but worked out of it in the first. But five pitches into the second, Thome homered to draw Cleveland even in the second inning before Wilson put them ahead with an RBI single.
Pettitte had performed well enough in the ALDS to earn the start, but this start would look closer to his lackluster August and September in which he combined for 6.13 ERA in 58 2/3 innings.
So it didn't necessarily surprise when he allowed three home runs, one each to Ramirez, Whiten and Thome, in the fifth inning before he was unceremoniously pulled. The performance had Joe Torre seemingly shaky on Pettitte's status for a potential Game 7 and likely led to his demotion from Game 3 to Game 4 in the World Series.
On the offensive end, the Yankees had a single walk in 12 plate appearances over the last four innings and even that walk was erased on a Derek Jeter GIDP. Bartolo Colon would close out the four-hitter by striking out Martinez.
"It's gut-check time," Cone said to
Buster Olney
. "It's a real character test for this team. We need to come out and win tomorrow night and get the ball back to Boomer in Game 5. And we feel good about that."
***
You know the rest of the story. El Duque begins his legendary postseason career with his dominant Game 4. David Wells outpitched Chad Ogea in Game 5 and the Yankees hit their way to a Game 6 win that was sealed by Jeter (aided by some WTF defense from Manny) and Mariano Rivera.
But as Cone said, the Yankees had a real gut-check moment. They had to overcome a legitimate challenge, one that surely scared fans a bit more after the Yanks blew a 2-1 lead in the 1997 ALDS to the same Indians team. It's not hard to imagine a scenario where the '98 Yanks are more '01 Mariners than '27 Yankees and the world suffered through a Cleveland-San Diego World Series.
Thankfully, the gut-check moment was passed with flying colors.