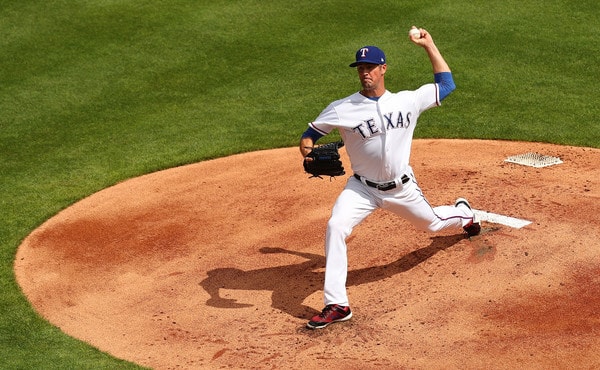 According to Jon Morosi, the Yankees are among the teams included in Cole Hamels' no-trade list. He can block trades to 21 teams and the Yankees are one of the 21. The Rangers are 7-13 so far and they're not expected to contend — FanGraphs has their postseason odds at 1.6% — meaning it is very likely Hamels, an impending free agent, will be available prior to the trade deadline.
So far this season the 34-year-old Hamels has a 4.76 ERA (5.22 FIP) in five starts and 28.1 innings, and he leads MLB in hits (30) and homers (7) allowed. It's also only five starts. Last year Hamels had a 4.20 ERA (4.62 FIP) with a career worst 17.1% strikeout rate in 148 innings around an oblique injury. His strikeout rate has rebounded to 27.0% so far this year.
As you would expect given his age and workload — Hamels averaged 203 innings per season from 2007-16 and is closing in on 2,500 career innings — Hamels has started to lose velocity the last few years. It was down a tick last season and is down another tick this season.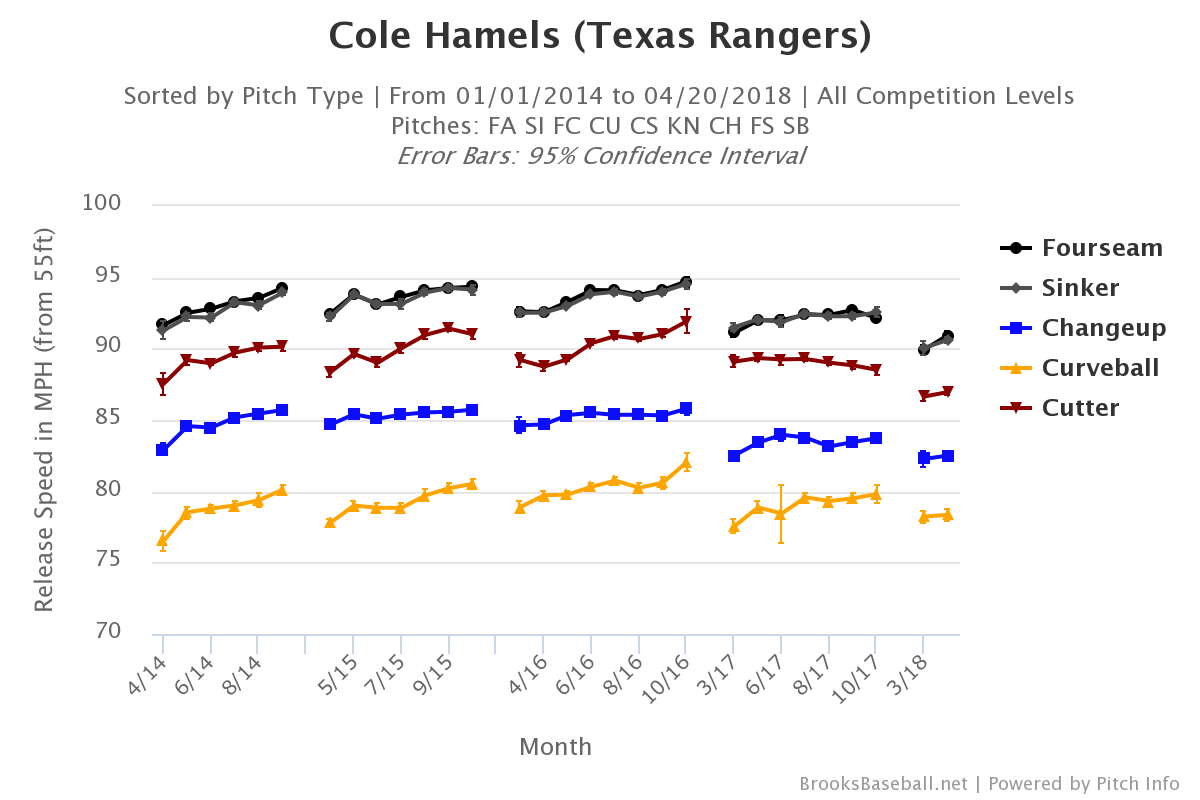 Obviously the season is still young and Hamels figures to add velocity during the summer months like pretty much every pitcher, but a workhorse losing velocity in his mid-30s is not uncommon. The good news is Hamels is still getting a ton of swings and misses on his trademark changeup. The changeup is his moneymaker. As long as that pitch is working, Hamels has a chance.
Hamels is making $23.5M this season and, if the Yankees were to acquire him on the July 31st trade deadline, they'd be charged with an $8M luxury tax hit. They have enough room under the $197M luxury tax threshold to make that work. The problem is there's a $6M buyout on his $20M option for next year, and that buyout counts against the luxury tax. Suddenly that $8M becomes $14M. Hmmm.
Of course, the Yankees could always get the Rangers to eat some salary to make things work under the luxury tax threshold, which would presumably require giving up more players. Hamels is clearly in decline and my guess is the Yankees want a younger pitcher, a more long-term addition. Depending on the team's needs come later this season, Hamels could still make some sense as a secondary rotation pickup. Think Jaime Garcia to Sonny Gray.
Including the Yankees in his no-trade list doesn't necessarily mean Hamels doesn't want to pitch for the Yankees. Players often include big market teams in their no-trade lists because they're the clubs that are a) most likely to acquire him, and b) best able to compensate him for waiving the no-trade clause. Maybe some team is willing to pick up his $20M option in exchange for waiving the no-trade clause. Who knows? Hamels might be able to leverage the no-trade clause into something. That's the point.
Chances are the Yankees will be looking to add a pitcher at the trade deadline and Hamels is likely to be available, so these two are going to be connected at some point. The no-trade list isn't a dealbreaker, necessarily. It's just an obstacle to be cleared. I don't think it'll take a big prospect package to get Hamels given his salary and performance, and hey, maybe he won't be worth acquiring at all come July. It just feels like we're heading for a lot of Yankees-Hamels rumors in the coming weeks.