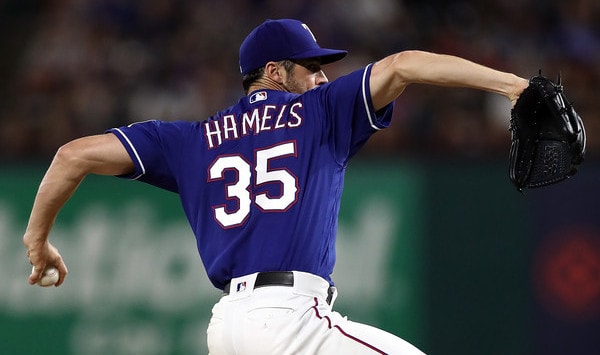 Last night, as the Yankees lost for only the fifth time in their last 27 games, we all got a firsthand look at Rangers lefty Cole Hamels, who figures to be a rather popular player come the trade deadline. He was great, holding the Yankees to two solo homers in seven innings. The Rangers are terrible though, and Hamels is an impending free agent, so it stands to reason he'll hit the trade market at some point.
The Yankees, despite all their success these last few weeks and despite having the fifth lowest ERA+ (120) in baseball, are expected to look for rotation help prior to the deadline. Sonny Gray and Masahiro Tanaka have been inconsistent at best, Jordan Montgomery is hurt, and CC Sabathia's knee is basically start-to-start at this point of his career. Besides, there's no such thing as too much pitching.
The 34-year-old Hamels has pitched well overall this season, throwing 58.2 innings with a 3.38 ERA (4.95 FIP). His strikeout (25.1%) and walk (9.0%) rates are solid. His ground ball (41.3%) and home run (1.69 HR/9) rates are worrisome. Especially since his career rates are 44.7% grounders and 1.02 HR/9. Is this an early season blip? Or is the veteran workhorse beginning to lose a little something?
Naturally, with the Yankees in town this week Hamels was asked about the possibility of being traded to New York at the deadline. Here's the diplomatic non-answer Hamels gave Kevin Kernan about the trade deadline and his future:
"It's kind of the nature of what happens,'' he said. "You get traded once and you understand the possibilities are there. … The Yankees have a tremendous team. I feel like I have a lot left and I've been able to add more pitches and I haven't had a serious injury.''

…

"As you get older and if you are able to play well and keep up what I know I'm capable of doing, then sometimes each year you can be on a different team hunting down the postseason,'' Hamels said. "It's kind of the nature of where I think I am in my career and in my contract and in the situation.''
Over the last few weeks I've found myself going back and forth about Hamels as a trade target. Some days I'm for it and some days I'm against it. Hamels obviously has a strong track record and quality left-handers are always a good fit for Yankee Stadium. On the other hand, is Hamels still a difference-maker who can swap a postseason series at this point of his career? Or merely a solid starter to help get you through the season? Let's talk this out a bit.
1. Hamels has a new pitch. Last season Hamels struck out a career low 17.1% of batters faced. This season his strikeout rate has bounced back to 25.1%, which is in line with his 23.1% career average. Hamels as a new slider to thank for that. We saw it plenty last night. He was throwing down and in to righties all night. Hamels added the pitch in Spring Training and it's working for him. From Gerry Fraley back in March:
"I'm trying to get the Kershaw slider," said Hamels, referring to Los Angeles Dodgers ace and Highland Park resident Clayton Kershaw. "If I can get that, my strikeout rate might go up."
When he first came up back in the day, Hamels was a fastball/changeup/curveball pitcher. Soon thereafter he added a cutter, and then a sinker. Now he's added a slider. Hamels has good pitching aptitude and it's helped him add new weapons over the years. Look at his year-to-year pitch usage: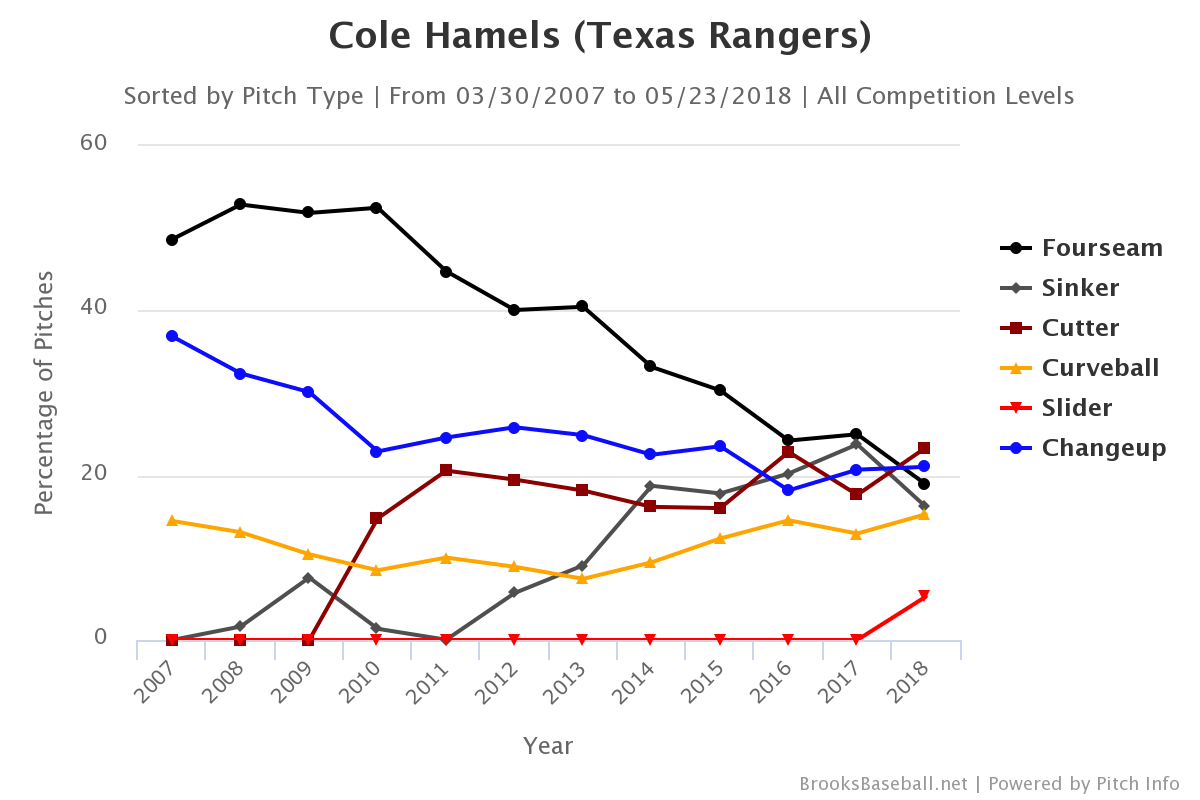 The cutter showed up in 2010, the sinker in 2012-13, and the slider in 2018. Nowadays Hamels uses five pitches (four-seamer, sinker, cutter, changeup, curveball) fairly equally, and he's added a sixth pitch (slider) to mess with hitters. He's thrown 52 sliders this year, 43 in two-strike counts, and opponents have a .154 AVG and a 23.1% swing-and-miss rate against the pitch. Why has his strikeout rate bounced back this season? The slider. That's why.
2. The Yankees are on his no-trade list. As noted last month, Hamels can block trades to 21 teams this season, including the Yankees. That does not necessarily mean he doesn't want to play for the Yankees, however. Here's what Hamels told Randy Miller about having the Yankees on his no-trade list earlier this week:
"It's just a list. Really, it's just kind of like heads up. So I think what it really comes down to is it's something that's there. It just kind of provides a little bit more information, a little bit more bargaining power. That's kind of really what that entails. But at the end of the day, situations kind of come up and I think everybody understands what can transpire. It's just kind of a formality. I don't think it's anything that kind of needs to be looked into too deeply."
The key words there: "a little bit more bargaining power." The no-trade list allows Hamels to request something in return for accepting a trade, and wouldn't you know it, his contract includes a $20M club option for next season. Last year's oblique injury means he won't reach the innings threshold required for the option to vest, but Hamels could demand the option be picked up as a condition for waiving his no-trade clause.
Now, I have no idea whether Hamels wants his option picked up in exchange for waiving his no-trade clause. I'm just throwing that out there as an example of how he can leverage it into something. Having the Yankees — and two-thirds of the league — on his no-trade list does not necessarily mean Hamels doesn't want to pitch in New York. It just means he has more control over the situation. The no-trade clause is something that has to be worked through. It's not a definite dealbreaker.
3. Is he still a difference-maker? He looked like one last night, for sure. But we are still talking about a pitcher with a 4.95 FIP and a 1.69 HR/9 rate, and those are scary numbers. Masahiro Tanaka has a 4.84 FIP and a 1.76 HR/9 right now. I don't get the sense many Yankees fans consider Tanaka a difference-maker at the moment, yet Hamels has similar underlying performance indicators. Hmmm.
The question is not whether Hamels moves the needle for the Yankees. He does. He's better than Domingo German at a minimum. I'd argue he'd be no worse than the team's third best starter. In that sense, Hamels is a clear upgrade and that makes him worth acquiring. The better question, however, is whether Hamels moves the needle enough? I don't think he'll come cheap, even as a rental. Should the Yankees look for a better — not to mention a younger and potentially more long-term — starter before packaging prospects for Hamels?
Fortunately this is not a question that has to be answered now. Unless the Rangers surprisingly rush into a trade before the end of the month, Hamels will remain with Texas for a few more weeks, as they attempt to create a bidding war before the trade deadline. The Yankees can let the market develop, see who else is out there and who else becomes available, then decide how to spend their prospects and available luxury tax payroll space.
* * *
Hamels has pitched very well his last four times out (five runs in 24 innings) and he's made those four starts against the Yankees, Indians, Red Sox, and Astros. Basically the four best teams in the American League. His performance is trending in the right direction, he has a new slider that explains the uptick in strikeouts, and he has championship pedigree (2008 NLCS and World Series MVP with Phillies). Those are all positives.
The question is not whether Hamels would make the Yankees better. He obviously would. The question is whether a 34-year-old rental with home run issues is the right guy — the guy who will put the Yankees over the top — to target at the deadline. The Yankees have time on their side. My preference would be to look for a younger pitcher with more long-term upside and team control, but if that type of pitcher doesn't become available, the Yankees can always shift gears and look at Hamels.