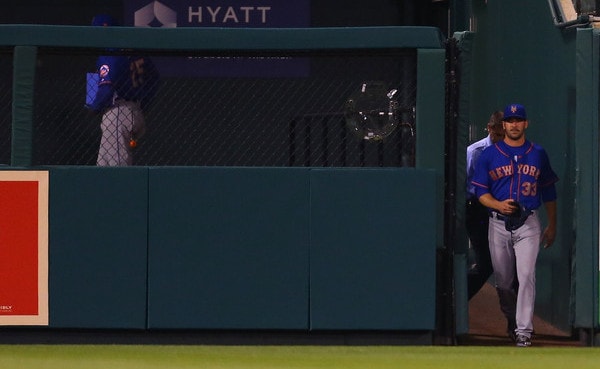 Over the weekend the Mets made headlines when they cut ties with Matt Harvey, their former ace, and designated him for assignment rather than continue to try to get him right. Harvey allowed 21 runs in 27 innings before being designated, and since coming back from Thoracic Outlet Syndrome surgery last year, he has a 6.77 ERA (6.22 FIP) in 119.2 innings. Egads.
There is only one way this ends: Harvey will become a free agent. The Mets have until Sunday to trade, release, or waive him, but I highly doubt a team will trade something for him when they know he'll be a free agent within a week. Either the Mets will release Harvey, or he'll clear waivers — a near certainty given him $5.625M salary — and he'll elect free agency. He'll be a free agent able to sign with any team for the pro-rated league minimum.
Harvey, 29, refused a Triple-A stint before being designated. That is his collectively bargained right as a player with more than five years of service time. Whichever team signs Harvey will likely want him to make a few minor league tune-up starts, and agent Scott Boras indicated to Joel Sherman that Harvey is willing to pitch in the minors for another team despite refusing to do so with the Mets.
"(The Mets) wanted him to pitch in the minors. We agreed that was not the best situation to work again on a Major League level as a starter," said Boras to Sherman. "Going into a new organization you can map out an approach. Once you are sent to the minors by the Mets, they have total control of how long you are there. There is no forecast. It is, 'We will see how you do.'"
Given who he is and what he's accomplished in his career — Harvey was a legitimate ace-caliber pitcher from 2012-15 — and the fact the Yankees could are in perpetual need of more pitching, it's only natural to wonder whether Harvey could land in the Bronx. Don't count on it though. Brendan Kuty hears it's not going to happen. "Don't bet on it," heard Kuty from a source. Yeah. There are likely two reasons the Yankees won't aggressively pursue Harvey.
1. He's simply isn't any good these days. Sad but true. Injuries have sabotaged Harvey's career. He had Tommy John surgery and Thoracic Outlet Syndrome surgery, two procedures that are bad on their own, and nearly impossible to recover from when combined. Chris Carpenter is pretty much the only guy who's come back from both surgeries to have success. Luke Hochevar had the same surgeries at the same time as Harvey and has yet resume pitching.
Harvey threw 216 innings during the Mets' run to the World Series in 2015, the most ever by a pitcher in his first year back from Tommy John surgery. Since the start of 2016, he has a 5.93 ERA (5.02 FIP) with 17.1% strikeouts and 8.5% walks in 212.1 innings. Pretty crummy. Yes, Harvey is very naturally talented, but the injuries have made him unable to do the things he once did. There's not much reason to believe the old Harvey is coming back after those injuries.
2. He comes with off-the-field baggage. Fair or not, the perception is Harvey's a headache. He's had a few off-the-field incidents — nothing serious like an arrest, he's just a party guy — and it's a distraction. Harvey went to a restaurant opening in Los Angeles when the Mets were in San Diego last week and it became a Very Big Deal. This is the way Harvey is covered. Everything is presented in a negative light and it hangs over the team.
Those headaches are something teams are willing to deal with when a guy is pitching like an ace. When he's throwing batting practice like Harvey, it's no longer worth it. The Mets know him better than anyone — they know his personality, his health, his work ethic, all that — and they decided to simply cut their losses and dump their erstwhile ace. An unceremonious end to what was a very exciting time in Flushing. The Yankees have a great thing going right now and they don't want to bring in anyone who could disrupt the clubhouse.
* * *
Domingo German was great yesterday afternoon, but there's no such thing as too much pitching, and the Yankees could use another starter with Montgomery out. Harvey is a big name and he does have pedigree, but injuries (moreso than the off-the-field stuff) have turned him into a shell of what he once was. It sucks. Baseball is cruel. Some team will sign him — an NL team with a big park always makes sense in these situation — because guys like Harvey always get second and third and fourth chances.
Keep in mind Harvey has a say in this process too, and while he grew up a Yankees fan in Connecticut, attempting to rebuild value in Yankee Stadium probably isn't the best move at this point of his career. A non-contender in a big park who can run him out there every five days and let him take his lumps is the best spot for him. There is no such thing as a bad minor league contract and hey, maybe the Yankees will sign Harvey anyway. It just seems the potential reward isn't very high at this point, and the potential headaches just aren't worth it.