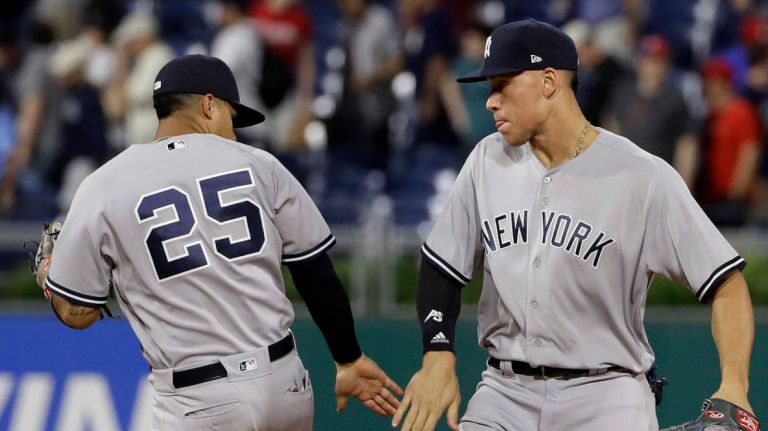 Rebound in Philly
One day after suffering through a nightmare weekend at the Trop, the Yankees headed north and snapped their three-game skid with a 4-2 win over the Phillies on Monday night.
With the victory, the Yankees improved to an MLB-leading 24-9 (.727) against teams with a winning record. Sounds impressive, eh? Yup, it would be the best winning percentage by a team in the Modern Era (since 1900) in games versus opponents with a better than .500 record; the 1906 Cubs (31-12, .721) currently hold the top mark.
Jonathan Loaisiga was brilliant as he retired the first 12 batters (including seven via strikeout) and took a no-hitter into the sixth inning before giving up a leadoff single to Jorge Alfaro. He finished his stellar outing with one hit allowed and eight strikeouts in 5 2/3 scoreless innings.
At the age of 23 years and 235 days old, he became the second-youngest pitcher in franchise history to allow no more than one hit, strike out at least eight batters and not give up a run in a game. The only guy younger was a 22-year-old Al Downing when he threw a one-hit, 10 strikeout shutout against the White Sox on July 2, 1963.
And this performance combined with his five-inning scoreless debut on June 15 earns him our #FunFact of the series: He is the first pitcher in franchise history to go at least five innings, allow three hits or fewer and zero earned runs in two of his first three career games.
How dominant was Jonny Lasagna? Not only did he strike out nearly half (8) of the 19 batters he faced, but Alfaro's single was the only ball that left the infield. Of the eight batted balls that went fair, just one was hit harder than 96 mph.
One of the keys to his excellent performance was his ability to execute with two strikes and putaway batters. 13 of the 19 batters went to two strikes on Monday, and Loaisiga retired 11 of them, with one hit and one walk allowed. In his first two starts, nine of the 26 batters (35%) that got into two-strike counts against him reached base.
Aaron Judge gave the Yankees a 2-0 cushion in the fifth with a screaming line drive homer to left field.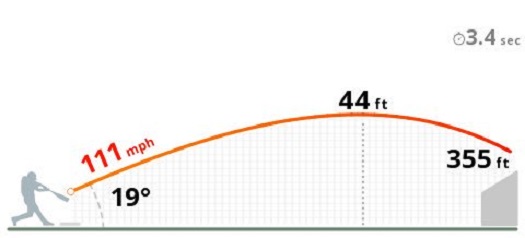 It was his 20th longball of the season, the second straight year he reached that milestone this early into the schedule (team game number 76). He is the first right-handed batter in team history to do that in consecutive seasons, and the list of all Yankees to do it back-back years in a short one:
Aaron Judge (2017-18)
Curtis Granderson (2011-12)
Roger Maris (1960-61)
Mickey Mantle (1956-58, 1960-61)
Lou Gehrig (1929-32)
Babe Ruth (1920-21, 1923-24, 1926-28, 1930-33)
Thank you, Cy Sevy
The Yankees continued to build momentum following their miserable series in Florida as they beat up on the Phillies for a second straight night on Wednesday. The 6-0 blanking was their biggest Interleague shutout win on the road in a decade, since they whitewashed the Mets 9-0 at Shea Stadium in the second game of the two-stadium doubleheader on June 27, 2008.
Aaron Hicks jump-started the offense with a lead-off homer on the third pitch of the game. It was his first lead-off shot in pinstripes (er, road grays), and the first by any Yankee in an Interleague game since Derek Jeter hit one on June 20, 2012 against the Braves.
Didi Gregorius capped off the scoring with his 15th home run of the season in the fifth inning, the third season in a row he's reached that mark. The only other MLB shortstops with at least 15 dingers in each of the last three years (2016-18) are Trevor Story and Francisco Lindor.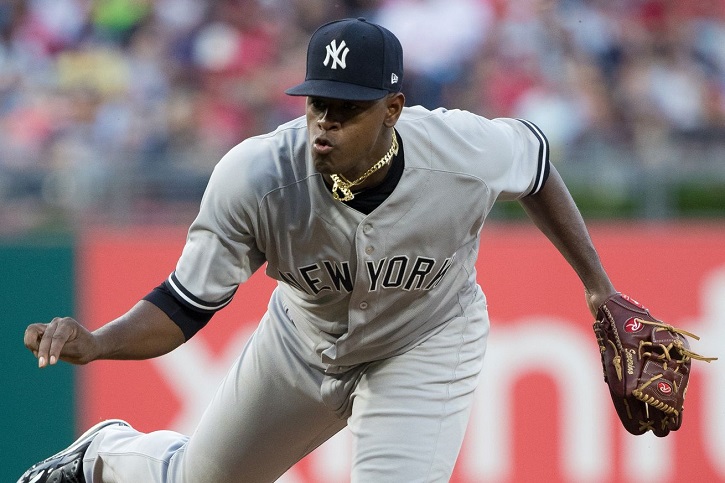 The best Yankee performance of the night was delivered by Luis Severino, who tossed seven scoreless innings with nine strikeouts. He was in complete control of nearly every at-bat, aggressively attacking hitters early as he threw first-pitch strikes to 23 of 26 batters, a career-best rate of 88.5 percent.
His electric, high-octane fastball was in peak form — its average velocity of 98.6 mph was the second-highest of his career — as he used it both to get ahead in the count and finish off batters. Of the 23 first-pitch strikes he threw, 21 came with his four-seamer. He also ended four of his nine strikeouts with 99-plus mph fastballs, and now has 20 strikeouts with pitches of at least 99 mph. Every other starting pitcher in MLB combined for 22 strikeouts on pitches 99 mph or faster (through Tuesday).
Despite the near-triple-digit radar readings on his fastball, the pitch wasn't a swing-and-miss weapon for Severino. Instead, the excellent movement and deception of the pitch (especially relative to his sharp-breaking slider), combined with his ability to pound the zone, consistently fooled the Phillies batters. He got a career-best 20 called strikes with his four-seamer and only a couple of them were on the edges of the zone: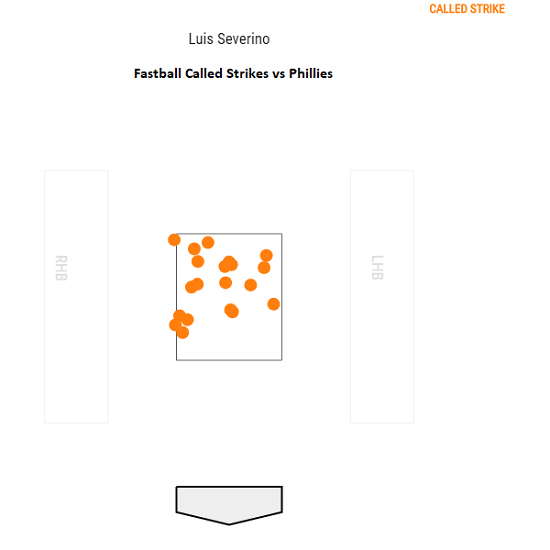 This was his fifth scoreless start with at least seven strikeouts in 2018, the most of any pitcher in the majors this season. He's also the first pitcher in franchise history to throw five such starts in the first half of a season.
And, in case you need some visual proof that Severino belongs on the list of baseball's most elite pitchers, our favorite stat ….
Most Starts 1 R or Fewer Allowed Since 2017:

Luis Severino 24
Max Scherzer 22
Chris Sale 22
Justin Verlander 22

— Katie Sharp (@ktsharp) June 27, 2018
No runs, no win, no sweep
There would be no sweep in Philly as the Yankees offense went M.I.A on Wednesday night and sleepwalked through a listless 3-0 loss.
They've now been shut out three times this season, matching their entire total from 2017. All three blankings have come in June and all three have come on the road. The only other time since 1990 that the Yankees suffered three road shutouts in a single calendar month was when they had five(!) in September 2016.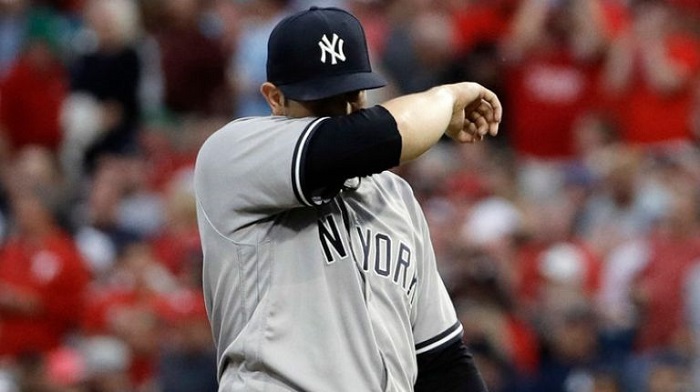 Kyle Higashioka got his first start of the season but is still looking for his first career big-league hit after going 0-for-2. His streak of 20 hitless at-bats to start a career is tied with Dusty Cooke (1930) for the longest by a Yankee position player who debuted with the team in the Live Ball Era (since 1920).
After starter Luis Cessa was shelled for three runs in three innings, a trio of bullpen arms — Giovanny Gallegos, Jonathan Holder and Domingo German — held the Phillies scoreless the rest of the game. Holder now has gone 23 straight outings without allowing an earned run, dating back to his recall from Triple-A on April 21. That's puts him in some pretty impressive company:
Yankees Longest Streak Games w/ 0 ER and 3+ Batters Faced:

Dellin Betances 27 (2014-15)
Jonathan Holder 23 (2018)
Mariano Rivera 22 (2005)

— Katie Sharp (@ktsharp) June 28, 2018