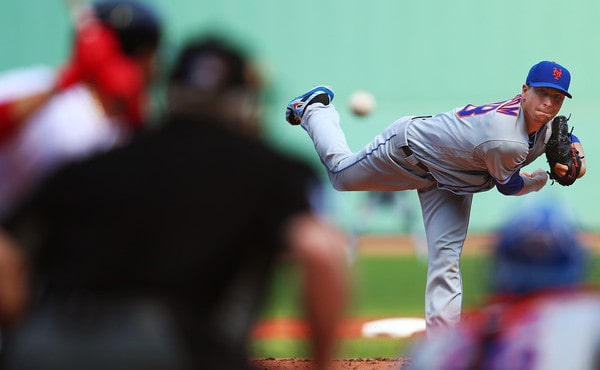 The Yankees and Orioles continue their three-game series later this afternoon, with the penultimate regular season game at Yankee Stadium this year. That's a 4pm ET start. Remember when they played baseball at 1pm ET on Saturdays? Those were the days. Anyway, here are some notes to check out.
Mets needed top young players for deGrom
According to Jon Heyman, the Yankees were one of five teams the Mets focused on during Jacob deGrom trade talks at the deadline, though they weren't doing a deal without getting top young players in return. That presumably means Gleyber Torres. The Mets also discussed deGrom with the Blue Jays, Braves, Brewers, and Padres, and Heyman indicates they wanted Vladimir Guerrero Jr. from Toronto and Fernando Tatis Jr. from San Diego. So yeah, the best of the best prospects.
deGrom has been the best pitcher in baseball this season and he's under team control another two years, so the Mets were absolutely correct in demanding tippy top prospects. Not asking for Gleyber would've been negligent. I love Miguel Andujar, he's the man, but I wouldn't trade deGrom for a package fronted by Andujar. I'd need a better centerpiece and that's Torres. If the Mets don't contend next year, the asking price on deGrom could come down because he'll have less control remaining and also because he probably won't be this good again. That said, the Yanks-Mets blockbuster trade hurdle still exits. As I've been saying, I need to see these two teams make a trade of this caliber to believe it.
Sheffield could make postseason roster
File this under "it's probably not going to happen," but Aaron Boone did leave the door open for Justus Sheffield to make the postseason roster. "You never know how the next couple weeks unfold. I'm mindful of this time that a lot changes day to day, every couple of days, week to week, depending on need, depending on performance, depending on how guys are looking," said Boone to Brendan Kuty earlier this week when asked about the possibility.
Sheffield, 22, made his MLB debut the other night and it wasn't pretty, but he did throw a scoreless inning in a blowout win. There are nine regular season games remaining and I don't see how Sheffield could do enough to make the postseason roster, even as an extra lefty. Six bullpen spots are already accounted for (Aroldis Chapman, Dellin Betances, Zach Britton, Chad Green, David Robertson, Jonathan Holder) plus I assume Lance Lynn will be in the postseason bullpen as well. There doesn't seem to be room for Sheffield, but hey, stranger things have happened.
Sheffield among top IL prospects
In other Justus Sheffield news, Baseball America (subs. req'd) started their annual series looking at the top 20 prospects in each minor league earlier this week, and Sheffield was ranked as the seventh best prospect in the Triple-A International League this year. White Sox OF Eloy Jimenez, who the Yankees reportedly could've had rather than Gleyber Torres in the Aroldis Chapman trade, sits in the top spot. (Jimenez went to the ChiSox in the Jose Quintana trade.)
"Sheffield's fastball worked 93-97 mph and he steadily improved his command of it, making it a true plus pitch," says the write-up, which also mentions his changeup is too firm at the moment. He needs to create more velocity separation between his fastball and changeup. No other Yankees prospects make the IL top 20, which isn't surprising. The Triple-A lists tend to be loaded with top 100 prospects and that leaves guys like Chance Adams and Erik Swanson on the outside looking in. (Mike King didn't throw enough Triple-A innings to qualify for the list.)
Triple-A leagues to begin using MLB baseballs
Starting next season, the two Triple-A leagues (International League and Pacific Coast League) will begin using baseballs made to Major League specifications, reports J.J. Cooper. Major League and minor league baseballs are made with different seams and a different cover, and the Major League ball tends to carry farther. That's why many young players (e.g. Gleyber Torres) come up and hit for more power in the big leagues than they had in the minors. The switch next year will approximately double what Triple-A teams pay for baseballs throughout the season.
It is kinda dumb MLB and minor league (and college) leagues use different baseballs, but it's all about cost. Teams don't want to spend more on baseballs than they have to, so inferior baseballs are used in the minors. At least now the Triple-A and MLB balls will be uniform. Offense will increase in Triple-A — the PCL league average was .270/.340/.423 this year and that's only going to go up with the new ball, so that's fun — thought at least it'll be a little easier to put Triple-A statistics into context. I get the sense a lot of fringe MLB pitchers are in for a rude awakening in 2019.