We're now into December, traditionally the busiest month of the offseason, and next week the 2018 Winter Meetings begin in Las Vegas. I suspect the Yankees will be among the most active teams at the Winter Meetings. If not transactions-wise, then rumors-wise. Here are the latest hot stove rumblings.
Cashman shoots down Realmuto rumor
According to Jon Heyman, the Yankees were among the teams with interest in Marlins catcher J.T. Realmuto but "resisted offering other top pieces in a package with (Gary) Sanchez." Brian Cashman shot that rumor down. "False. Completely false. I saw that somebody had written that we had offered for Realmuto. That is completely false," said Brian Cashman to George King over the weekend. "(Sanchez) is not for sale," Cashman added during a YES Network interview (video link), which, to be fair, is what he'd say even if he were open to trading Sanchez.
When I saw the Realmuto rumor my first thought was the Marlins leaked it in an effort to drive up the price for other teams. It doesn't really pass the sniff test otherwise. I mean, Sanchez and more for Realmuto? Selling low on Gary to buy high on (the very good) Realmuto is a hard pass for me. Sanchez is two years younger, under control two years longer, and almost certainly the more talented player even if he didn't show it this past season. Their numbers through their age 25 seasons do not compare. Juicy rumor. Fortunately it seems to be nothing more than that.
Corbin meets with Yankees during recruiting trip
Last week Patrick Corbin went on a three-city recruiting trip through Philadelphia, Washington, and New York. The Yankees did the "photoshopped picture on the scoreboard" thing (here's a photo) and, according to Ken Davidoff, Corbin toured Yankee Stadium and met with Cashman, Aaron Boone, Larry Rothschild, Mike Harkey, and traveling analyst Zac Fieroh. He also ran into CC Sabathia, who was at the park for an offseason workout.
"I wouldn't call it a recruiting effort as much as an educational effort, where (he's) getting a chance to see the facilities from the home side (after being here as a visitor)," said Cashman during a recent YES Network interview (video link). "… He'll get access to all aspects of what we're about. The brand, our efforts, the people, with Aaron Boone and our coaches and myself and hopefully he'll walk away getting a better feel for who we are."
For what it's worth, Ken Rosenthal (subs. req'd) reports the Nationals are "seriously focused" on Corbin and are believed to be willing to offer six years to get him. It seems Yu Darvish's six-year, $126M contract with the Cubs is the benchmark here. Of course, a six-year deal is likely to include an opt-out along the way, which changes the calculus a bit. Well, either way, Corbin visited the Yankees last week, and reports indicate he's looking to sign soon. I hereby dub this situation: "developing."
Yankees "badly" want another starter this week
According to Joel Sherman, the Yankees "badly" want another starter before the Winter Meetings. That jibes with what we heard yesterday. Jayson Stark says the Yankees haven't ruled out adding two "high-profile" starters — Andy Martino again names Corbin and J.A. Happ as the likely targets — though that seems like a stretch. This strikes me as one of those general "we're open to the idea" offseason rumors. Adding two starters would be kinda cool though.
As for the report that the Yankees "badly" want a starter before the Winter Meetings, I totally buy it. First and foremost, they want to get the rotation locked down, the sooner the better. Secondly, once the rotation is set, the Yankees will know exactly what resources they have available (trade chips, payroll space) to pursue bullpen help and a Didi Gregorius replacement. The longer the search for a starter drags out, the more unpredictable it gets. (Wanting a starter this week presumably takes the Yankees out of the running for Yusei Kikuchi, whose 30-day posting period opens tomorrow and closes in early-January.)
Yankees have Miller on their radar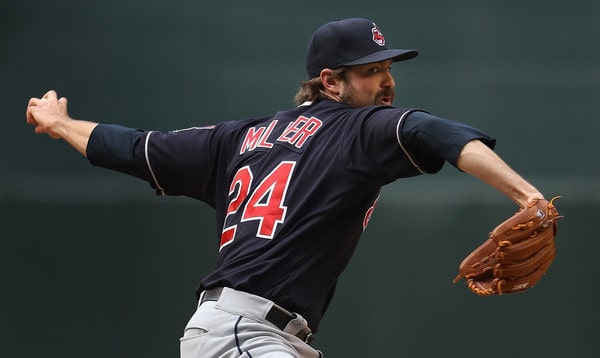 The Yankees have Andrew Miller on their radar, according to George King. King also reiterates the team's interest in Adam Ottavino. A few weeks ago we heard the Yankees requested Miller's medical information, which is a) standard operation procedure (teams request the medical information of lots of players each winter), and b) not a mere formality given his knee trouble the last two years and shoulder trouble this year. Those medicals will be heavily scrutinized.
Miller, 33, pitched to a 4.24 ERA (3.51 FIP) with 29.2% strikeouts and 10.4% walks in 34 innings around the injuries this past season. Those numbers are far worse than what he did as a full-time reliever from 2014-17. The injuries stink but are not necessarily a dealbreaker. With good health, it's not all that difficult to envision Miller turning in one or two more dominant seasons before things slip for good. The question is how much are the Yankees willing to bet on that? They supposedly want two relievers and a reunion with Miller could be in the cards.
Yankees on Greinke's no-trade list
According to Zach Buchanan (subs. req'd), the Yankees are on Zack Greinke's 15-team no-trade list. Like most no-trade lists, Greinke's includes big market teams that would theoretically be willing to compensate him for waiving his no-trade cause (Yankees, Red Sox, Dodgers, Phillies) and rebuilding teams he presumably doesn't want to play for (Orioles, Tigers, Reds). For what it's worth, Buchanan says there's "no way" the Diamondbacks would attach Greinke to Paul Goldschmidt in an effort to unload his contract a la Robinson Cano and Edwin Diaz.
Greinke, 35, posted a 3.21 ERA (3.71 FIP) with 23.7% strikeouts and 5.1% walks in 207.2 innings this past season — it was the tenth time in the last eleven seasons he threw at least 170 innings and the eighth time he threw at least 200 innings — so he's still crazy good. He's also owed $104.5M the next three years. It should noted the Yankees have steered clear of Greinke whenever he's become available via trade or free agency. They've made it pretty clear they don't think he'd mix well in New York. Oh well. Even if they were open to a trade, Greinke would have to approve it.
Eleven teams in on Gray
There are eleven teams in on Sonny Gray, reports Davidoff. Among them are the Athletics, Reds, Braves, Padres, Rangers, and Twins. "I've had a lot of interesting dialogue, whether it's for prospects, whether it's for Major League our need for their need, whether it's part of a complicated larger situation that involves prospects and Major Leaguers going both ways. So I think we've had a little bit of experience with all aspects of it," said Cashman.
I honestly have no preference here. Normally I lean toward MLB ready players in return — the Yankees are a win now team, after all — but, if the best offer for Gray is a Single-A prospect(s), so be it. One way or the other, the inevitable Gray trade will help the Yankees at the MLB level. Either they'll trade him for a big leaguer or they'll trade him for a prospect(s) and unload his salary, which can then be used on a free agent. I'm not gonna lie, I'm kinda surprised Sonny is still a Yankee. I thought he'd be gone by now.