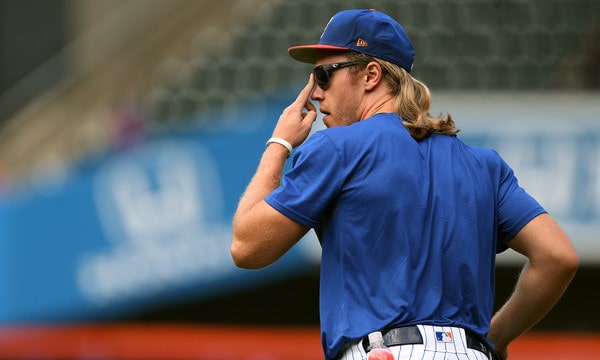 Here's a whopper of a late night rumor from the Winter Meetings. According to multiple reports, the Yankees are discussing a three-team trade with the Mets and Marlins that would send J.T. Realmuto to Flushing and bring Noah Syndergaard to the Bronx. The Yankees would presumably send prospects to the Marlins (and probably the Mets too?).
A week or two ago Brian Cashman categorically denied a rumor that he'd made an offer for Realmuto, though the Yankees were connected to the Marlins backstop, and this might explain why. They don't want Realmuto for themselves — that Gary Sanchez guy is pretty cool — they want to flip him to another team for pitching. Huh. Here's what we know:
The Mets are exploring multiple scenarios to land Realmuto and a three-team trade with the Yankees is "not among the strongest." [Joel Sherman]
The Yankees have interest in Mets starters other than Syndergaard and are "pushing hard" to get a deal done tonight, but nothing is imminent. [Andy Martino & Sherman]
It's still unclear what the Marlins would get in the trade. [Craig Mish]
Keep in mind Marlins director of player development Gary Denbo was the Yankees' farm system head from 2014-17 and he is still familiar with the system despite being away from the team for a year now. That doesn't necessarily make a trade more likely, of course. He knows the good and the bad, and the bad might outnumber the good at this point.
Also keep in mind Mets owners Fred and Jeff Wilpon would presumably have to sign off on any trade with the Yankees. I can't imagine rookie GM Brodie Van Wagenen has the autonomy to do that on his own. There is a very real inferiority complex in place here and a trade that sends Syndergaard — or even Zack Wheeler or Steven Matz — to the Yankees might be too much for the Wilpons to stomach.
The Yankees don't have nearly as many prospects to trade as they did a few months ago and I'm not sure they could get this trade done without giving up anyone from their MLB roster, specifically Gleyber Torres or Miguel Andujar. I love Andujar but Gleyber's the keeper. I guess we'll see. I'm not sure the Yankees want to subtract much from their MLB roster at this point (other than Sonny Gray).
Even after the James Paxton trade, the Yankees need another starter, preferably a very good one, and they missed out on Patrick Corbin. Syndergaard would be a monumental addition — Wheeler and Matz would be lesser upgrades but upgrades nonetheless — who might swing the balance of power in the AL East. If the Yankees can get him without sacrificing Torres or Andujar, it would be a massive win.
As always, I'm going to need to see the Wilpons sign off on a big Yankees-Mets trade to believe it. They might be the biggest obstacle here, not the general managers agreeing to terms. The Yankees and Mets haven't made a player-for-player trade since the Mike Stanton-Felix Heredia swap in 2004.