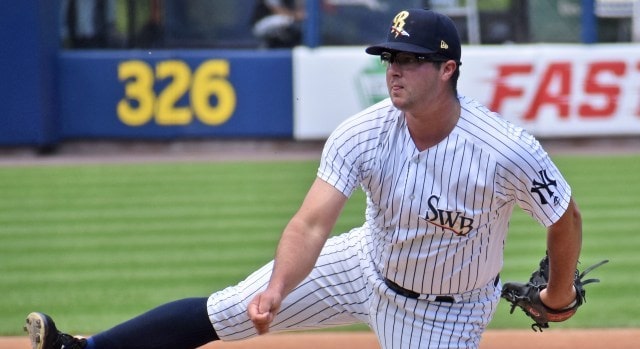 Background
Harvey, 27, grew up near Philadelphia and attended Kennedy-Kenrick Catholic School in Norristown, Pennsylvania. Prior to his senior year (2010), he was named to the Rawlings/Perfect Game Pre-Season Atlantic Region High School Senior second team. It was a nice honor, but by not being named to the first team, he wasn't a draft prospect. So, it was off to the University of Pittsburgh.
After redshirting in his freshman year, Harvey joined the Panthers' bullpen. He was mediocre in his sophomore and junior years, but blossomed as a senior. After struggling with his control (35 walks in 60 innings), Harvey took a step forward in his senior season. Preceding his senior year, though, was a trip to the Cape Cod League, where Harvey threw six innings of one run ball. Though not enough exposure to make anyone really notice, it was a precursor for his final college season.
Everything came together for Harvey in his last year at Pitt. Rather than pitch exclusively in relief, Harvey got most of his work as a starter. In 15 games (12 starts), the righty tossed 71 innings with a 2.90 ERA. His biggest improvement was his control: he walked only 16 batters, good for a BB/9 just north of 2. This performance got him to the very back end of Baseball America's top 500 draft prospects in 2014. The Yankees popped him in the 19th round of the 2014 draft.
Pro Career
Harvey signed for $60,000 and reported to rookie ball for a two-game tuneup before heading to Staten Island to finish his first pro season. From day one with the Yankees, Harvey was no longer a starter. His organizational debut was excellent (20.2 IP, 19 Ks, 5 BBs, 1.74 ERA). It was a solid beginning in advance of what was supposed to be his first full season in 2015. Unfortunately, Tommy John surgery changed things. After a couple of months in Charleston to start 2015, his season was over.
Upon return, Harvey excelled. After a few rehab appearances in the GCL, he finished 2016 in Staten Island and recorded his highest strikeout rate (29.1%) of his young career. In 2017, he got off to a late start for reasons that are unclear (injury or extended spring training, most likely). Once back into game action, he dominated, this time with High-A Tampa. Around a short DL stint midseason, he recorded a microscopic 1.05 ERA and 29.3% strikeout rate. That winter, he was eligible for the Rule 5 Draft but the Yankees didn't protect him. Despite the strong performance, Harvey was an afterthought at the time as a former 19th rounder with a recent Tommy John surgery, so there wasn't much concern he'd be taken.
No team selected Harvey in the Rule 5 Draft, as expected. He started 2018 with Double-A Trenton, but was promptly bumped up to Triple-A in late April for good. The righty became a key cog in Scranton's bullpen and completed his first full professional season without interruption. In 59.1 innings last year, Harvey pitched to a 1.67 ERA while punching out 29.1% of hitters. In the Triple-A playoffs, he held opponents scoreless in four appearances. The Yankees added Harvey to the 40-man roster just a couple of weeks after season's end. It was a somewhat surprising addition, but it's hard to argue against his performance.
Scouting Report
Harvey has three pitches in his arsenal, though one stands out above the rest. His mid-90s fastball has a high spin rate that the Yankees adore. His curveball is a work in progress and has been a focal point of his offseason, as he told Pinstriped Prospects:
"I'm trying to get more consistent with my off-speed pitches, very confident in my ability to get people out but if there's one thing you need to get into the big leagues, it's a consistent breaking ball so I'm really just trying to work on that."
Mike also noted that Harvey throws "something resembling a changeup".
Like so many relievers, control is not one of Harvey's strengths. His career minor league walk rate of 10.7% won't fly in the majors unless he's the next Dellin Betances. The odds of him being the next Betances are slim, to say the least.
Harvey is a well built 6'2″ and 220 pounds. He has a little bit of a Tommy Kahnle look on the mound, who's of similar stature (6'1″, 235 lbs). From a stuff perspective, he reminds me of Chad Green. That's a lofty and certainly unfair comp, but their repertoires are quite similar. Both have high spin rates on their mid-90s heaters and have questionable breaking pitches.
2019 Outlook
Projection systems don't think much of Harvey at this point. PECOTA pegs him for a 5.26 ERA while Steamer is a bit more optimistic at 4.60. These poor forecasts aren't a big deal though. Barring a plethora of injuries, Harvey isn't going to have much of a role on this year's big league squad given the Yankees' current bullpen. Plus, Harvey will have to compete with other 40-man relievers likely destined for Scranton, such as Stephen Tarpley and Ben Heller.
In all likelihood, Harvey will ride the Scranton shuttle back and forth a handful of times this season, rotating with the Hellers and Tarpleys of the world as needed. He should see some time during expanded rosters in September, too. Otherwise, he should be one of the RailRiders' go-to late inning relievers.
My Take
Harvey doesn't excite me. Despite his minor league track record, it seems like hard throwing right-handed relievers are a dime-a-dozen nowadays. If he had a wipeout slider or curve, it'd be a different story. He's undoubtedly a nice depth arm that can be plucked from Triple-A as needed, but I would be surprised if he amounts to much more than a middle innings guy. Maybe he can ride his fastball to success in the way Green has, but that remains to be seen.