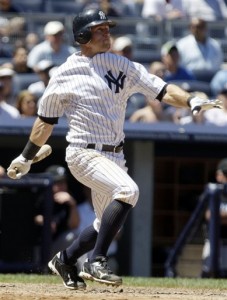 We're now just three full days from the trade deadline, so the rumor mill is going to pick up very soon. Unlike five or six years ago, the Yankees actually have some good young players to offer in a deal right now, players other teams in the league actually want. That used to not be the case, which is why Eric Duncan was promoted so aggressively back in the day; they were trying to boost his trade value. Thankfully don't have that problem any more. There are waves of talent coming up through the system, so the Yanks could offer high probability players from the upper minors or high upside players a little further away.
GM Brian Cashman's stock line has been "No one is untouchable, but some are more touchable than others," which is simple enough and right to the point. I'm sure the Yankees would move Robbie Cano or Phil Hughes in the right deal, but the odds that right deal comes along are very slim. As I put together this list of the players with the most trade value in the organization, I left those two off for that reason. It's just incredibly unlikely that they'll be traded.
I have to say, putting this together was a lot tougher than I thought it would be. Balancing big leaguers with guys still in the minors is never easy to do, especially when you're trying to figure out how much those players appeal to other teams.
Remember, this list is extremely subjective, so make sure you leave your two cents in the comments.
1. Jesus Montero, C
Despite being one of the game's best prospects, Montero has been no stranger to the trade rumor circuit. The Yanks offered him for Roy Halladay last year, and then again for Cliff Lee this year. Rumors have swirled about the team "dangling" him for Joakim Soria, though that sounds like a game of rumor telephone gone wrong. Either way, it's clear other teams value the Yanks' best prospect, enough to consider swapping a front-line player for him.
Still just 20-years-old, Montero rebounded from a poor start to the season in Triple-A and has hit .371/.481/.645 with more walks (13) than strikeouts (11) in July. Even though his future at catcher is uncertain, Montero has immense trade value as a well-above average bat with six years of team control ahead of him. Victor Wang's research pegs his trade value at a staggering $36.5M.
2. Brett Gardner, OF
I don't believe the Yanks would go out and actively shop Gardner, but I do believe they'd have no trouble parting with him in a trade if it came down to it. They could market him as a .380 OBP, 40 steal, Gold Glove caliber centerfielder with four more years of cost control left, which has big time value on the trade market. We know that the White Sox, Royals, and Cubs have had varying levels of interest in trading for Gardner over the last year or so.
The Yanks would have to bring in a replacement via free agency after the season, which would be expensive but not an issue of talent with players like Carl Crawford and Jayson Werth out there. I get a trade value of $53.3M using Sky Kalkman's trade value calculator, though I suspect my WAR projections were a tad optimistic.
3. Joba Chamberlain, RHP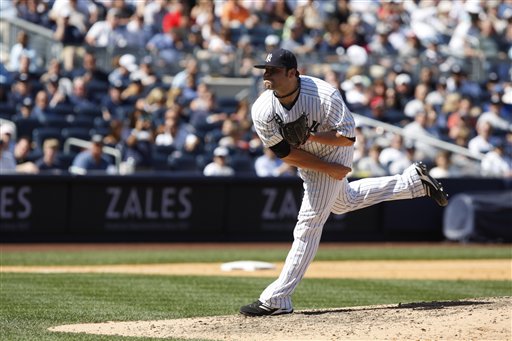 Even though his 2010 season has been particularly horrific, other teams still have interest in Joba. The Diamondbacks asked for him in a Dan Haren deal, ditto the Blue Jays and Scott Downs. The Yankees would be selling low, very low, which is why I don't expect them to move him, but they could present him as a guy that has flirted with the upper-90's this year and shown a put-away slider and a good curveball.
Joba's trade value isn't as high as it was a few years ago not necessarily because he's stunk this season, but because he's about to enter his arbitration years. His league minimum salary is going to become a seven figure payout next year, which works against him. There are still plenty of teams out there that would be willing to move him back into the rotation, I'm sure of it. I have his trade value at $16.1M as a reliever and $21.9M as a starter.
4. Austin Romine, C
Depth behind the plate is a wonderful thing. Teams will often overpay for quality catchers in trades or free agency because of dearth of good backstops, so it shouldn't be a surprise that Romine is the team's best minor league trade chip behind Montero. He doesn't offer the same offensive potential, but he's a virtual lock to stay behind the plate, boosting his trade value. As a projected league average hitter with above average defense and six full years of cost control left, Romine could be the centerpiece in any kind of deal short of one involving a superstar. Wang's research has his value at $23.4M.
5. Ivan Nova, RHP
Nova was considered a key piece in a potential Haren deal, and his value comes from being a big league ready starting pitcher with six full seasons on team control left. No, he's not going to be an ace and is likely to top out as a mid-rotation starter (if that), but getting a player like that for six figures through 2013 is kind of a big deal. He's imminently movable, and easily the player most likely to be traded in this post. Wang's research has his trade value at just $1.5M, though I suspect it's a little higher in reality. Maybe that's just my bias.
* * *
Like Nova, Hector Noesi has six years of control left as a high probability back-end starter. His extreme control of the strike zone (232 K, 34 BB in his 233.2 IP over the last two seasons) is sure to appeal to other clubs, though the Yanks have were reluctant to include him a deal for Haren. Andrew Brackman has value because he has upside and is getting closer to the big leagues by the day, plus he's pretty much answered any questions about his health. Dellin Betances is a notch behind him because he's still in A-ball and has yet to pitch a full, healthy season. David Phelps, Adam Warren, Zach McAllister … those guys have limited ceilings and aren't as much of a sure thing as either Nova or Noesi.
So what do you all think, am I missing someone? Is my order out of whack? I'm curious to see how the masses value the team's players in trades.