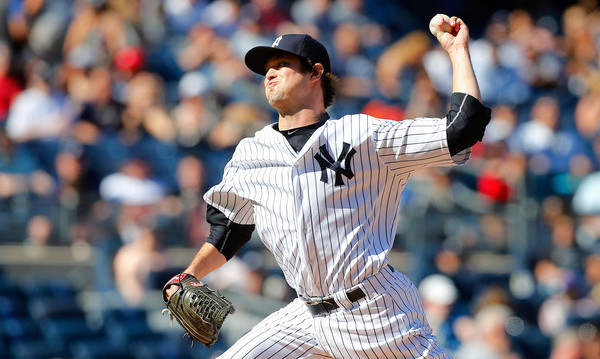 It turns out the Aroldis Chapman trade was only the beginning. The Yankees announced Sunday morning that they have traded ace reliever Andrew Miller to the Indians for four prospects: outfielder Clint Frazier, left-hander Justus Sheffield, and righties Ben Heller and J.P. Feyereisen. It's a 4-for-1 swap. Coincidentally enough, Miller and the Indians will be at Yankee Stadium for a series next weekend.
"I enjoyed my time here. I loved playing in New York, living in New York, and I enjoyed my teammates," said Miller to Meredith Marakovits after the trade. Miller was absolutely not part of the team's problem. He's arguably the best reliever in baseball and he's a Grade-A teammate. The Yankees need young talent and Miller was their top trade chip, so off he went. Sucks. That's the business.
Brian Cashman told reporters on a conference call that Hal Steinbrenner gave him the green light to trade Miller following Saturday night's loss, their second straight loss to the last place Rays and third straight loss overall. Joel Sherman says Steinbrenner was very involved in the process. He read scouting reports and watched video on Frazier and Sheffield, the key pieces in the return.
Frazier, 21, was the fifth overall pick in the 2013 draft and he's since blossomed into one of the game's top prospects. Baseball America ranked him as the 21st best prospect in baseball in their midseason top 100 update. MLB.com had him a touch lower at 24th and Keith Law (subs. req'd) even lower than that at 34th. Here's a snippet of MLB.com's free scouting report on Frazier, a righty hitter and thrower.
Frazier's bat speed and raw power are among the best in the Minor Leagues and suggest the ceiling of an All-Star. Though he struggled to harness his aggressive approach and recognize spin early in his career, Frazier has developed into a more complete hitter as he's climbed the Minor League ladder, with strikeout and walk rates that continue to trend in a positive direction … Frazier has above-average speed and will continue to develop in center field, though he may eventually have to slide over to right field in deference to the some of the Tribe's other center-field prospects in the high Minors.
Those plate discipline improvements have been pretty substantial. Frazier had a 29.7% strikeout rate and a 10.3% walk rate in Low-A ball back in 2014. So far this year he has a 22.3% strikeout rate and a 10.0% walk rate at Double-A and Triple-A. That's a big drop in strikeout rate while climbing the ladder, and it's good to see it's coupled with no change in walk rate.
Frazier, who Cleveland promoted to Triple-A just a week ago, is hitting .275/.351/.465 (128 wRC+) with 25 doubles, 13 homers, and 13 steals in 93 total games this year. He started the season at Double-A. Remember, this kid is only 21. Frazier was more than three years younger than the average Eastern League player and he more than held his own. He excelled. This is the kind of prospect you have to get in a Miller trade.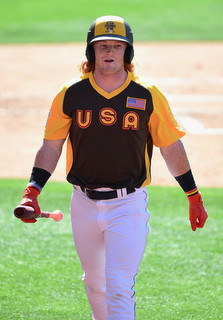 Having followed Frazier these last few years, I'm comfortable saying right now that he immediately takes over as the Yankees' top prospect. He has premium bat speed and power from the right side to go along with center field caliber defensive tools. Frazier has the kind of talent that could potentially make him the offensive cornerstone the Yankees have been lacking since Robinson Cano left.
Sheffield, 20, was the 31st pick in the 2014 draft and I wrote about him in our Scouting The Market: Indians post. He was the guy the Indians took with the compensation pick for losing Ubaldo Jimenez to free agency. It's worth noting Justus is not related to Gary Sheffield. There's been some confusion about that and I know I've said he (and his brother Jordan) is Gary's nephew. That is not the case. There's no relation at all.
Anyway, Baseball America and MLB.com ranked Sheffield at the 69th and 95th best prospect in baseball in their midseason top 100 updates, respectively. He did not make Keith Law's updated top 50. Here's a piece of MLB.com's free scouting report:
Sheffield shows the makings of an above-average three-pitch mix. He's hit 96 mph with his fastball but usually sits in the 92-93 mph range with late, arm-side life and some sink. His curveball flashes plus and projects as a swing-and-miss offering at the highest level, and he made strides developing his changeup in 2015 … Both his secondary pitches and his command require further refinement, but the southpaw has all the tools necessary to develop into a quality mid-rotation starting pitcher.
So far this season Sheffield has a 3.59 ERA (3.79 FIP) with a 22.8% strikeout rate and a 9.8% walk rate in 95.1 High-A innings. He's roughly three years younger than the average Carolina League player. Sheffield is a tiny little guy at 5-foot-10 and 195 lbs., so the concern is his ability to get enough downward plane on his fastball to avoid being fly ball and homer prone. He's a great athlete with a repeatable delivery though, plus he has the three pitches needed to start.
Both Heller and Feyereisen are pure relievers. Heller, 24, was a 22nd round pick in 2013. He has a 1.73 ERA (2.83 FIP) with 29.3% strikeout rate and a 7.3% walk rate in 41.2 innings between Double-A and Triple-A. Baseball America (subs. req'd) identified Heller has a prospect on the rise in their recent Indians' top ten prospect update, saying his "fastball can reach 100 mph, and it typically sits 96-98." He also throws a quality slider.
The 23-year-old Feyereisen is the clear fourth piece in the trade. He has a 2.23 ERA (3.06 FIP) with a 33.1% strikeout rate and an 11.8% walk rate in 40.1 innings. Feyereisen has a low-to-mid-90s fastball and a slurvy breaking ball. He throws across his body quite a bit, so he chews up righties but tends to get hammered by lefties. We could definitely see Heller in MLB at some point this season. Feyereisen's a little further away.
None of the four guys the Yankees acquired are on the 40-man roster. Frazier won't be Rule 5 Draft eligible until after next season. Chances are he'll be added to the 40-man and called up before then. Sheffield and Feyereisen won't be Rule 5 Draft eligible until after 2017. Heller will have to be added to the 40-man this offseason. This trade doesn't create any immediate roster headaches.
This is one of those trades that I think no one wanted to happen but everyone understands. It was impossible not to love Miller. He was not just dominant. He's also a Grade-A dude who did whatever the Yankees needed without complaint. There should be more ballplayers like him. At the same time, the Yankees had a chance to land a big haul, and getting both Frazier and Sheffield and two others qualifies as a big haul.
In other news, the Yankees added Tyler Clippard in a trade with the Diamondbacks, so he'll essentially step into Miller's bullpen spot. Joe Girardi confirmed Dellin Betances will now take over as closer with Clippard and others in the setup mix. Losing Miller really stinks. It does. He's great. But considering where the Yankees are at this point in time, getting a package of prospects of this caliber was too good to pass up.