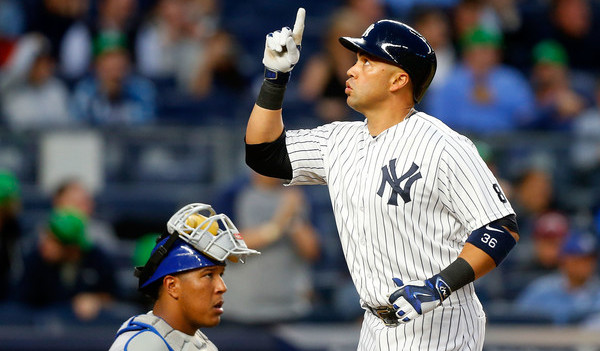 For the second straight season, the Yankees will have three All-Star representatives. Carlos Beltran, Dellin Betances, and Andrew Miller were all selected for the 2016 All-Star Game, it was announced Tuesday night. Last year Betances, Mark Teixeira, and Brett Gardner represented the Yankees. Here are the full 2016 All-Star rosters.
Beltran has been far and away the Yankees' best hitter this season. He owns a .296/.337/.567 (136 wRC+) batting line with 19 homers, seventh most in the AL. Only Mike Trout (169 wRC+), Nelson Cruz (141 wRC+), Jackie Bradley Jr. (141 wRC+), and Michael Saunders (140 wRC+) have been better among AL outfielders. This is Beltran's ninth All-Star Game and, believe it or not, his first as an AL player. Who knew?
Betances is heading to his third straight All-Star Game even though this feels like the worst of his three full seasons in the big leagues. He's set the bar rather high. Dellin has a 2.63 ERA (1.17 FIP) with 74 strikeouts in 41 innings. He leads all relievers in strikeouts and fWAR (+2.1), and he's second in strikeout rate (46.3%). Betances has been insanely good this season. Again.
As for Miller, he is going to his first All-Star Game. He has a 1.47 ERA (1.91 FIP) with 66 strikeouts in only 36.2 innings. Miller leads all relievers in strikeout rate (48.2%), is second to Betances in strikeouts, and is fourth in fWAR (+1.4). He's behind Betances, Kenley Jansen (+1.9), and Will Harris (+1.5). Needless to say, Miller is very deserving. I thought he was the only All-Star Game lock among Yankees players.
The Yankees don't really have a snub for the All-Star Game. Masahiro Tanaka has a case for a spot, but he's going to start this Sunday, which means he's ineligible to pitch in the All-Star Game anyway. Brian McCann could have made it given the generally awful crop of AL catchers, but alas. Didi Gregorius has been awesome, though there are too many good shortstops in the AL. Congrats to Beltran, Betances, and Miller. They were all very deserving.