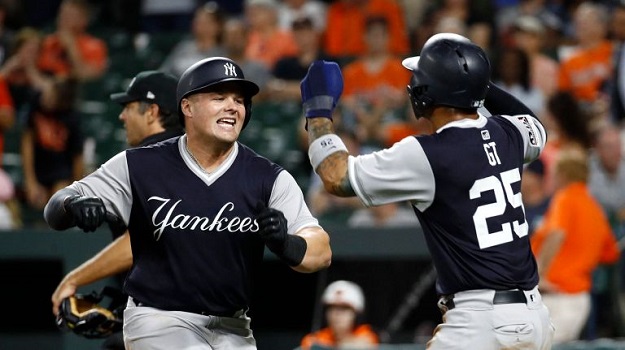 Luuuuuuuuuuuke!
The Yankees opened the series in Baltimore with a comeback win in 10 innings on Friday night. It was their first extra-inning win at Camden Yards in more than five years — since May 20, 2013 — after losing their previous four matchups there that went to overtime.
The victory improved the Yankees extra-inning record this season to 8-5, their most extra-inning wins since 2001 (8-8). It also was their eighth win when trailing at the start of the eighth inning, matching their win total from last year, and tied for the second-most in MLB this season (only the A's had more through Friday).
The Yankees clawed back twice from a two-run deficit to win the game. The first rally was capped by a two-run bomb in the fourth inning from Luke Voit, his first homer as a Yankee. Voit boosted his pinstriped legend status with another two-run dinger in the 10th for his first career multi-homer game. Both the homers came off righties — prior to Friday, Voit had just two homers in 102 plate appearances against right-handed pitchers in his big-league career.
After the Orioles re-took the lead in the seventh, Gleyber Torres responded with a clutch, game-tying two-run single in the top of the eighth. It was his second hit this year in the eighth inning or later that tied the game; he is the only Yankee with multiple hits like that this season.
Neil Walker capped the second comeback with a solo homer in the 10th inning, and combined with Voit's bomb in that same inning, it was the second game this season that the Yankees hit two or more homers in the 10th inning or later (also on June 6 at Toronto). #FunFact: The last time that the Yankees had two different games in a season where they smacked multiple extra-inning homers was 1941.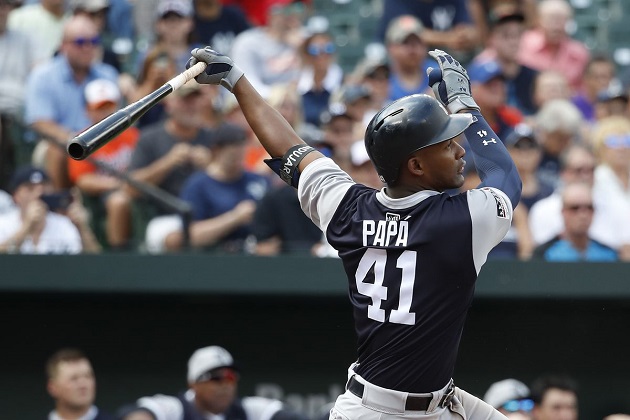 #TooManyHomers, It's a Happ-y Day
A winning streak against a bad team? Yes! The Yankees clobbered the Orioles in the first game of Saturday's doubleheader, hammering four homers en route to a 10-3 win. It was their MLB-leading 13th game this season with at least four homers; no other team had more than eight such games entering the weekend.
Miguel Andujar kicked off the home run derby with a go-ahead three-run blast in the third inning. It was his 21st of the season and 10th that either tied the game or gave the Yankees the lead. He is the youngest Yankee with at least 10 go-ahead/game-tying homers in a season since a 23-year-old Don Mattingly hit 11 in 1984.
J.A. Happ continued his outstanding run with the Yankees, winning for the fifth time in five starts as he delivered a strong six-inning, two-run effort. He now has a 2.37 in his five starts since joining the team, after posting a 6.65 ERA in his final five starts with the Blue Jays. As we always do, let's celebrate Happ's first month in pinstripes with a trio of #FunFacts:
First left-hander to win each of his first five games with the Yankees since Babe Ruth, who appeared in five games (four starts) for the franchise from 1920-33 and won all five games … with a 5.52 ERA.
First pitcher to both start and earn the win in each of his first five appearances as a Yankee since Bob Turley in 1955.
And finally, Happ is the first pitcher in franchise history to start in each of his first five games as Yankee, and get a win in each of those games while allowing no more than three earned runs.
Forever Sonny in Baltimore
The Yankees won 5-1 in the nightcap of Saturday's twinbill, the first time they took both games of a doubleheader since April 16, 2014 against the Cubs at Yankee Stadium. That snapped a streak of 10 straight doubleheaders either split or lost, their longest drought since 1969-70 (14 straight).
You have to go back seven more years to find the last time the Yankees swept a doubleheader on the road — May 3, 2007 at Texas. And the last time they won both games of a twinbill at Camden Yards? July 13, 1996.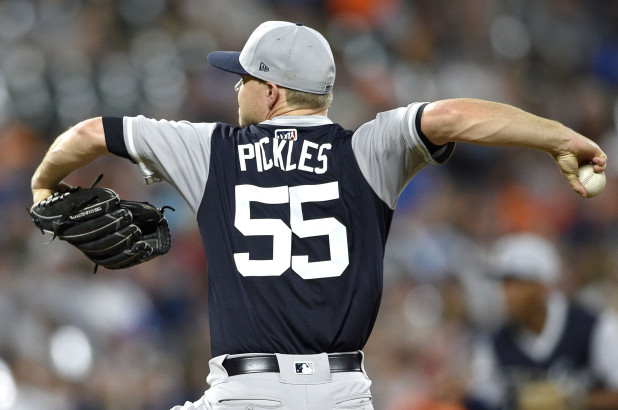 Sonny Gray, making his first start since getting demoted to the bullpen, pitched a gem as he threw 6 1/3 scoreless innings while striking out seven and allowing just three hits. If that type of performance by Gray against the Orioles in Baltimore sounds familiar … well, there's this stat to consider:
Sonny Gray in 4 starts at Camden Yards as a Yankee:

24 IP
0.38 ERA
26 K
4 BB

— Katie Sharp (@ktsharp) August 26, 2018
That's four straight starts at Camden Yards with no more than one run allowed, the longest such streak since Pedro Martinez had a similar stretch from 2000-02. And going back further to his last start there with the A's, it's five straight starts at Camden Yards with no more than one earned run allowed, the longest streak by any pitcher in the history of the ballpark.
Tommy Kahnle couldn't close out the game as the Orioles pounded him in the bottom of the ninth, so Dellin Betances came to the rescue and struck out Caleb Joseph for the final out. It was Betances' 33rd straight game with a strikeout, the longest such streak by a reliever in AL history (previous record of 32 was set by Jeff Montgomery in 1989). The MLB record is 49 by Aroldis Chapman with the Reds from 2013-14.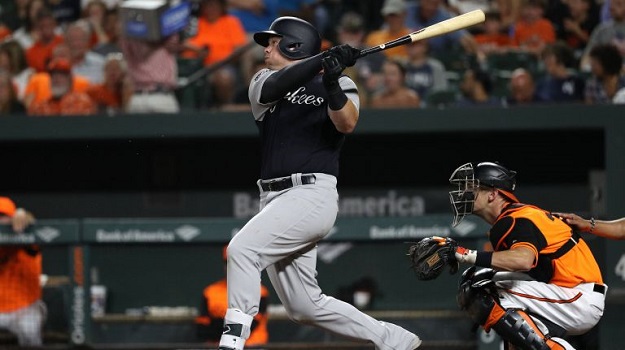 Louisssssssssssssssss!
The Yankees continued their newfound skill of beating up on bad teams as they finished off the series sweep with a 5-3 win on Sunday night. It's their first four-game sweep of the Orioles in nearly 13 years — since September 19-22, 2005 (in New York) — and their first four-game sweep of the O's in Baltimore since August 14-17, 2003. They've now won 17 of their last 21 games against sub-.500 teams.
The Yankees again jumped out to an early lead thanks to a two-run homer in the second inning by Luke Voit. It was his third homer in the last three games, after hitting five in his first 77 career major-league games. He added two singles for his second three-hit game of the series. If you're curious, Greg Bird also has two career three-hit games (none this year) …
Luke Voit: 3+ hits in 2 of last 3 games.

Voit had 0 career games with 3+ hits before August 24.

— Katie Sharp (@ktsharp) August 27, 2018
The scorching-hot Miguel Andujar made it a 4-0 cushion with a two-RBI double in the third, his 60th extra-base hit of the season. He is the seventh Yankee age 23 or younger with 60 or more extra-base hits in a season. This is a decent list to be on:
Miguel Andujar (2018)
Don Mattingly (1984)
Mickey Mantle (1952, '55)
Joe DiMaggio (1936-38)
Ben Chapman (1932)
Lou Gehrig (1926)
Tony Lazzeri (1926)
Andujar finished 3-for-5 with two RBIs on Sunday night; he now has at least two hits in 45 of his 124 career games. The last Yankee to pile up 45 multi-hit games this early into his major-league career was Phil Rizzuto (48 in 124 games) in 1941.
David Robertson pitched a clean ninth inning for the save, the fourth different pitcher to save a game during the weekend sweep (Luis Cessa, Zach Britton, Dellin Betances are the others). Obscure Stat Alert! Since saves became official in 1969, this is the first time that the Yankees have won four straight games with a different pitcher earning the save in each game.