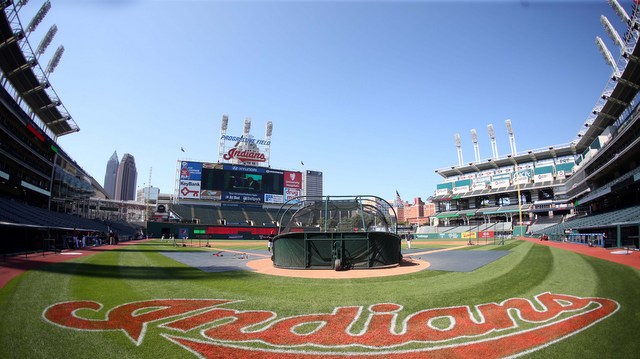 Even after losing three of four to the Yankees before the All-Star break, the Indians own the best record in the AL (55-38) and have a comfortable 6.5-game lead in the AL Central. That's not insurmountable by any means, but it is a nice lead at this point of the season. Cleveland has been to the postseason just once since beating the Yankees in the 2007 ALDS, and that was a wildcard game loss to the Rays in 2013. You know they want to do better this year.
It's no surprise then Jerry Crasnick reported yesterday that folks within the game believe the Indians are more willing to make a blockbuster trade at the deadline this year than they have been in quite some time. Their rotation is still young and cheap, their core veterans (Michael Brantley, Jason Kipnis, Carlos Santana, etc.) are still in their prime, and they're in position to make the postseason. They have a great chance to win this year and they want to capitalize.
The Indians could really use another late-game reliever to lighten the load on setup man Bryan Shaw and closer Cody Allen, and preferably that reliever would be a lefty. Somehow the Tribe has gotten only 22.1 innings from lefty relievers this season. Crazy, right? Chasen Shreve alone has thrown 22 innings for the Yankees. Anyway, Cleveland is said to have interest in Andrew Miller, who's pretty much the best possible solution for that late-inning lefty role. Someone like Carlos Beltran could be of interest too since Brantley's shoulder keeps barking.
The Yankees reportedly had two scouts watching the Indians' High Class-A affiliate yesterday, which happens to house many of their top prospects. Cleveland has a loaded farm system — they landed seven players on Baseball America's midseason top 100 list — so they have the motivation and wherewithal to make a big trade. Which prospects should the Yankees target in a potential Miller (or Beltran) trade? That's what we're here to discuss. Here are a handful of candidates. The players are listed alphabetically and the scouting report blurbs are from MLB.com.
LHP Brady Aiken
Background: Aiken, 19, was the first overall pick in the 2014 draft, but he didn't sign with the Astros after they found something in his physical. He blew out his elbow the following spring and the Indians picked him 17th overall in the 2015 draft anyway. Aiken has completed his Tommy John surgery rehab and is currently pitching in rookie ball, where he's allowed 15 runs on 18 hits and nine walks in 14.2 innings. He's struck out 22. Baseball America ranked him 59th on their midseason top 100.
Scouting Report:
"The left-hander spots his fastball to both sides of the plate, working at 92-94 mph and touching 97 with late life, and he can throw his curveball for a strike or take it out of the zone to induce whiffs. Aiken's changeup gives him a third weapon, thrown with good deception and tumble, and his athleticism and smooth, repeatable delivery bode well for his command profile … If Aiken can regain and then build on his pre-surgery form, he could develop into a front-of-the-rotation starter."
Why Should The Yankees Want Him? When right, Aiken has true top of the rotation upside and that is very hard to find. The term "future ace" gets thrown around way too often these days but Aiken absolutely fits the bill. He had command of three above-average pitches before getting hurt and his competitiveness and makeup are considered pluses. That's an ace starter kit all the way.
Why Should The Yankees Stay Away? Aiken did not have a routine Tommy John surgery. There was apparently some other stuff going on in his elbow as well, though no one seems to know what, exactly. His performance hasn't been good since finishing his rehab, and while you can attribute that to rust, it's a reminder of just how far Aiken has to go to reach that ace ceiling. He's very far away from MLB and very high risk.
OF Greg Allen
Background: The Indians selected the 23-year-old Allen in the sixth round of the 2014 draft and he's been a hitting machine as a pro. So far this season he's authored a .298/.425/.398 (140 wRC+) line with three homers, 37 steals in 40 attempts, a 13.8% walk rate, and a 12.3% strikeout rate in 85 High-A games. Allen is a bit old for his level, so just keep that in mind.
Scouting Report:
"Allen knows how to use his above-average speed, as he's a disciplined hitter with advanced on-base skills who consistently puts the ball in play from both sides of the plate … He has below-average power overall … Allen's wheels also serve him well in center field, where he gets good jumps consistently and covers a lot of ground … Allen shows the makings of becoming a top-of-the-order hitter who also offers value with his baserunning and defense."
Why Should The Yankees Want Him? Allen is not a top prospect — MLB.com ranks him 22nd in Cleveland's system — but he's a high-contact hitter from both sides of the plate with plate discipline and speed and center field defensive chops. That profile is a pretty good bet to amount to something in the big leagues, even if it's only a fourth outfielder. Allen shouldn't be the center piece of any trade, but he would be a fine third or fourth piece.
Why Should The Yankees Stay Away? Guys with minimal power like Allen are always at risk of getting beat with fastballs in the zone at the upper levels. Pitchers don't worry about being taken deep, so they challenge these guys. Low minors walk rates are not very predictive and Allen's ability to get on base via the free pass may evaporate as he climbs the ladder.
1B Bobby Bradley
Background: Since being a third round pick two years ago, Bradley has punished minor league pitching, and he currently owns a .257/.377/.484 (137 wRC+) batting line with 16 homers and a 14.8% walk rate in 83 High-A games as a 20-year-old. He's nearly three years younger than the average Carolina League player. Baseball America ranked Bradley as the 64th best prospect in baseball in their midseason update.
Scouting Report:
"Bradley has all the ingredients needed to be an impact hitter, with plus bat speed, huge power and feel for using the entire field at a young age … (He has a) raw approach, and there are some scouts who worry about his capacity to make consistent contact at higher levels … Bradley faces an uphill battle due to his profile as first-base-only prospect, but his combination of power and hitting ability is plenty good enough to overcome those odds."
Why Should The Yankees Want Him? Despite his defensive and positional limitations, Bradley projects to be an impact player thanks to his offensive profile from the left side of the plate. He has the potential to hit for average and power down the line, and that's someone who can hit in the middle of a lineup. Bradley's more than holding his own despite being young for his level this year.
Why Should The Yankees Stay Away? Those defensive and positional limitations do exist. Bradley is a first baseman only and not a particularly good one either. He also offers nothing on the bases. Bradley has to hit and hit big to have value, and it should be noted he's struck out 31.4% of the time this year and 29.6% of the time in over 1,000 minor league plate appearances. There are real contact concerns here.
RHP Mike Clevinger
Background: The Indians straight up stole Clevinger two years ago, when they got him from the Angels for Vinnie Pestano. The 25-year-old righty has since blossomed into a very good pitching prospect, one with a 2.82 ERA (3.23 FIP) in 83 Triple-A innings this year. He has a 26.5% strikeout rate and a 9.0% walk rate as well. Clevinger made his MLB debut earlier this season and it didn't go to well (14 runs in 16.1 innings), but that's okay. Lots of guys struggle in their first taste of the show. Clevinger was 71st on Baseball America's midseason top 100, and it's worth noting the Yankees had at least three scouts on hand to see his most recent Triple-A start, according to Mark Feinsand.
Scouting Report:
"Clevinger usually operates at 92-95 mph with his fastball but has touched 97. His slider is his best secondary offering and projects to be above average, thrown with power and depth, and he knows how to keep hitters off balance using his curveball and changeup, though neither pitch is better than fringe average at the moment … There's still room for improvement, but Clevinger isn't far away from making an impact in the Major Leagues."
Why Should The Yankees Want Him? Clevinger is basically big league ready right now. He misses bats with two pitches and has the makings of two others, so he has no doubt starter stuff and control. Is the upside sky high? No, but Clevinger has the tools to hold down a spot in the middle of the rotation for the next several years. The Yankees have been looking for pitching controllable behind 2017 and Clevinger definitely fits the bill.
Why Should The Yankees Stay Away? There aren't many reasons to stay away, really. Clevinger had Tommy John surgery in 2012, so his medical history isn't clean, and he struggled with his mechanics big time in 2014. He had a 4.41 ERA (4.56 FIP) in Single-A that year, which is why the Tribe was able to get him for Pestano. He's been healthy and his mechanics have been fine since then though, so yeah. Clevinger is a quality MLB ready starting pitching prospect.
UTIL Yandy Diaz
Background: Diaz, 24, was a lower profile Cuban signing a few years back ($300,000 bonus) and he's been very productive in the minors. This season he's hitting .311/.413/.438 (148 wRC+) with six homers, ten steals, a 14.8% walk rate, and a 15.6% strikeout rate in 83 games split between Double-A and Triple-A. That's split into a 145 wRC+ in 26 Double-A games and a 148 wRC+ in 56 Triple-A games. Diaz is primarily a third baseman, though he played second in Cuba and has seen time in the outfield corners this year.
Scouting Report:
"Diaz is a truly disciplined hitter who never tries to do too much and rarely expands his zone. He makes a lot of contact with his compact right-handed swing, while his flat path through the zone produces line drives across the whole field … (Some) scouts question whether he has the necessary bat speed to generate usable pop in games … Diaz has quickly developed into an above-average defender at third base, where his range, soft hands and strong arm are all clean fits."
Why Should The Yankees Want Him? Even without much power, Yandy makes enough contact and draws enough walks to be an asset at the plate. The Yankees could also use a long-term third base solution — Miguel Andujar is awesome, but you shouldn't bank on any one guy to be the answer — and Diaz can not only play the position, but play it well. And he can even fill in at second and in the corner outfield spots. That's a nice little player for the bottom of the lineup.
Why Should The Yankees Stay Away? I like Yandy but I feel like his upside is the current version of Chase Headley. Good defense and a bunch of walks, but not much power or speed. Diaz is a bit of a 'tweener because he doesn't have the kind of pop expected from a corner spot. Playing some second and outfield will help because at least then you can put him on the bench. As a regular though, Diaz seems like someone who won't kill you while you look for someone better, and that's not very exciting.
LHP Rob Kaminsky
Background: The Yankees were connected to the 21-year-old Kaminsky, a New Jersey native, prior to the 2013 draft, but he was off the board before their extra picks came around. The Cardinals traded him to the Indians for Brandon Moss last summer, and so far this year Kaminsky has a 3.86 ERA (4.10 FIP) with a 15.0% strikeout rate and an 8.7% walk rate in 81.2 Double-A innings.
Scouting Report:
"His fastball sat 86-92 mph with decent arm-side run and sink, and he showed feel for adding and subtracting with the pitch. His plus curveball is a true bat-misser, thrown with outstanding 12-to-6 shape and downer action, and it's been his greatest weapon since high school … (he has a) changeup and below-average slider … Kaminsky's advanced command allows him to throw strikes with his entire repertoire … the Indians love his competitiveness and high baseball IQ on the mound."
Why Should The Yankees Want Him? The Yankees have a lot of big stuff/poor command guys in the organization and Kaminsky is pretty much the opposite. To use an old cliche, he's a pitcher, not a thrower. Kaminsky is not a future ace like Aiken, but he projects to be a solid mid-to-back-end starter who gets by on smarts more than blow-you-away stuff. Cheap rotation help is always a plus, especially lefties in Yankee Stadium.
Why Should The Yankees Stay Away? Kaminsky's stuff has taken a pretty big step back since the 2013 draft. His fastball no longer consistently sits in the low-90s and both his changeup and slider have taken a step back because he falls in love with his curveball too easily and doesn't throw his other pitches enough. (To be fair, it's a great curveball.) The Cardinals know pitching as well as anyone. When they deal a former first rounder two years later for a guy like Brandon Moss, that's a red flag to me. They must think the current version of Kaminsky is here to stay. The old version ain't coming back.
LHP Justus Sheffield
Background: Sheffield, 20, was the 31st overall pick in 2014, and so far this year he has a 3.53 ERA (3.77 FIP) with a 22.9% strikeout rate and a 9.7% walk rate in 89.1 innings at High-A. Baseball America ranked him No. 69 in their midseason top 100 list. It's worth noting Keith Law said the Yankees had two scouts at Sheffield's start yesterday, when he struck out eight in 6.2 scoreless innings.
Scouting Report:
"He's hit 96 mph with his fastball but usually sits in the 92-93 mph range with late, arm-side life and some sink. His curveball flashes plus and projects as a swing-and-miss offering at the highest level, and he made strides developing his changeup in 2015 … Both his secondary pitches and his command require further refinement, but the southpaw has all the tools necessary to develop into a quality mid-rotation starting pitcher."
Why Should The Yankees Want Him? Sheffield has premium stuff and I think he is Cleveland's best perfectly healthy pitching prospect (Aiken's coming back from elbow reconstruction), so he's pretty much the best they have to offer on the mound. Lefties who can miss bats are always in demand, especially in Yankee Stadium given the short porch. The history of the Yankees is loaded with quality southpaws, after all.
Why Should The Yankees Stay Away? Sheffield is listed at 5-foot-10 and there's always a question about whether a short pitcher can get enough downhill plane on his fastball to avoid being fly ball and home run prone. Also, his location has not been as good this year as last year, when he had a 6.9% walk rate. Sheffield is also a 20-year-old in High-A too. He's not exactly big league ready. There's a long way to go to get from where he is now to that mid-rotation ceiling.
* * *
I'm assuming the Indians will make their top two prospects, outfielders Bradley Zimmer and Clint Frazier, completely off limits in a Miller (or Beltran) trade. I know I would. Miller's awesome but those guys are potential difference-makers who are knocking on the door. Depending on how you feel about Aiken after Tommy John surgery, he's the best the Indians have to offer after Zimmer and Frazier. Clevinger, Sheffield, and Bradley are the next tier.
The Indians are loaded with prospects, so these guys listed above are hardly all they have to offer. I could definitely see the Yankees pushing for both Clevinger (the MLB ready guy) and Sheffield (the higher upside guy) in a Miller trade, if not more. Remember, they're going to have to be blown away to trade Miller. Clevinger and Sheffield is a real nice start, though I'm not sure those two alone will be enough to get the Yankees to budge. The Indians definitely have the pieces to get a deal done though.