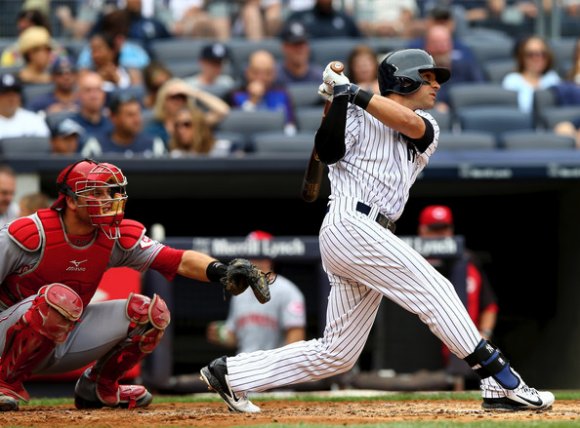 Not gonna lie: The original title of this season review was "Nothing from the keystone." It sure seemed that way, given that Stephen Drew and Brian Roberts combined for 458 of 631 total PA from the position. Add in Brendan Ryan for another 42 and it looks like a downright disaster.
Then I saw this, and I had to change my title.

The chart does not lie: Yankees second basemen ranked seventh in the AL for OPS. All I could think was:
To reiterate, Stephen Drew and Brian Roberts combined for 73 percent of the overall plate appearances at second base, and together produced a .603 OPS. That actually raises another decent question.
How the hell did the Yankees second basemen produce a .693 OPS if the guys taking 73 percent of the PA produced a .603 OPS? That 90 points has to come from somewhere.
1) Martin Prado is awesome. In his 63 PA as a 2B he had a 1.074 OPS. That moved the needle quite a bit.
2) Yangervis Solarte got 49 PA as a 2B and had a .777 OPS, which helped.
3) Jose Pirela had three hits, including a double and a triple, in 13 PA, so he and Dean Anna, who hit a home run as a 2B, topped off the tank.
Here's where the effect on the field doesn't quite line up with the aggregate stats. Prado excelled while playing 2B, but no matter his overall numbers (7 2B, 3 HR, both more than Drew in a little more than half the PA) he affected only 17 games. Drew and Roberts infected affected a combined 121 games with their .603 OPS.
So I suppose the title could be, "Nothing from the keystone most of the time." That's a little clunky. The question mark will suffice.
No matter what, the Yankees were going to be disappointed at second base this season. In 2013 they had the highest OPS in the AL at second base — by 119 points. Once Robinson Cano signed with the Mariners, what options did the Yankees have?
Mark Ellis? Plenty advocated for that, but go look at his B-R page. I'm not even going to link it here. It's too offensive.
Omar Infante? Sure, he's ready for a World Series appearance, his second in three years, but his OPS was 37 points lower than Roberts's during the regular season. And Kansas City is paying him through 2017.
Trade? Since zero second basemen were traded from the time Cano signed through Opening Day, it's tough to say that the Yankees missed any opportunities. Once Cano left, they had essentially no chance to field a decent second baseman.
Mike wrote glowingly of Prado in his season review, and for good reason. He not only provided offense in the second half, but will be around for the next two seasons. That's the big 2014 story for the Yankees at second base: how it will affect 2015 and beyond.
I could spend a few paragraphs ripping Roberts and Drew, but what's the point? We saw some brilliant moments out of Roberts, but we mostly saw an aging, oft-injured player on his last legs. (Roberts confirmed that by announcing his retirement last Friday.) We saw — well, we really saw nothing from Drew save for a few line drives towards the very end of the season.
What we saw from Prado, though, was a glimpse of what he might provide in 2015. It's almost certain he'll start the season at second base, with Alex Rodriguez, Chase Headley, or a combination thereof manning third base. He might move at some point, perhaps to the outfield, perhaps to third base, making room for Rob Refsnyder or Jose Pirela. However the situation shakes out, Prado gives them a level of versatility they've lacked in recent years.
There you have it: a positively spun review on what seemed like one of the worst positions for the 2014 Yankees. Next up on my plate: What the hell happened at first base. And yes, the first basemen produced a lower OPS than the second basemen.