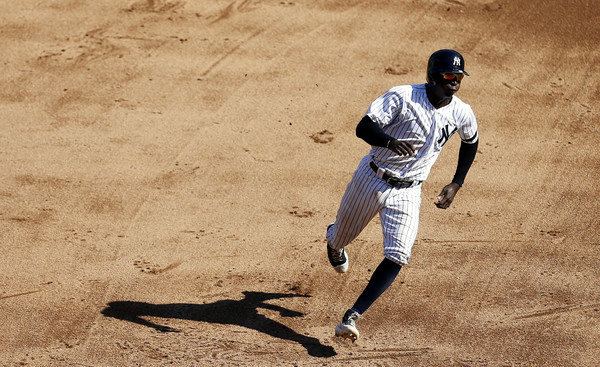 In what was supposed to be a rebuilding transition season, the Yankees won 91 games and will play in the AL Wild Card Game tomorrow night. They remained in the hunt for the AL East title right up until the final weekend too. That's pretty cool. Can't say I saw this coming. This has been a fun six months, hasn't it? Couldn't have asked for a more enjoyable season.
Getting to the postseason and possibly maybe hopefully winning the World Series is the result of many, literally hundreds of decisions over a period of several seasons. It doesn't happen quick. Some of the decisions that got the Yankees back to the postseason this year are obvious. Draft Aaron Judge with the 32nd pick in 2013 instead of literally anyone else. Trade for Sonny Gray and David Robertson. Sign CC Sabathia. Those are the obvious moves.
Many times it's the not-so-obvious decisions, the multitude of easy-to-look decisions that are the difference between contending and just being okay. Don't think much of that lightly regarded prospect thrown into a trade? Well sometimes that guy turns into Chad Green. Those are the moves and decisions that separate the contenders from the pretenders. Here are six of those not-so-obvious decisions that played a role in getting the Yankees back to the postseason.
Giving Denbo the keys to the farm system
The Yankees were never going to get back to being a perennial contender without developing players from within. You can't build a winner through free agency anymore. Baseball has changed. And aside from a Brett Gardner here and a Dellin Betances there, the Yankees hadn't developed an impact player since Robinson Cano as recently as two years ago. Things had to change and they did change.
Four years ago Hal Steinbrenner ordered what was essentially an audit of the farm system. The Yankees weren't producing players and the owner wanted to know why. Hal's evaluation of the system led to substantial changes. Coaches and player development personnel were replaced, and the minor league complex in Tampa was renovated. The status quo was not working so the Yankees changed the way they went about developing players.
The single biggest change was the (forced) retirement of longtime vice president of baseball operations Mark Newman, who'd been running the farm system for 15 years. Brian Cashman tabbed Gary Denbo, who has done basically everything there is to do in baseball throughout his career, to replace Newman, and the difference has been staggering. The Yankees are not just producing MLB players, they're producing stars.
How much credit does Denbo deserve for the farm system turnaround? It's hard to say, exactly. Denbo did overhaul the minor league coaching staffs — even the beloved Tony Franklin, Double-A Trenton's longtime manager, was moved into another role — and start Captain's Camp, among many other things. The farm system went from frustratingly unproductive to pumping out quality big league players under his watch. More than the Yankees can roster, really.
I never thought the Yankees had a problem acquiring talent (aside from the Cito Culver and Dante Bichette Jr. picks). They had talent. But that talent was not developing into MLB players. That has changed since Denbo took over, and hey, maybe it's all one giant coincidence. I don't think that's the case though. Denbo replacing Newman barely registered as a blip on the radar at the time, but in the grand scheme of things, it may have been the team's most impactful move of the last five or six years.
Letting Severino pitch in relief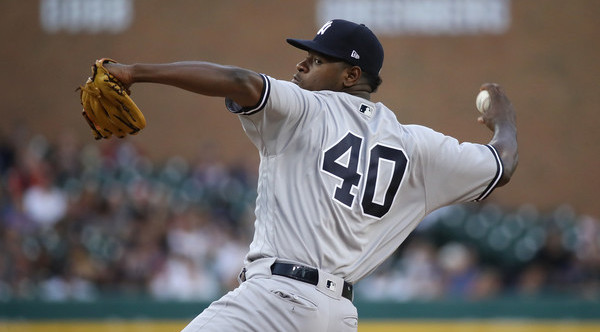 The 2016 season couldn't have gotten off to a worse start for Luis Severino. Rather than emerge as a homegrown ace, the then-22-year-old struggled big time early in the season and eventually went down with a triceps injury. He threw 35 innings with a 7.46 ERA (5.52 FIP) in seven starts before the injury, then once he got healthy, the Yankees sent him down to Triple-A Scranton.
In 13 games with the RailRiders, Severino had a 3.49 ERA (2.60 FIP) in 77.1 innings, and he was sent down for the express purpose of improving his command and improving his changeup. The Yankees did bring Severino back to the big leagues eventually, but not as a starter. As a reliever. In eleven relief appearances he threw 23.1 innings with a 0.39 ERA (2.29 FIP) and was overwhelmingly dominant. Naturally, the calls to keep Severino in the bullpen came, but the Yankees knew better and moved him back into the rotation this year.
This season Severino emerged as that homegrown ace and I don't think that happens without his bullpen stint last season. While working in relief Severino learned how to get MLB hitters out, learned to trust his overpowering stuff, and built confidence, and it carried over this year. He looks like a reliever pitching as a starter this season. He has that same attack attack attack mentality and a better idea of how to get outs.
Development is rarely linear. So many players experience ups and downs along the way, and last season was a down year for Severino. It wasn't a lost year though. You hope young players learn something when they struggle and Severino absolutely did. He doesn't become the pitcher he is today without going through everything he went through last year. I know we're all still scarred from the Joba Rules and all that, but in this case, a stint in the bullpen turned into a major positive for Severino and the Yankees.
Beltran picks the Astros
Over the winter the Yankees had a clear opening for a veteran middle of the order bat. Someone to support the youngsters and take all those designated hitter at-bats. The Yankees wanted to bring Carlos Beltran back for that role. He was Plan A. Instead, Beltran decided to take a one-year contract worth $16M with the Astros.
"They really made an offer early, faster than any other team," said Beltran to Brian McTaggart after signing with Houston. "At the same time, I took a look at the roster, and having an opportunity to play against them last year with the Rangers, this team is very, very close to winning and winning for a long time. The fact they were aggressive and went out there and really showed big-time interest, it wasn't that difficult to make to make a decision."
With Beltran off the board, the Yankees shifted gears and turned their attention to Matt Holliday, the other big name veteran bat who could be had a one-year contract. The Yankees have Holliday a one-year deal worth $13M four days after Beltran signed with the Astros, and, well:
Holliday: .231/.316/.432 (97 wRC+) and 19 homers
Beltran: .231/.283/.383 (76 wRC+) and 14 homers
Holliday has crashed hard in the second half, hard enough that it's fair to wonder whether he belongs on the postseason roster, but his first half was incredible. He hit .262/.366/.511 (132 wRC+) with 15 homers in 68 games before the All-Star break. Beltran's best 68-game stretch this season was a .246/.301/.442 line (96 wRC+) with eleven homers from May 3rd through August 6th. Yeah.
Between Holliday's first half production and his reported impact on Judge and other young players, the Yankees are pretty fortunate Beltran decided to return to Houston. They wound up with a slightly cheaper player who was more productive on the field and also an asset in the clubhouse (which Beltran certainly is as well).
Diamondbacks put their faith in Ahmed and Owings
Nearly three years ago, then-D'Backs general manager Dave Stewart decided he was going to dip into his team's shortstop depth to bolster their rotation. The club had three young shortstops, none older than 24, so there was some surplus. Arizona could trade one young shortstop and still have two others on the roster. And that's exactly what they did. The shortstops they kept: Nick Ahmed and Chris Owings. The shortstop they traded: Didi Gregorius.
Gregorius from 2015-17: .276/.313/.432 (98 wRC+) and +9.6 WAR
Ahmed from 2015-17: .228/.276/.351 (60 wRC+) and +1.9 WAR
Owings from: 2015-17: .255/.291/.387 (72 wRC+) and -0.5 WAR
To be fair, the D'Backs acquired Robbie Ray in the Gregorius trade, and Ray is pretty damn awesome. He threw 162 innings with a 2.89 ERA (3.72 FIP) and 32.8% strikeouts this season, and went to the All-Star Game. The trade worked out for them from the "get a young starter" perspective. The Yankees did not have a young starter to trade with the D'Backs directly, which is how the Tigers got involved. Then-Tigers general manager Dave Dombrowski loved Shane Greene and served as an intermediary.
Gregorius is now a highly productive member of the Yankees because the D'Backs considered him expendable. That's why he's wearing pinstripes. They liked Owings and Ahmed more and identified them as their best chance to develop a shortstop of the future. "Didi has been one of the most talked-about players (in trades) for us. Looking at the possibilities for things we could do, it really came down to eventually, 'How can we fill a need?'" said Stewart to Nick Piecoro after the trade. The D'Backs got their starter, so credit to them. That decision helped get the Yankees to where they are today.
Not making the easy move for the fifth starter's spot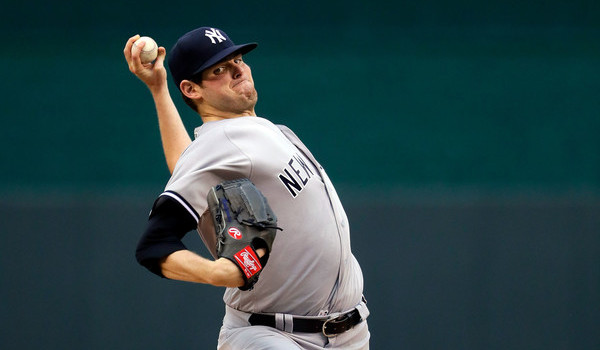 When Spring Training started, the Yankees had two open rotation spots. As it turned out, one was earmarked for Severino — didn't I say that all offseason long? I did — leaving the fifth spot up to a good ol' Grapefruit League competition. The fifth starter candidates: Green, Luis Cessa, Bryan Mitchell, and supposedly Adam Warren, though I never bought Warren as a rotation candidate. That group was the baseball equivalent of a shrug emoji.
Ultimately, none of the fifth starter candidates won the job. Jordan Montgomery shocked the world in camp, outpitched everyone, and won the job. The Yankees could've very easily gone with Cessa or Green or Mitchell, all of whom were already on the 40-man roster and had MLB experience, but no, they went with Montgomery. Johnny Barbato was the 40-man roster sacrificial lamb and Montgomery was the fifth starter.
What was expected to be a revolving door of fifth starters — when is it ever not a revolving door? — was instead steady and reliable production from Montgomery, especially in the first half. He finished the regular season with a 3.88 ERA (4.06 FIP) in 155.1 innings after pitching to a 3.65 ERA (4.05 FIP) in 91.1 first half innings. Montgomery led all rookie pitchers with +2.8 fWAR, all after coming into the season as a rotation afterthought.
There's a pretty good chance Montgomery will not even be on the postseason roster, but make no mistake, he played a vital role in getting the Yankees back to October. He earned his spot in Spring Training and, truth be told, the only reason he had to be sent to Triple-A in the second half was to control his workload. Montgomery gave the Yankees what they've been seeking for years: a no nonsense starter to solidify the back of the rotation.
Going with Torreyes on the bench
It wasn't that long ago that Rob Refsnyder was a pretty big deal around these parts. He put up very good numbers in the minors, and for the first few years of the post-Cano era, the Yankees had a revolving door at second base. The scouting reports said Refsnyder's defense stunk, we all knew that, but wouldn't the offense make up for it? After all, the Yankees were running guys like Brian Roberts and Stephen Drew out there.
The Yankees never believed in Refsnyder as much as the fans, so much so that when a bench spot was open last spring, they didn't take him north. Refsnyder had a decent enough camp and was learning third base to increase his versatility. Instead, the Yankees decided to go with Ronald Torreyes, who had been in four different organizations in the previous ten months. They went with Torreyes because he could do what Refsnyder couldn't: catch the ball.
Turns out, Torreyes had more to offer offensively as well. Refsnyder has never hit much in his various MLB stints — he authored a .170/.247/.216 (22 wRC+) batting line with the Yankees and Blue Jays this year — and he still doesn't have a position. Torreyes, meanwhile, has settled in as a reliable utility infielder, one who filled in at shortstop and second base while Gregorius and Castro were injured earlier this year.
Torreyes while Didi was on DL: .308/.308/.431 in 19 games
Torreyes while Castro was on DL (two stints): .302/.321/.389 in 38 games
Does he draw walks? No. Does he hit for power? No. Does he even steal bases? No, not really (two all season). What Torreyes does do it get the bat on the ball (12.8%), and that prevents him from falling into deep and prolonged slumps. He's a .300 hitter (well, .292 to be exact) and it is an empty .300, but .300 is .300, and we're talking about a bench player. A bench player who can play all over the infield and start for a few weeks at a time if necessary.
Also, let's not forget the off-the-field value Torreyes brings to the table. He's a high-energy player who is universally beloved in the clubhouse. He's a Grade-A glue guy and that is absolutely important. It's a long season, man. Teams need players who can keep everyone loose and make it fun to go to the ballpark. Torreyes does that. He's a solid utility player on the field and a great clubhouse guy behind the scenes.
Last spring Refsnyder was the trendy pick for that bench spot. He'd done all he needed to do in the minors to earn a chance, at least offensively and at least in the eyes of the fans, and it seemed like he would get the call. Instead, the Yankees went with the relatively unknown Torreyes, and his more functional skill set. This season he started for long stretches of time while Gregorius and Castro were out, and his production during those stints as a starter helped get the Yankees back to October.