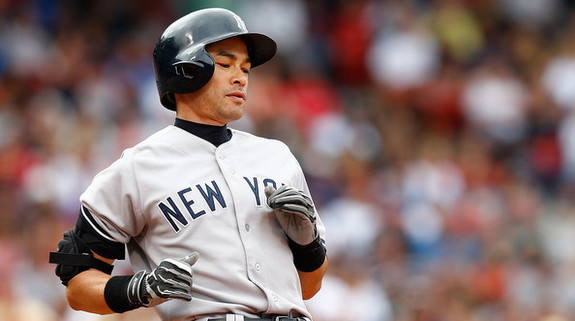 The Yankees are on their last legs. Baseball Prospectus gives them a 2.4% chance to make the postseason following last night's shutout loss and even that feels high. The non-Andy Pettitte starters are struggling, the bullpen is a disaster, and the offense has dried up since Brett Gardner got hurt. Obviously Gardner's absence is not the only reason the team is struggling to score runs, but taking a .273/.344/.416 (107 wRC+) hitter out of the lineup sure does hurt. No doubt about it.
Because of the injuries to Gardner and Derek Jeter — as well as Alex Rodriguez's barking calf and hamstring — there is only so much Joe Girardi can do to shake up his lineup going forward. Brendan Ryan (!) has already replaced Eduardo Nunez at short and Mark Reynolds has taken over at the hot corner full-time despite his defensive deficiencies. There are still two more moves that can be made though, and it has more to do with getting unproductive bats out of the lineup than having slam dunk upgrades waiting in the wings.
Since Gardner got hurt, replacement Ichiro Suzuki has gone 2-for-15 while hitting exactly four balls out of the infield on the fly. He came off the bench to get all the at-bats that would have gone to Gardner had he not gotten hurt. Chris Stewart, meanwhile, has gone 3-for-38 (!) in the team's last 24 games. To make matters worse, both guys have started to slip defensively either due to fatigue or old age or whatever. Ichiro's been misplaying balls in right field while Stewart is a passed ball machine. They're killing the team.
Girardi doesn't have a ton of alternatives at his disposal despite September call-ups, but he could pull the plug on the veterans and run the kids out there. Zoilo Almonte recently returned from his ankle injury and J.R. Murphy was called up to serve as the third catcher a few weeks ago. Austin Romine would be another option behind the plate had he not been concussed last week. Almonte and Murphy aren't exactly the next Mike Trout and Buster Posey, but the offensive bar in right field and behind the plate has been set so low that it's worth giving the kids the try.
No team — extra-especially the Yankees — likes to hand the keys to a playoff race over to a bunch of prospects late in September, but the alternative is two very unproductive veterans. Ichiro and Stewart have stunk all year, this is not anything new, but their recent slumps have been much more pronounced and ill-timed. Almonte had some success during his brief cup of coffee earlier this year and at the very least put together some quality at-bats while Murphy … well he had a real nice year split between Double-A and Triple-A. What more can you say about him? Not much. Change for the sake of change is usually foolhardy, but I think Ichiro and Stewart have forced the issue. Enough is enough.
These last eleven games will tell us nothing about whether Almonte and/or Murphy can help the team next year. Nothing at all. There just isn't enough time. What they can do is potentially help the team right now. Again, the bar in right field and behind the plate has been set so very low that it won't take much for them to be upgrades. Could they be downgrades? Oh sure, it's very possible. But the Yankees aren't going to postseason if Ichiro and Stewart continue to play everyday. Replacing them with Almonte and Murphy could possibly improve their already slim chances. It's worth a shot.