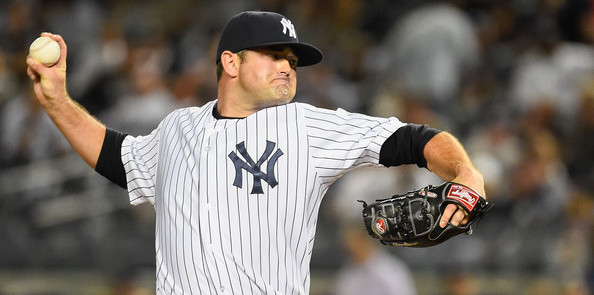 Thirty-three different players pitched in at least one game for the Yankees this past season — including Dean Anna! — the second most in baseball behind the Rangers, who somehow trotted 40 different players out to the mound. That's the most pitchers the Yankees have used in a single-season in their history, five more than the previous record set back in 2011. Injuries, ineffectiveness, and more contributed to that.
We've already reviewed most of those 33 pitchers, either individually or in groups, but there are still some stray arms running around out there. Here is the final pitching review of the 2014 season. (We still have some other players and personnel to cover, but the season review series will be over soon.)
Preston Claiborne
Remember how bad Claiborne was in Spring Training? He allowed nine runs and 14 hits (!) in only 5.2 Grapefruit League innings and looked as bad as the stats, as hitters where taking very comfortable swings against him. There was some speculation the Yankees would drop Claiborne from the 40-man roster if space was needed, but that never happened. He didn't win a bullpen job in camp (duh) and opened the season with Triple-A Scranton.
The 26-year-old Claiborne actually threw more innings in the big leagues (21) than he did with the RailRiders (20.1) in 2014. That's because he missed roughly eight weeks in the middle of the summer after separating his shoulder. Claiborne went up and down a few times and had a perfectly acceptable 3.00 ERA (3.66 FIP) with the MLB club, though he put 34 men on base in those 21 innings and both his strikeout (6.86 K/9 and 16.7 K%) and walk (4.29 BB/9 and 10.4 BB%) rates were underwhelming. There's also this:
Claiborne's velocity — on all his pitches, not just the fastball — has been gradually declining since he broke into the big leagues last May. He started his MLB career with those nine scoreless innings and 19.1 walk-less innings last year, but he hasn't been the same since the middle of last June or so, pitching to a 5.05 ERA (4.61 FIP) with a 17.7% strikeout rate and a 9.7% walk rate in 51.2 innings since that first career walk. Claiborne is firmly in generic up-and-down reliever territory.
Matt Daley
It's obvious the Yankees liked something about Daley at some point. They first signed him to a minor league contract back during the 2011-12 offseason, when he was recovering from serious shoulder surgery. The Yankees rehabbed him for the entire 2012 season, re-signed him that offseason, then watched him post a 2.02 ERA (1.88 FIP) in 53.1 innings at three minor league levels in 2013 before giving him a September call-up. Daley struck out eight, walked zero, and allowed just two hits in six scoreless innings for the MLB club. He was the pitcher who replaced Mariano Rivera after Mo's emotional farewell at Yankee Stadium.
The Yankees non-tendered the 32-year-old Daley last offseason only to bring him back on yet another minor league contract. The Queens native spend most of the year with Triple-A Scranton, where he had a 4.54 ERA (3.86 FIP) with excellent strikeout (12.11 K/9 and 30.0 K%) and walk (2.02 BB/9 and 5.0 BB%) numbers in 35.2 innings. The Yankees called him up a few times and he had a 5.02 ERA (6.82 FIP) in 14.1 innings. Daley's soft-tossing ways resulted in a lot of hard contact, several long homers (2.51 HR/9!), few strikeouts (6.28 K/9 and 15.9 K%), and too many walks (3.77 BB/9 and 9.5 BB%). He allowed six runs in 1.1 innings in his first appearance, threw 10.1 scoreless innings in his next eight appearances, then allowed at least one run in each of his final four appearances. The Yankees released Daley on September 1st to make 40-man roster space for other call-ups. Such is life.
Jose Ramirez
I was very excited about Ramirez coming into the season. The Yankees finally decided to pull the plug on him as a starter due to his ongoing injury problems, and his upper-90s fastball coupled with his knockout changeup and occasionally devastating slider made him an intriguing short reliever. The potential for dominance is there. Maybe not Dellin Betances level dominance, but dominance.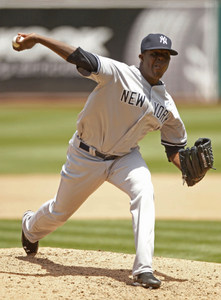 Ramirez, 24, missed all of Spring Training with an oblique injury and didn't make his season debut with Triple-A Scranton until May 7th. He spent a month with the RailRiders before being called up to the big league team in early-June, replacing Claiborne on the roster. Ramirez made eight appearances with the Yankees, allowed runs in five of them, walked a batter in six of them, and took the loss in two of them. He allowed six runs (5.40 ERA) with ten strikeouts (9.00 K/9 and 20.4 K%) and seven walks (7.00 B/9 and 14.3 BB%) in 10 innings before being sent back to Triple-A in early-July.
After returning to the RailRiders, Ramirez made only two appearances before getting hurt and missing the rest of the season. I can't find any information about the nature of the injury, but he's dealt with it all over the years. Shoulder, elbow, oblique, you name it. Ramirez had a 1.46 ERA (3.44 FIP) in 12.1 total innings in Triple-A. The 2015 season will be Ramirez's final minor league option year, so he'll give it another go and hope to stay healthy so he can prove his worth at the MLB level.
Jim Miller
Like 2013, Miller spent most of 2014 with Triple-A Scranton, where he had a 3.30 ERA (3.10 FIP) in 57.1 innings. The Yankees called him up in early-July, he made two appearances with the team, and allowed six runs on seven hits and two walks in 2.2 innings. Three of those seven hits left the yard. On July 10th, he entered the seventh inning of a game against the Indians with the Yankees down one run. He then allowed five runs in 1.2 innings to put the game out of reach. The Yankees designated Miller for assignment the next day and released him in late-August to clear a roster spot for the RailRiders.
Chaz Roe
The Yankees had a pitcher named Chaz Roe this year. They acquired Chaz Roe on August 31st from the Marlins, where Chaz Roe had spent the season with their Triple-A affiliate. Chaz Roe once had a ridiculous beard: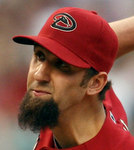 Chaz Roe appeared in three games with the Yankees. Chaz Roe allowed two runs in his first appearance, walked the only batter he faced in his second appearance, and allowed one run in his third appearance. The Yankees designated Chaz Roe for assignment to clear a 40-man roster spot when Masahiro Tanaka was activated off the 60-day DL at the end of the season. Chaz Roe's tenure in pinstripes ended with three runs allowed in two innings. Chaz Roe, y'all.