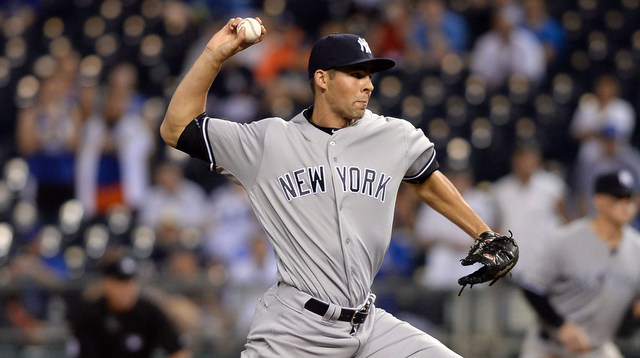 Both Ben Heller and Jonathan Holder had their lives change quite a bit over the last six weeks. Holder got off relatively easy. He was promoted to Triple-A in late-July and called up to the big leagues in September. Heller? He went from Double-A to Triple-A, then was traded, then got called up to the show for the first time. That's a lot to process in a short period of time.
Heller and Holder are with the Yankees right now and they didn't receive courtesy call-ups. Both were added to the 40-man roster earlier than necessary — Holder was added a year prior to Rule 5 Draft eligibility, Heller only a few weeks early — and Joe Girardi has used both to get some pretty important outs in their early days as Yankees. Look at the situations they've been brought into so far:
Heller
Start the eighth up eleven (MLB debut)
Start the eighth down three against Manny Machado, Mark Trumbo, and Chris Davis
Start the tenth up one against Raul Mondesi, Jarrod Dyson, Lorenzo Cain, Eric Hosmer
Start the 12th tied against Mondesi, Dyson, Cain
Inherit bases loaded with two outs against Edwin Encarnacion, up four
Holder
Start the sixth down eight (MLB debut)
Inherit man on first with one out against Devon Travis, Jose Bautista, and Josh Donaldson, up four
Both Heller and Holder were able to make their big league debuts in low-leverage spots. Ask any manager and I'm sure they'd tell they prefer to have a rookie reliever make his debut in a stress-free blowout. These days the late-innings have been so hyped up that they seem to have a mind of their own.
Since their debuts though, Holder and especially Heller have been thrown into the fire. Holder was asked to go through the top of the one of the best lineups in baseball with a man on base in a four-run game yesterday. Heller was given a save opportunity on the road against the defending World Series champs in his third career appearance. Yesterday he had to face Encarnacion with the bases loaded. I mean, geez. Talk about baptism by fire.
That stuff was all born out of necessity. The Yankees were essentially out of relievers when Heller came in for the save opportunity against the Royals. Yesterday the regular end-game relievers were a bit taxed. Girardi used Heller and Holder in those spots because he had no other choice, really. Going forward I'm sure he'd like to be able to pick his spots a little better and make life easy on the kids.
Regardless of their usage, this month represents a huge opportunity for both Heller and Holder, who have a chance to solidify spots in the 2017 bullpen. Well, maybe we shouldn't go that far. No one is going to win a 2017 roster spot in September 2016. These two have a chance to move to the front of the line, I should say. That's better. Holder and Heller want to make a positive impression on the coaching staff and front office this month.
Would it be easier to do that in lower leverage innings? Ostensibly yes. But pitching well in higher leverage spots would help even more. Neither has done that yet, though it's still early. Also, the results don't even have to be great. The Yankees are going to evaluate players based on their raw stuff, their composure, and their aggressiveness. A few singles falling in shouldn't change any opinions.
The Yankees have had some major middle innings problems this season, and the Andrew Miller and Aroldis Chapman trades haven't helped. On days Luis Severino isn't available, Heller and Holder figure to be Girardi's go-to bridge relievers, so they're going to pitch. These two aren't going to sit in the bullpen and throw, like, two innings in September. They were brought up to help, and if they do that, they'll set themselves up for more prominent roles next year.