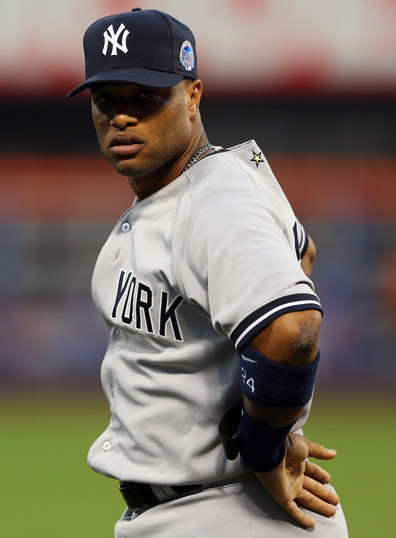 A big part of being a Yankee fan is buying, hook, line and sinker, into the concept of mystique and aura, so mocked by Curt Schilling during the 2001 World Series. We expect dramatic victories, World Series titles and every player to thank the good Lord for making him a Yankee. We expect the Yanks to pay what it takes to retain their players, and we expect those players to embrace their time with the Yankees and stay in the Bronx to earn their spots in Monument Park and, for some, a plaque in Cooperstown. So what happens when they leave?
When Robinson Cano jetted for Seattle, of all places, it was more than a little bit of a shock to fans of the Bombers. Here was a player in his prime with multiple All-Star appearances, 1649 hits, 204 home runs, and a .309/.355/.504 slash line, all at the ripe old age of 31. The Yanks offered him seven years and were willing to pay him $25 million a year with an annual salary higher than everyone but A-Rod's. But it wasn't enough, and now Robbie is Seattle's, and Seattle's problems are Robbie's.
As the reactions from Robbie's departures have come in, we've heard about disputes with Joe Girardi over lineup philosophy, and now, CC Sabathia has joined the fray with comments that stick to the heart of the Yankee legend. In comments to this weekend, CC spoke about the power of the pinstripes. "Just a player like that, putting on the pinstripes, and being able to play your whole career in New York means something – to me, obviously. It didn't mean that much to him," CC said. "It's a difficult choice being a free agent. And he made a tough choice. I know he's happy with his decision, and his family's happy. So that's good."
Over the years, plenty of Yankee legends have had the opportunity to leave, and most didn't. They earned their dollars because George Steinbrenner was willing to pay and because they wanted to stay. Derek Jeter hasn't put himself into a bidding war, and Jorge Posada stuck around. Bernie Williams and Mariano Rivera, to differing degrees, both nearly left the Bronx but backed away from Boston at the last minute. Andy Pettitte left only to return while Reggie Jackson left never to return. Some players have walked away to avoid donning another uniform when their tenures were over, by their choice or the Yanks', but I can't think of someone else who walked away mid-career for another team who outbid the Yanks.
For Robbie, the choice was purely dominated by dollars, and I won't begrudge him that. While the Yanks were willing to give him more per year, they didn't want to give a middle infielder entering his age 31 season a ten-year commitment. Cano, meanwhile, figured that the guaranteed money today — the $65 million difference — is something he wouldn't make up at the end of the seven-year deal the Yanks offered him. He didn't want to gamble against his own age-related decline, and in today's world where baseball teams are flush with cash, that's certainly his prerogative and a fine choice.
But where it hurts is with that mystique and aura. It's something fans buy into far more deeply than many players do, and it's a stark reminder of the business of the game when a fan favorite and pinstripe native leaves. Maybe Cano didn't think the Yanks during his career would ever be more than Derek's team. Maybe Cano saw ten years of executive office upheaval, various team-building approaches and just one World Series win and simply decided there was nothing particularly compelling keeping him around that didn't have a lofty price tag. Maybe we all overrate mystique and aura anyway. It hooks the fans, but what does it mean to the players anyway?
Without Robbie, Yankee life will go on. Brian Cashman says he's disappointed, but he's not $65 million worth of disappointed. The post-Robbie era will feature a Yankee team with a new look and a new approach. For nine years, Cano was the next great Yankee bound for Monument Park, and now he's just another guy on the hapless Mariners. It may not feel good now, but it's all part of the game, mystique, aura and free agency.