Welcome to RAB's Retro Week. Spring Training is two weeks away and there's not much going on in the hot stove league, so this is as good a time as any to look back at some Yankees stories from yesteryear. Since this year is the 20th anniversary of the 1998 Yankees, this week will be dedicated to that team.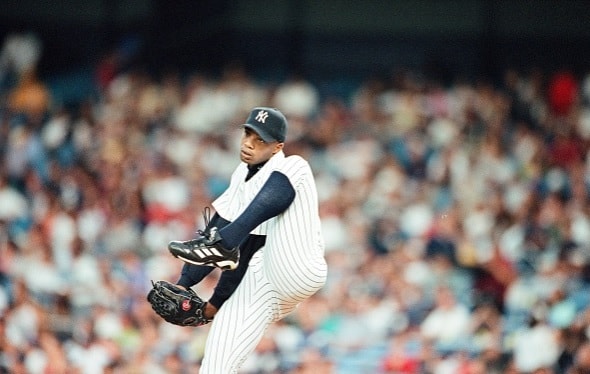 Given how the season played out, it can be easy to forget the 1998 Yankees needed to be saved. Twice.
The first time they had to be saved came early in the summer, on June 3rd, when David Cone was unable to make his scheduled start because his mother's dog bit him in the hand. True story. Cone talks about it during YES Network broadcasts all the time.
With Cone unavailable, the Yankees turned to maybe 28-year-old but possibly 32-year-old Cuban right-hander Orlando Hernandez, who the team signed in March because pitching depth was in short supply. The expansion draft raided depth charts — the Yankees lost righty Ben Ford to the Diamondbacks and righty Brian Boehringer to the Devil Rays in the November 1997 expansion draft — and left teams hesitant to trade their leftover pitchers.
* * *
"I'm sick of George's tactics," said Joe Cubas, Hernandez's agent, to Murray Chass in March 1998. George being George Steinbrenner, of course. "I'm fed up with it and tired of it and sick of it. My conscience is clean. I can speak about this because I just told the Yankees first … George is leaking (numbers) on purpose to scare others away. If they think they are going to corner me into a deal with those tactics, they're going to have a rude awakening when they see I'm about to cut a deal with another club."
Hernandez defected from Cuba in December 1997, two years after his younger brother Livan left the island. As punishment for Livan's defection, Orlando was left off the 1996 Cuban Olympic team and later banned from playing baseball in Cuba entirely. He defected to Costa Rica, which allowed him to avoid the draft and instead negotiate with any team as a free agent. The Yankees, Indians, Angels, and Mariners all wanted him, and George was driving a hard bargain.
"I'm dealing with four clubs. I'm close with one, and it's not them," said Cubas to Chass. "They're trying to make it look like there's a deal about to be made. The other clubs are taking it out on me. They're asking, 'Are you using us to get a better deal from George?'"
One day after Cubas made those comments — literally the very next day — Hernandez and the Yankees agreed to a four-year contract worth $6.6M. The Indians made a late push, but El Duque wanted to be a Yankee.
"I was about to cut a deal with Cleveland," said Cubas to Buster Olney. "We were at opposite ends of the spectrum yesterday. The thing that helped was that (Brian) Cashman got directly involved, which he hadn't been from the very beginning."
* * *
Hernandez was a bit of a mystery at the time aside from his stellar record in Cuba. He'd starred in the Cuban league and pitched well in the 1992 Olympics, but it was unclear if he'd even start in the big leagues. The Yankees viewed him as a potential back-end starter or relief option. After an abbreviated Spring Training — Hernandez reported late because he signed late — he headed to the club's High Class-A affiliate in Tampa.
Two starts and nine innings of one earned run ball later, the Yankees moved Hernandez up to Triple-A Columbus, where he pitched to a 3.83 ERA with 59 strikeouts and 17 walks in seven starts and 42.1 innings. The Yankees were preparing Hernandez for a bullpen role — "We're kind of tossing the idea around," said former farm system head Mark Newman to Chass — when Cone was bitten.
Hernandez made his big league debut on June 3rd, against the expansion Devil Rays. Against an admittedly thin lineup, El Duque fired seven innings of one-run ball at Yankee Stadium, striking out seven. Most fans hadn't seen Hernandez prior to that. He was late to Spring Training and had been in the minors. Hernandez wowed with his leg kick and array of arm slots.
"It was very emotional due to the fact so many years had gone by since I pitched in front of so many fans, and it was my first game at the Major League level," said Hernandez to Olney after the game.
The original plan called for Hernandez to make just the one spot start, then return to Columbus. Steinbrenner instead ordered Hernandez to remain with the big league team. "When you have an organization and an owner who knows what he wants to do, that's going to happen," Joe Torre said to Olney. Ramiro Mendoza shifted to the bullpen and Hernandez remained in the rotation.
So, with Cone recovering from his dog bite and David Wells nursing an achy shoulder — Hernandez nearly made his MLB debut one day earlier in place of Wells — El Duque stepped into the rotation and provided the type of stability the club was seeking behind Andy Pettitte. The Yankees were short on pitching depth and short on healthy starters. Hernandez helped save the day.
All told, Hernandez made 21 regular season starts for the Yankees in 1998, throwing 141 innings with a 3.13 ERA (142 ERA+) and a 3.53 FIP. That earned him a fourth place finish in the AL Rookie of the Year voting — Ben Grieve won the award, and was followed in the voting by Rolando Arroyo and Mike Caruso — and also a spot in the postseason rotation behind Pettitte, Wells, and Cone. Hernandez over Hideki Irabu was an easy call.
* * *
The second time the Yankees had to be saved came in October. The 114-win juggernaut Yankees swept the Rangers in the ALDS — the Yankees held Texas, a team that scored 64 more runs than any non-Yankees team during the regular season, to one run in the three-game sweep — before running into a very deep and very dangerous Indians team in the ALCS. Cleveland's lineup for Game One that series:
CF Kenny Lofton
2B Joey Cora
LF David Justice
RF Manny Ramirez
3B Travis Fryman
DH Jim Thome
1B Richie Sexson
C Sandy Alomar
SS Omar Vizquel
The Yankees scored five runs against Jaret Wright in the first inning of Game One and eventually held on for the win. The Indians rebounded with a 12-inning win in Game Two and put a hurting on Pettitte in Game Three (six runs in 4.2 innings) to take a two games to one series lead. The only thing standing between the Yankees and a three games to one series deficit was the Cuban veteran and big league rookie Hernandez.
To make the situation even more dire — Game Four was in Cleveland, which was not an easy place to play in the late-1990s — Hernandez was going to pitch in cold weather, something he never did in Cuba, and pitch in general for the first time in 15 days. He wasn't needed during the ALDS sweep of the Rangers and had a long layoff since his final regular season start. And it was the powerhouse Indians. And it was cold.
"When I was pitching with the Cuban national team, we played in Italy and Ireland, and other countries in Europe, and it was pretty cold. I'm not sure what the temperatures were, but it was pretty cold," said Hernandez to Olney. "I've been through some cold times. I don't feel that the cold on the field will affect my pitching tomorrow."
El Duque was right. Seven innings, three hits, two walks, no runs. He struck out seven and retired 14 of the final 16 batters he faced. Paul O'Neill smacked a first inning solo home run to give the Yankees the only run they'd need on the night — they did add three insurance runs later in the game, and those are always appreciated — and Hernandez pitched the series back even at two games apiece.
"I've watched him pitch all year, and I've never seen him tense," said Chili Davis to Mike DiGiovanna after the game. "With the rest he had, you knew he'd have a good fastball. When you've thrown a fastball by Thome, you've accomplished something."
El Duque saved the Yankees' bacon and helped them avoid a dreaded three games to one series deficit. They went on to win the ALCS in six games. Had there been a Game Seven, there was talk Hernandez would get the ball on short rest rather than Pettitte on normal given how Games Three and Four played out. Fortunately Torre never had to make that decision.
Hernandez started Game Two of the World Series against the Padres and was again magnificent, holding San Diego to one run in seven innings. The Yankees swept the series for their second championship in three years and the first of what would eventually be three consecutive World Series titles. El Duque allowed one run in 14 postseason innings in his two starts. He saved the Yankees when their rotation was falling apart in June, and he saved them again in the ALCS.
* * *
Going from leaving Cuba on a fishing boat to signing a $6.6M contract to pitching at Yankee Stadium in the World Series surely made for a whirlwind year for El Duque. The best part was saved for last though, and it wasn't the World Series title.
John Cardinal O'Connor, the late Archbishop of New York, sent an emissary to Cuba and convinced Fidel Castro to allow Hernandez's family to leave the island so they could reunite in the United States. Castro allowed Orlando's family to leave, just as he allowed Livan's family to leave a year earlier, after he pitched the Marlins to a World Series title.
On October 22nd, the day after the Yankees won the World Series, Hernandez's mother, his two daughters, and his ex-wife were chartered from Havana to Miami. George Steinbrenner then flew them up to New York on his private plane. Hernandez and his family reunited at Teterboro Airport. The next day, they paraded down the Canyon of Heroes together as a family.
"He was just totally overwhelmed with joy," said Rene Guim, a spokesman for Hernandez's agent, to Andy Newman and Charlie Nobles. "He cried like a little baby."