Six questions and five answers this week. Use the Submit A Tip box in the sidebar to send us mailbag questions or anything else at any time.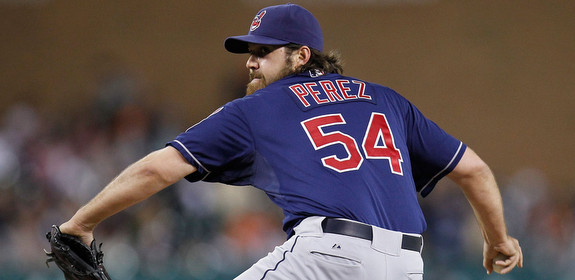 Nick asks: Could the Yankees target Chris Perez as a trade candidate? A deal similar to the Joel Hanrahan trade?
My first thought was no way, but my first thought is often wrong. Not only is Mariano Rivera retiring after this season, but Joba Chamberlain is likely to leave as a free agent too. David Robertson is awesome, but I think the Yankees should add some kind of Proven Veteran™ backup plan to the Shawn Kelleys and Preston Claibornes of the world. My preferred choice as of today is impending free agent Grant Balfour, but that is subject to change.
Perez, 27, owns a 2.25 ERA and 5.72 FIP in 16 innings this year. He's run into some serious homer problems of late, serving up three to the last eight batters he's faced. Since getting the closer's job outright in 2010, Perez has pitched to a 2.80 ERA (3.88 FIP) with a strong strikeout (8.11 K/9 and 21.6 K%) rate but mediocre walk (3.53 BB/9 and 9.4 BB%) and ground ball (34.7%) numbers. He managed to cut his walk rate to 2.50 BB/9 (6.6 BB%) last year, but that hasn't stuck so far. I think we can say Perez is what he is at this point.
The Hanrahan comparison is perfect. Perez will be a free agent after the 2014 season, so acquiring him this winter means you'd be getting one year of a two-time All-Star, Capital-C Closer like the Red Sox got with Hanrahan. Would the Indians take a package of four spare parts like the Pirates did? Who knows. The Yankees could slap together a package of Dellin Betances, Zoilo Almonte, Eduardo Nunez … guys like that if the Indians will take quantity over quality. Perez has had some run-ins with the Indians brass over the years and could be available, but I want to see how he performs the rest of the season before going all-in.
Johnny asks: How would you handicap the chances of Yankees trading Phil Hughes before deadline?
I think they're very, very small. This team lives and dies with its pitching as presently constructed, so I don't see them giving up a rotation arm even if Hughes will be a free agent (and likely leaving) after the season. Maybe if Michael Pineda comes back strong, Ivan Nova figures things out in Triple-A, Vidal Nuno continues to impress in the show … maybe. I'd want a bat in return, preferably at shortstop or catcher. Someone who can help the team today, not prospects. Prospects suck.
Alex asks: Do you think that the Yankees' preference for bat-first catchers has hindered the development of their minor league pitchers? The Yanks have seemed to be notoriously poor at bringing pitchers up to reach their ceiling for the past decade-plus.
It could be a factor, but I don't think it's a big one. Most minor league catchers stink at defense, and it's not like Gary Sanchez and J.R. Murphy — the teams' two most notable bat-first catchers — are atrocious defenders. Reports over the last 18 months or so have been very positive about their defensive improvement. Jesus Montero was a miserable defender though, and he did work with most of the team's top young arms over the years.
I suppose having no confidence in the catcher blocking a breaking ball in the dirt or throwing out base-stealers could alter pitch selection, but pitchers are usually given a set number of pitches to throw per game. A team will tell their guy he needs to throw 25 curveballs or whatever per start as part of his development. Maybe bad defensive catchers have contributed to the team's lack of success with starting pitching prospects, but I feel like it would be just a small part of the problem.

Mike asks: Is it time for some promotions in the minor league system? I know Dietrich Enns is 22 already, but he is blowing away the competition in A-ball (along with Rafael DePaula). These guys, along with Murphy and Sanchez, need to go up a level. Right?
Shep asks: Given his early success in Low-A and his "age," how quickly do you think DePaula will climb the ladder? What is your prediction for his MLB debut?
Gonna lump these two together. We're starting to approach promotion season, which usually takes place from mid-June through July, when the draft provides some new players to fill roster spots. Enns has been awesome — lefty with a 0.71 ERA (1.34 FIP) and 43/11 K/BB in 25.1 innings for Low-A Charleston — and I expect him to get bumped up to High-A Tampa at midseason. Murphy and Sanchez are repeating levels and have performed plenty well enough to earn midseason promotions. Some other obvious promotion candidates include (stats don't include last night's games):
C Peter O'Brien: His defense is awful, but he's hitting .328/.392/.586 (165 wRC+) with five homers for Low-A Charleston.
2B Rob Refsnyder: Hitting .335/.440/.451 (~158 wRC+) and has already been promoted once. Bumping him up to Double-A Trenton allows Angelo Gumbs to play second everyday with High-A Tampa as well.
RHP Tommy Kahnle: 1.77 ERA (3.50 FIP) with 23 strikeouts and 13 walks in 20.1 innings. Another few weeks of that and he should be ready for Triple-A Scranton.
RHP Shane Greene: Repeating High-A Tampa with a 3.07 ERA (2.36 FIP) and a 53/8 K/BB in 55.2 innings. Get this man to Double-A Trenton.
DePaula is another animal entirely. The numbers — 2.38 ERA (1.96 FIP) with a 74/19 K/BB in 45.1 innings — are outstanding for Low-A Charleston, but he's also short on pitching experience because of his various layoffs (suspension, visa) despite being 22 years old. VP of Baseball Ops Mark Newman told Chad Jennings a promotion isn't imminent because he's "got to develop secondary pitches. He hasn't pitched that much competitively."
I do think DePaula will get moved up to High-A Tampa at midseason, but he might spend another four or six weeks with the River Dogs first. Let's see what happens when the league gets a second and third look at him, how he holds up physically under the workload, stuff like that. DePaula is on a weird development schedule and I'm generally not a fan of promoting starters after 50 or so dominant innings. As for his big league debut … second half of 2015 at the absolute earliest? DePaula will get promoted eventually, there's no rush.
Travis asks: With the upcoming roster crunch (when DL players start coming back), is there going to come a point where is may make sense to bring Manny Banuelos up from the Triple-A DL to put him on the 60-day DL for MLB? I know they didn't want to lose a year of control, but at the halfway point, would it be a lost year?
The Super Two date is sometime in early-June, so yeah, there's a definitely a point where calling him up to clear a roster spot makes sense. Banuelos' free agency has already been pushed back and they're only two or three weeks from avoiding Super Two. They might actually be passed that date already since he's not going to be in the big leagues on Opening Day next year.
There's still some dead weight on the 40-man roster that can be trimmed — Ben Francisco, Reid Brignac, Melky Mesa, Francisco Rondon, etc. — but the Yankees have six guys expected to come off the 60-day DL in the next two months. Letting Banuelos accrue just a few weeks of service time would be no big deal under the circumstances.