Yesterday afternoon we took at look at the Yankees' pitching depth heading into the 2015 season, specifically the 40-man roster players expected to start the season in the minors with a chance to get called up at some point. Today we're going to focus on non-40-man roster pitchers in the same position. Guys expected to report to the minors come Opening Day with a chance to see the Bronx at some point during the summer. Some are more likely to be called up than others, of course.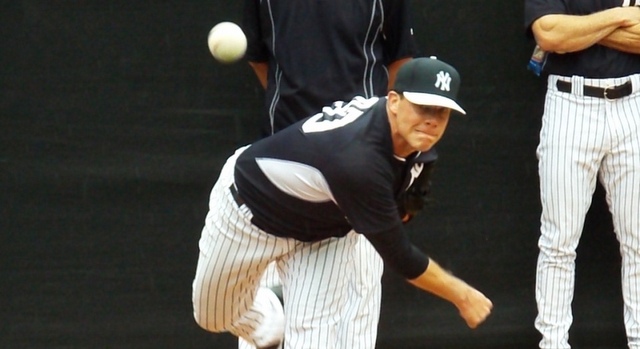 Andrew Bailey: The Ex-All Star
The Yankees signed Bailey last offseason knowing he was unlikely to pitch in 2014. Like Jon Lieber in 2003 or David Aardsma in 2011, the Yankees signed an injured established big leaguer with an eye on the following season. Lieber paid dividends in 2004, Aardsma didn't in 2012. Such is life. Bailey rehabbed last year and instead of picking up his $2.5M club option for 2015, the Yankees signed him to a new minor league contract this offseason.
Bailey, 30, has finally returned to the mound this spring after needing close to 20 months to rehab from surgery to repair a torn shoulder capsule, a potential career-ender. He's looked okay in camp — "rusty" is the word I would use — striking out four and allowing one unearned run on two hits and a walk in three innings. His fastball has been mostly 90-92 mph, which is encouraging, and his curveball is still a little loopy. All things considered, Bailey's looked alright given the nature of his injury, though it's clear he still needs some time to get ready for MLB action.
There's only a week to go in Spring Training and it's hard to see the Yankees taking Bailey north on Opening Day. He has yet to pitch with fewer than two days of rest between appearances and there simply isn't enough time left in camp to get him to where he needs to be to be considered for the big league bullpen. That's okay, that's why he's on a minor league contract. Bailey can go to the minors for a few weeks — I wouldn't be surprised if he starts with High-A Tampa to stay close to the home base (and also avoid the cold weather) — and continue to work his way back.
It's unfair to expect Bailey to return to his 2009-11 form, when he was the 2009 Rookie of the Year and a deserving two-time All-Star, but there's at least now some hope he can help the big league bullpen. He's fully rehabbed from his surgery and pitching in actual games, and he says he feels great too, which is important. Hopefully Bailey is able to come up at some point this summer and help the Yankees, even if he's only a sixth or seventh inning middle reliever type. Getting that much out of him would be a win.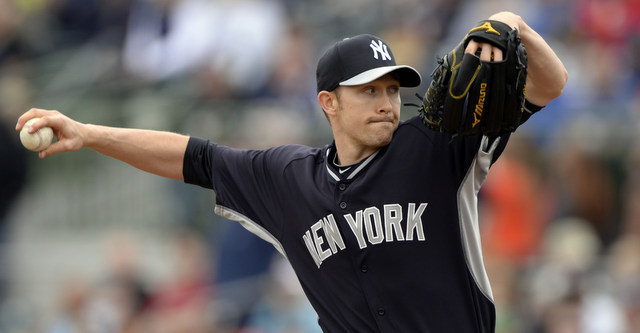 Scott Baker: Here For Use & Abuse
Baker is a good example of what Tommy John surgery can do to marginal big leaguers with okay stuff who rely on precise location to succeed. The 33-year-old returned from surgery with stuff and command that was down a grade or two across the board, hence his 5.47 ERA (4.78 FIP) in 80.2 innings for the Rangers last year. Baker is now three full years removed from Tommy John surgery, so perhaps his stuff will tick up a bit this year, but otherwise there's very little reason to think he can contribute to the Yankees in a meaningful way in 2015. If he is on the big league roster at some point, he'll probably be stuck working in a mop-up role until something better comes along. It's harsh, though at this point of his career Baker's the kind of guy the Yankees can run into the ground then designate for assignment when someone better comes along.
Nick Goody: 2015 Possible, 2016 More Likely
Goody is the first actual prospect/non-veteran retread in this post, though that's only because I listed the players alphabetically. The 23-year-old Goody returned from Tommy John surgery at midseason last year and had a 4.60 ERA (3.63 FIP) with a 32.9 K% in 31.1 innings split between High-A and Double-A, though his walk rate (10.7%) was a bit high, which isn't surprising for a guy coming off elbow reconstruction.
Goody was invited to big league camp and had a nice but brief Grapefruit League season before being sent to minor league camp (4.1 IP, 3 H, 1 R, 1 ER, 1 BB, 6 K). He's a classic low-90s fastball/mid-80s slider righty reliever and I think the team's bullpen depth will push him back to Double-A to start 2015. Goody could get called up this year, but with so many bodies ahead of him, a 2016 debut seems more likely.
Jacob Lindgren: The Strikeout (& Ground Ball) Factory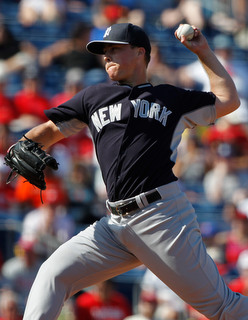 We know all about Lindgren's strikeout exploits by now, but I think my favorite fact is that he had a 79% ground ball rate in college and an 81% ground ball rate in pro ball last year. He's an extreme strikeout pitcher and there's reason to believe he's an extreme ground ball pitcher too. His slider is that good.
As I said earlier this week, I believe the 22-year-old Lindgren is big league ready and belongs on the Opening Day roster. If the Yankees don't agree, he'll go to Triple-A Scranton for a few weeks before inevitably being called up. It would be a major upset if Lindgren does not make him MLB debut in 2015. He is by far the team's best bullpen prospect and one of the very best in the game period.
James Pazos: Lefty With Velocity
When the Yankees let Matt Thornton go on trade waivers last August, Joe Girardi and Brian Cashman both mentioned Pazos by name when discussing the team's lefty relief depth. The 23-year-old had a 2.42 ERA (2.38 FIP) with a very good strikeout rate (27.4%) and an okay walk rate (9.1%) in 67 innings between High-A and Double-A in 2014. Pazos has had a nice big league camp (4.1 IP, 2 H, 1 R, 1 ER, 2 BB, 6 K) but he really stands out for his stuff, specifically his mid-90s fastball and low-80s slider. He could start the season at Triple-A Scranton, but with so many lefties on the depth chart ahead of him, Pazos may end up waiting for 2016 like Goody.
Nick Rumbelow: Unconventional Dominance
Fun fact: Rumbelow leads all Yankees pitchers with 12 strikeouts this spring. (Well, he's tied with Michael Pineda and Masahiro Tanaka, but they've thrown more innings.) The 23-year-old shot up the minor league ladder last summer, posting a 2.62 ERA (2.05 FIP) with outstanding strikeout (34.0%) and walk (7.4%) rates in 58.1 innings while climbing from Low-A Charleston to Triple-A Scranton. He was lights out.
Rumbelow is a relatively little guy at 6-foot-0 and 190 lbs., and he racked up all those strikeouts with a mid-90s fastball and big overhand curveball coming from an extremely high arm slot. It's straight over the top and unconventional: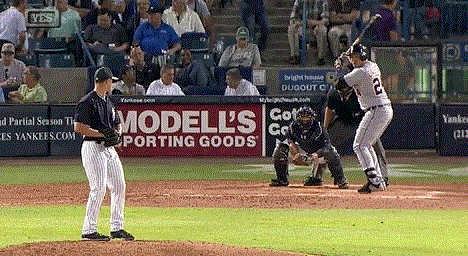 You don't see many big leaguers with that arm angle — Josh Collmenter of the Diamondbacks comes to mind, but that's it — so it's an uncomfortable look for hitters. The Yankees seem to like Rumbelow a lot — he still has not been reassigned to minor league camp and he was invited to Captain's Camp in January — and I can't blame them. He's got good stuff and has put up remarkable numbers since being a seventh round pick in 2013.
It would surprise me if Rumbelow made the Opening Day bullpen but I guess it's not impossible. More than likely though he'll return to Triple-A and wait for a call-up. Rumbelow is more like Lindgren than Goody or Pazos in that I expect him to make his MLB debut this season, probably in the second half. Once he gets there, he has the potential to stick around for a while.
Luis Severino: The Top Prospect
I decided to include Severino in this post rather than next week's farm system preview because it sure seems like the Yankees have him on the fast track, which sets him up to make his MLB debut this summer. The just turned 21-year-old right-hander climbed three levels last year, going from Low-A to High-A to Double-A on the strength of a 2.46 ERA (2.40 FIP) with great strikeout (27.8%) and walk (5.9%) rates. In fact, Severino had the lowest FIP among the 551 minor league pitchers to throw at least 100 innings in 2014. That's pretty awesome.
As good as the numbers are, Severino is not a finished product. Most 21-year-olds aren't. His fastball is electric, sitting in the mid-90s and regularly bumping up into the high-90s, and his changeup is very advanced for a kid his age. Severino's slider is still a work in progress though, and there are concerns about his delivery as well. They were easy to see during his brief Grapefruit League cameo; he doesn't use his legs much and his arm does a lot of the work:
The slider and delivery are things Severino needs to work on before becoming a regular big league pitcher. The only question is whether the Yankees will give him the opportunity to work on those things in Double-A and/or Triple-A this year, or if they'll continue to rush him up the ladder and call him up at some point. It's easy to understand why they like him. It's also easy to see he could benefit from some more development time in a place where results don't matter. Severino is a big league option this year because the Yankees are treating him that way, not necessarily because he's ready for it.
Tyler Webb: Lefty Without Velocity
Webb, 24, is another quick riser, pitching to a 3.80 ERA (2.71 FIP) with very good strikeout (32.2%) and walk (7.5%) rates in 68.2 innings last year while climbing from High-A Tampa to Triple-A Scranton. Unlike the other young guys in this post, Webb doesn't have standout stuff, sitting mostly in the upper-80s and occasionally touching the low-90s with his fastball. He also throws a curveball and a changeup. Webb is a stats before scouting report guy, but when a southpaw puts up numbers like this, he's tough to ignore. He'll return to Triple-A to start the season, though the Yankees have a lot of lefties ahead of him on the depth chart. I wouldn't be surprised if Pazos gets the call before Webb either.