Got five questions for you this week. The best way to send us anything is the Submit A Tip box in the sidebar.
John asks: Looking ahead to next year (because that's sort of all we have at this point) the Yankees clearly need another outfielder (or two). As such, being purely hypothetical here, would you rather have Curtis Granderson at 1/$14M, Carlos Beltran at 2/$30M or Shin-Soo Choo at 4/$60M?
Of those three choices, I'm definitely taking Granderson on a one-year, $14M deal. Beltran would be my second choice and Choo a distant third. Choo sure gets a lot of attention for an injury prone platoon player who isn't all that good on defense, doesn't he? He's awesome against right-handed pitchers, among the best in the world, but there's much more to life than that.
Anyway, Beltran is still a really good hitter, the the big drop in walk rate and overall rise in swing-and-miss rate are major red flags for a 36-year-old hitter. I've explained this before. Add in his injury history and the overall risk that comes with guys closer to 40 than 30, and I'm very skeptical about giving him a multi-year pact. I don't think it would be a disaster if the Yankee signed Beltran to a two-year, $30M contract (that would be a nice raise from his current two-year, $26M deal), but it's not a slam dunk at this point.
Granderson, even at a premium salary, on a one-year contract is a pretty great deal. All of his injuries this year were flukes, he's shown his old power, and he's not at the point where you'd expect him fall of a cliff at age 32 (33 in March). The Yankees have enough really old veteran players on multi-year pacts and I really don't want to see them add another to the pile at this point. Granderson for one year limits the risk and gives them a productive player. He's the lesser of three evils, in this scenario.
Nick asks: Suggested post (motivated mainly by Jon Morosi's column): Hiroki Kuroda's chances of winning the Cy Young. Consider the contenders and say what Hiroki realistically needs to do between now and season end to be in with any kind of shot.
I looked at the AL Cy Young race a little more in depth at CBS last week, so I'll point you to that rather than regurgitate it all here. Long story short: there are a lot of legitimate candidates in the AL but Felix Hernandez and Max Scherzer stand out from the pack right now. Chris Sale deserves to be in that group as well, but he won't get much love thanks to his crummy teammates.
Kuroda has the great 2.33 ERA and AL-best 174 ERA+, but his record (11-7) isn't anything special, his strikeout rate (6.40 K/9 and 18.1 K%) is below-average, and his FIP (3.25) is very good but not on par with the other Cy Young candidates. To make a serious push for the award, pretty much one thing has to happen: the Yankees need to win his starts. A lot of them. He'll have to maintain that ERA/FIP and finish the year with an 18-8 record or something to have a serious shot. That's the easiest way to do it.
Even then, it's probably not enough. Remember, for a Yankee to win a major award, they need to have an insanely great year that is far better than the other candidates. Think 2007 Alex Rodriguez. There's definitely a Yankee bias at work in the voting. Kuroda's been awesome, but his performance this year is still a notch between Felix, Scherzer, and Sale for me. Those guys have been outrageously good.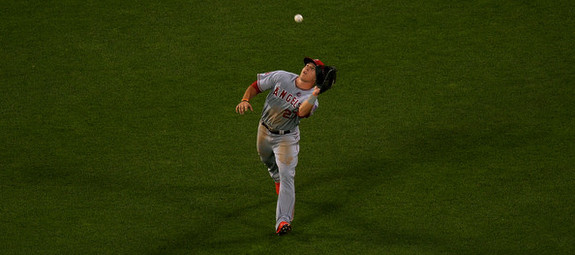 Brian asks: I saw a little blurb on MLBTR regarding Mike Trout and the Angels. Trout is obviously worth far more than his current league minimum contract, but if the Angels sit back and decide to continue to paying him league minimum, could Trout theoretically hold out like they do in football? Is there any baseball precedent to that?
There is no precedent for that in baseball as far as I know, certainly not recently. If he were the hold out, I imagine the team would suspend him without pay, which would do some damage to his image. It happens. At this point of his career, Trout is stuck making whatever the Angels are willing to pay him. Is it fair? Of course not. But that's the salary system that was collectively bargained.
Trout has one more year at (or near) the league minimum before becoming eligible for arbitration, when he'll at least have some say in his salary. He can't become a free agent until after the 2017 campaign. I don't know if Trout will hold enough of a grudge to pass on a long-term contract if the Halos make an offer, but it would surprise me. He's already in nine-figure contract extension territory and that's hard to pass up.
Rosco asks: I know a lot of people are praising MLB for suspending players for PEDs associated with the Miami clinic, but shouldn't we worry that none of them tested positive? How many other players are using that we do not know about because it seems the testing systems has some holes?
That's the part going completely unnoticed. Not a single player tested positive and a local newspaper in Miami managed to get wind of the scandal before the league. That's the nature of the beast though, the drugs will always be ahead of the tests. There's no doubt the recent suspensions send a strong message — we're going to go to great lengths to find you if you've been cheating! — but that alone won't be enough of a disincentive for many players. The only thing MLB can do is test and test, that's all. Sports will never be completely clean.
Lee asks: I saw these stats on defensive shifts a couple of weeks ago, but haven't seen any commentary on them anywhere, and would love to hear your thoughts. The Yankees are THIRD in the use of defensive shifts? Wow, I guess I've been so mesmerized by how bad their offense is that I didn't notice! But even more incredible, ZERO runs saved???? That's almost funny — they just can't get anything right this year.
Yeah, the Yankees definitely seem to suck at shift. Anecdotally, they seem to pitch away from the situation quite a bit, meaning they pitch outside with soft stuff while playing the hitter to pull. That doesn't make sense. The defense on the left side of the infield has been terrible pretty much all year, which is another factor. I give them credit for trying — it's interesting that four of the top five shifting teams are from the AL East, no? — but I'm not sure they have the personnel to pull off some fancy shifts at this point. The infield defense is too immobile.