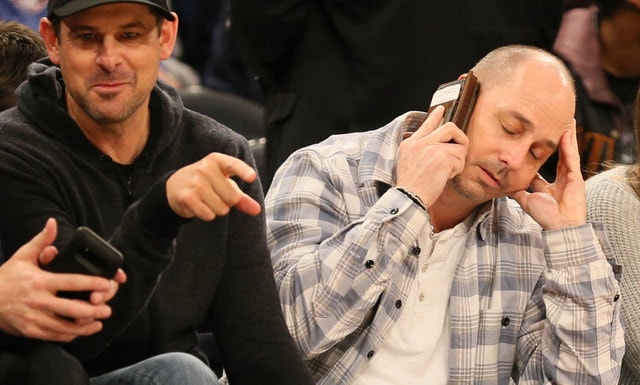 Now that the big fish of free agency have picked their destinations, we can officially close the door on the Yankees' offseason. (I wouldn't hold my breath for a Dallas Keuchel signing even after the Luis Severino injury.) Even without Manny Machado or Bryce Harper, the Yankees had a pretty busy winter. They signed seven free agents, though only three are new to the club. Two significant trades were completed as well.
If you had a mulligan, which transaction would you undo? For argument's sake, I'll make a brief case against each move. I'll then make my choice and let you vote on yours at the end.
Re-signed Brett Gardner (1 year, $7.5 million)
The first step of the offseason was to buy out Gardner's $12 million 2019 option for a cool $2 million. Then, the Yanks re-signed him for $7.5 million immediately thereafter. It wasn't a total shock that the team declined its club option on the outfielder, but it was somewhat surprising to see them bring him back immediately. Gardner had a 66 wRC+ in the second half last season, and at 35 years of age, looked just about done. If the front office knew that Bryce Harper was never going to be an option, they should have looked for alternatives before handing Gardner the left field job this season. If Gardner is indeed toast, hopefully Clint Frazier rights the team's wrong.
Re-signed CC Sabathia (1 year, $8 million)
Unlike Gardner, Sabathia is in the midst of a late career resurgence. The main concern is his heart health after he underwent an angioplasty over the winter, but in terms of performance, there haven't been any signs of decline. He's recorded a 117 ERA+ since 2016, but maybe it would have been wise to part ways before Sabathia's decline. Even though he's reinvented his pitching style, who knows what could happen at 38 years old.
Re-signed Zack Britton (3 years, $39 million)
The Yankees ostensibly believe that they're going to get the old Britton. Yet, bouts of forearm soreness in 2017 and a ruptured Achilles prior to the 2018 season sapped much of the southpaw's effectiveness in recent seasons. For what it's worth, his stuff looked pretty good in pinstripes at the end of the year. Still, he was pretty wild and struggled to miss bats. Why should we be confident that he's going to be an elite reliever again?
Re-signed J.A. Happ (2 years, $34 million)
The concern about Happ is not unlike the worries about Sabathia. Happ is another older pitcher, at 36 years old, so the end could come at a moment's notice. And like Sabathia, Happ has been really good in recent years. It's just a matter of: is it better to move on too soon or too late? Especially when a younger and better alternative, Patrick Corbin, was available in free agency.
Signed Adam Ottavino (3 years, $27 million)
Ottavino was awesome last season. He's got a wipeout slider and a strong fastball. How can anyone argue against that? Well, he's also just a season removed from walking 39 batters in 53 innings. Control has hindered Ottavino in past years and he's had a bit of a volatile career because of it.
Signed DJ LeMahieu (2 years, $24 million)
As it always goes with ex-Rockies, will he be able to hit away from Coors Field? That's not the only reason for consternation, though. He's settled in as a starting second baseman but will now be expected to bounce around the infield without a regular starting role. Is he expected to play almost everyday? Yes. But perhaps having to spend time on the infield corners becomes a problem too. Perhaps Marwin Gonzalez would have been the better option as a super-utility player.
Signed Troy Tulowitzki (league minimum)
When much of the fanbase wanted Machado, signing an oft-injured ex-star is a bit underwhelming. Not only have injuries marred much of Tulo's career, but he's also 34 years-old and hasn't played well since 2014. To count on him as the starting shortstop while Didi Gregorius recovers from Tommy John surgery is a huge risk. There's nothing wrong with taking a flyer on a guy like Tulowitzki, but entrusting him with a significant role could get ugly.
Traded for James Paxton
On a per inning basis, Paxton is elite. The problem throughout his career has been that he's struggled to rack up innings, however. The Yankees are really counting on him to create a one-two punch with (healthy) Luis Severino, but will Paxton hold up? Getting an ace isn't a piece of cake, and sometimes risks have to be undertaken in order to get one, which is precisely what the Yankees are rolling the dice on here. Again, with Corbin available for money, the Yankees could have held prospects like Justus Sheffield for an alternative to Paxton.
Traded away Sonny Gray
There's no question that Gray's tenure in pinstripes did not work out. If Gray thrives with the Reds, it'll be easy to say the Yankees screwed up. But, was it sensible to deal Gray at his lowest value? Gray could have been given some sort of opportunity to rebuild himself in New York this year. Maybe he could have served as the swingman, which appeared to be Luis Cessa's job to lose before Severino's injury.
---
My vote goes for Gardner. I'd have been happy to have him back as a fourth outfielder, but to me, there was no need to rush into an agreement at the outset of free agency. His performance wasn't going to find him a big contract elsewhere for the Yankees to match, and in fact, they probably could have saved a few bucks if they were patient. Not that the Yankees need to save a few bucks, but rather, my point is that they could have sought a better starting left fielder before returning to Gardy.
---
What offseason move would you undo?