Every time I say I think the Yankees are done with big offseason moves, they sign someone else. It was Adam Ottavino yesterday, DJ LeMahieu last week, and Zach Britton the week before that. I'll have some thoughts on the Ottavino deal early next week. Until then, here are the latest hot stove rumblings.
Yankees have made Machado an offer?
Manuel Machado, Manny's father, told Hector Gomez his son has received offers from several teams, including the Yankees. "Manny has received offers from different teams. Yankees, Dodgers, Phillies. Now there's a lot of interest from the White Sox," said Manuel. Not that long ago it was reported the Yankees hadn't made Machado a "concrete" offer, which is not a big deal. If there's an offer in front of him now though, it indicates the Yankees are getting serious.
I'm passing this nugget along because it's out there, so you might as well read it on my site, but I caution you to be extremely careful not to read too much into these comments. Machado's father has an obvious incentive to pump up Manny's market — it's good for business when the Yankees and Dodgers are involved in the bidding — and get his son the best deal possible. The Dodgers haven't been connected to Machado at all this winter. Now they've made an offer? Not sure about that. You're welcome to believe what you want. This doesn't strike me as all that reliable.
Yankees getting closer to trading Gray
According to Jack Curry and Jon Heyman, the Yankees are getting closer to trading Sonny Gray and it could happen soon. They're talking to several teams with the Giants newly into the mix. That makes sense. Their new president of baseball operations Farhan Zaidi and new pitching coach Curt Young know Sonny from their days with the Athletics. San Francisco seems perfectly positioned to buy low on Gray, then sign him long-term if he bounces back.
I have the Yankees' luxury tax payroll at roughly $228.5M following the Ottavino deal. Cot's has them at $220.2M. My number includes a larger estimate for benefits and also something for in-season injury/September call-ups. Anyway, point is the Yankees are dangerously close to the $226M second luxury tier, if not over it already. Now that the Ottavino deal is in place, trading Gray and finding a cheaper swingman to get the payroll in order feels inevitable. For 40-man roster purposes, it wouldn't surprise me to see Sonny moved before the Ottavino deal is made official.
Kahnle, Holder drawing interest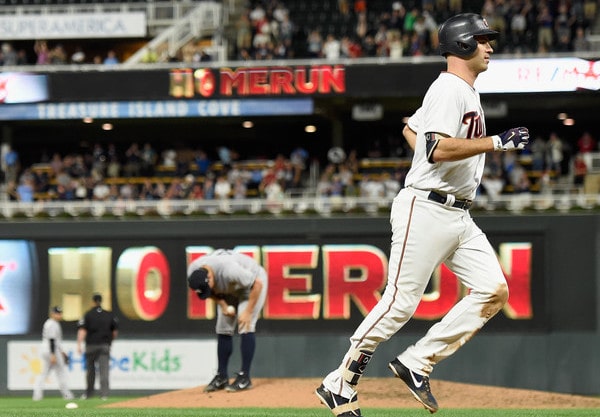 According to Heyman, the Yankees are getting calls about righty relievers Tommy Kahnle and Jonathan Holder. I'm not surprised teams are looking to buy low on Kahnle. Seeing whether he can bounce back this year is worthwhile, but no way would I make him off-limits in trade talks. He's owed $1.3875M this year and shedding that money could be a priority. Holder had a very nice 2018 and is both dirt cheap and under team control another five years. Of course teams are asking about him.
With Britton re-signed and Ottavino agreeing to a deal, the Yankees are in better position to consider trading away a reliever. It's a position of depth. Trading Holder or especially Kahnle when you have Britton, Ottavino, Aroldis Chapman, Dellin Betances, and Chad Green is an easy pill to swallow. The Yankees love their big velocity bat-missers and Holder is decidedly not that. Could they cash him in as a trade chip when his value is as high as it's ever been and maybe as high as it'll ever get? Hmmm.
Yankees trade Locastro to D'Backs
Earlier this week the Yankees traded utility man Tim Locastro to the Diamondbacks for lefty pitching prospect Ronald Roman and cash, the team announced. Locastro had been designated for assignment last week to clear a 40-man roster spot for LeMahieu. The Yankees got him from the Dodgers for 2015 third round pick Drew Finley earlier this offseason. Locastro, like Hanser Alberto, didn't make it to Spring Training after being acquired earlier in the winter and spending a few weeks on the 40-man roster. I'm going to start calling this The Dan Otero Club.
Anyway, Roman is a just turned 17-year-old kid the D'Backs signed as an international free agent last July. He has not yet made his professional debut. He'll do that this year. Roman was a small bonus signing and I can't find any information on the kid. Sorry. Roman is almost certainly a player the Yankees wanted to sign last July but didn't because either the D'Backs beat them to him (maybe) or because they ran out of bonus pool money (probably). Either way, he's in the organization now. In a roundabout way the Yankees turned Finley, a busted prospect, into a young lottery ticket arm.