Got seven questions for you this week. Remember to use the Submit A Tip box in the sidebar to send us mailbag questions, links, comments, whatever.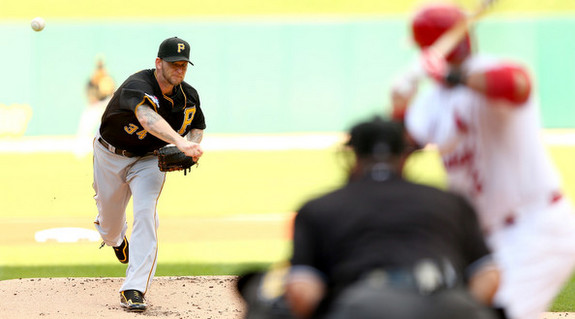 Anonymous asks: Why not an A.J. Burnett reunion? He could easily eat up 200 innings and wouldn't be that expensive and doesn't require a draft pick.
I mentioned this to Joe yesterday. If it wasn't for 2010-2011, wouldn't Burnett be the perfect one-year stopgap for the Yankees if Masahiro Tanaka is not posted? He has a 3.41 ERA (3.17 FIP) over the last two seasons, he misses bats (8.90 K/9 and 23.6 K%), the walks aren't out of control (2.95 BB/9 and 7.8 BB%), he gets grounders (56.7%), his velocity has been steady, and he's thrown 180+ innings in each of the last six years. What more could you want?
Of course, it'll never happen. Burnett was a disaster during his final two seasons in New York and I think the Javy Vazquez wound is still fresh enough to keep the team from trying a reunion. Burnett has said he will either pitch for the Pirates or retire next season, so maybe he wouldn't even entertain the idea of coming to the Yankees. If he was open to it and his name was anything but A.J. Burnett … man he'd be a perfect fit.
Dustin asks: If the Yankees miss out on Tanaka or he doesn't get posted, what do you think of the Yankees offering Ubaldo Jimenez or Matt Garza a one-year contract with a promise of not extending a qualifying offer? Yankees get a decent pitcher for one year that they can replace with one of the man good pitchers next off season, and Ubaldo/Garza can get to negotiate without having a pick attached to them. Do you think this is at all possible?
First, Garza will not cost a pick this winter, so that's not an issue for him. He was traded at the deadline and a player has to be with their team for the full season to be eligible for the qualifying offer. Second, the Collective Bargaining Agreement strictly prohibits teams from promising they won't extend the qualifying offer to help entice a free agent. I guess they could still do it under the table, but MLB is watching.
Third, I don't think either guy would go for that.  Ubaldo and Garza (and Ervin Santana for that matter) should have no trouble getting a nice multi-year contract as soon as the Tanaka situation is resolved. That is holding everything up, teams just want to know if he'll be available before moving on to the alternatives. It would be hard for Ubaldo and Santana in particular to improve their stock in 2014 given their 2013 seasons. If any of those three are still sitting there unsigned when Spring Training rolls around, sure, make them a fat one-year offer. I just don't expected them to still be on the board that long.
Kameron asks: Trey Haley was designated for assignment by the Indians yesterday. Do you think the Yankees should make a run at him? He has been around the 100 mph mark his entire career.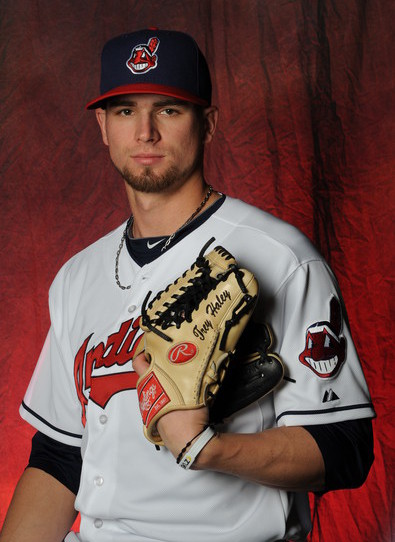 Yes, definitely. Haley's name caught my eye when I saw the Tribe cut him to make room on the roster for John Axford. The 23-year-old had a 4.71 ERA (4.31 FIP) with 46 strikeouts and 39 walks in 44 innings at Double-A this season, so he's a project. He has two minor league options remaining, so a team can afford to be patient with him.
Baseball America (subs. req'd) ranked Haley as Cleveland's 14th best prospect before the season, saying his "fastball now operates at 93-98 mph (and) has touched 100 (with) late, heavy life" and his "curveball had good depth … it shows flashes of becoming a plus offering." The raw stuff is awesome — the Indians paid him $1.25M as a second round pick in 2008, so he didn't come out of nowhere — but the general strike-throwing ability needs a lot of work. The Yankees have a tight 40-man roster but they could make room for an arm like this. Someone is going to trade for Haley or claim him off waivers and it would be cool if it was the Bombers.
Dale asks: If Seattle needs a backup catcher and are trying to move one of Dustin Ackley or Nick Franklin, would a Austin Romine for one of the two of them be fair enough? Or would we have to include another outfield prospect?
I don't think Romine would be enough for either guy but especially not Franklin, who hasn't been a Mariner long enough to have his value destroyed. A package of Romine plus a second prospect (Nik Turley? Jose Ramirez? Peter O'Brien? I have absolutely no idea) might be enough to land Ackley at this point, who I prefer to Franklin. I like the idea of buying super low on a guy who is only 25 and two years removed from being arguably the best hitter in the minors. Franklin is expected to be more of a solid regular long-term, and while that's pretty good, I'd rather take a shot on Ackley's talent while he's still relatively young.
Adam asks: Thoughts on Carmol Marmol for the pen? Could he be a fit or is he done?
I don't think he's done, he's just incredibly erratic. Marmol, 31, struck out 59 batters in 49 innings this past season (4.41 ERA and 5.19 FIP), but he also walked 40 (!). He's got a 7.33 BB/9 and 18.0 BB% over the last two seasons. Few batters can miss bats as well as Marmol but few hit the strike zone less often. I'd take him on a minor league contract in a heartbeat — there's always a chance it clicks and he has a Kimbrelian year or something — but I'd be wary about guaranteeing him a roster spot.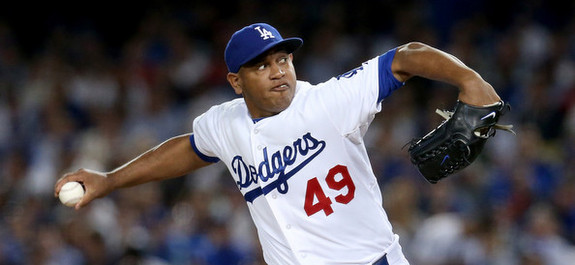 Jorge asks: Would you rather have a lineup composed of all 100 OPS+es or half 150 OPS+es and half 50 OPS+es?
Well, there are nine lineup spots, so let's call it four 150 OPS+es, four 50 OPS+es, and one 100 OPS. The idea is that the nine spots would average out to a 100 OPS+ but that wouldn't actually happen in real life. The four 150 OPS+es would be stacked at the top of the lineup and they'd get more at-bats than the 50 OPS+es. Instead of averaging out to a 100 OPS+, that lineup would average out to a 105 OPS+ or something like that.
Anyway, I'd much rather have a lineup of nine 100 OPS+ players. I prefer a deep and circular lineup to a top-heavy one. Those four 50 OPS+ spots are just killers. That's three full innings in any given game where you have close to no chance to score. The lineup of league average hitters might not be sexy but the more good hitters you have, the better your chances are of scoring. Simple as that.
Jamie asks: What's the difference between WAR used on Baseball-Reference.com and Fangraphs.com? And why can't they just agree on one? I think a universal WAR algorithm would go a long way towards old school guys taking it more seriously than they do.
I agree that having one universal WAR would lead to it being taken more seriously, but I also think the different versions (we could throw WARP from Baseball Prospectus into this ring) are a feature, not a bug. The WAR model isn't perfect and as long as the various systems are coming up with different numbers, they will continue to be tinkered with and improved. I consider that a good thing.
As for the differences, B-Ref uses Total Zone for position player defense while FanGraphs uses UZR. The different defensive stats lead to different player values. On the pitching side, B-Ref's WAR is built on runs allowed while FanGraphs' WAR is built on FIP. I prefer FanGraphs for position players and B-Ref for pitchers — FIP is theoretical and if you want to but a number on a player's value, it should be based on what he's done, not what we think he should have done — but either way WAR is not definitive. It's one tool in the shed. The concept of WAR (combining everything a player does into one number) is a really good but it's not close to being a finished product.