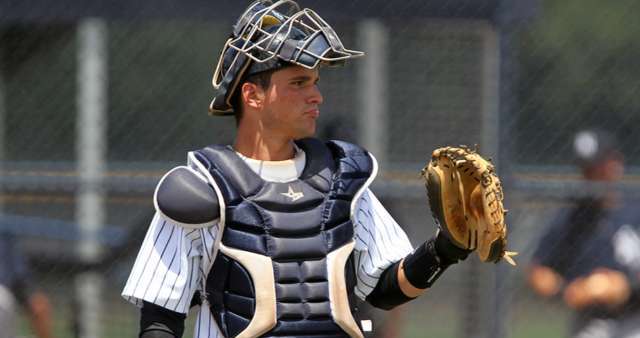 Thursday morning, the 2016 Winter Meetings unofficially wrapped up with the Rule 5 Draft. Traditionally everyone heads home after that. The Yankees were not able to make a Rule 5 Draft pick this year because their 40-man roster is full, though their incredibly deep farm system was raided pretty good, as expected. So it goes. Here's a recap of the damage:
Major League Phase
2. Reds: C Luis Torrens (traded to Padres, according to Jonathan Mayo)
7. Diamondbacks: RHP Tyler Jones
9. Brewers: LHP Caleb Smith (traded to Cubs, the team announced)
13. Pirates: LHP Tyler Webb
Triple-A Phase
4. Rays: RHP Ty Hensley
15. Royals: RHP Kelvin Magallanes
30. Cubs: IF Kevin Cornelius
As a reminder, players selected in the Major League phase of the Rule 5 Draft have to stick on their new team's 25-man active big league roster all next season, or be put on waivers and offered back to the Yankees. The Triple-A phase works differently. That's just a straight draft. The players are gone. They don't have to be offered back.
Torrens is the big name here. He was New York's top catching prospect now that Gary Sanchez has graduated to the big leagues, though he's been beset by shoulder injuries the last two years. He missed the entire 2015 season with labrum surgery and was slowed by a setback earlier this year. When healthy this past season, Torrens hit .236/.336/.318 (97 wRC+) with two homers and nearly as many walks (11.9%) as strikeouts (15.0%) in 55 total games for Short Season Staten Island and Low-A Charleston.
The chances of a 20-year-old catcher who has played 49 career games in a full season league, all at Low-A, sticking in the Major Leagues next season are so incredibly small. It's hard to hide a catcher all season, especially in the National League, plus sitting on the bench most of the year and getting maybe 200 at-bats isn't good for Torrens' development at this point either. (The Padres are also going to be developing Austin Hedges, their own top catching prospect.) The $1.2M bonus baby from 2012 will almost certainly be offered back in Spring Training. If not, then, well, good luck to him. Torrens will have missed a lot of development time from 2015-17.
Webb, 26, was a lock to be picked in the Rule 5 Draft as a southpaw with some velocity and a history of missing bats at Triple-A. This season he had a 3.59 ERA (2.76 FIP) with 27.1% strikeouts and 7.6% walks in 72.2 innings at Triple-A Scranton, his third year at the level. The Yankees didn't have the 40-man space to protect him. Webb, a tenth round pick in 2013, has a pretty good chance to stick with the Pirates all season, and even if he doesn't, he'll probably be claimed on waivers before being returning to the Yankees. Lefties get plenty of chances.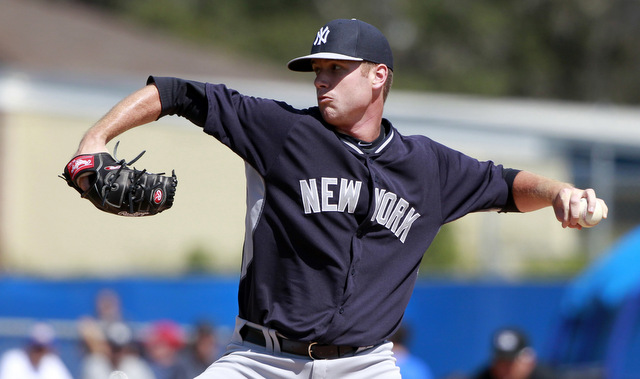 Smith, like Webb, is a lefty with a good fastball. He had a 3.96 ERA (3.15 FIP) with 25.1% strikeouts and 7.2% walks in 63.2 Double-A innings this year, his second season at the level. It's going to be really tough for the 25-year-old to stick all season with a championship team, but apparently the Cubs are going to try. Smith was New York's 14th rounder in 2013. Jones, 27, had 2.17 ERA (1.50 FIP) with 34.2% strikeouts and 5.6% walks in 45.2 Double-A innings in 2016. The Yankees signed him as a minor league free agent last offseason.
In the Triple-A phase, the most notable name by far is Hensley, the Yankees' first round pick in 2012. He's thrown only 42.1 professional innings total due to all sorts of injuries, including hip and hernia surgery, and a pair of Tommy John surgeries. Hensley is currently rehabbing from his second elbow reconstruction. He was still rehabbing from the first procedure when his new ligament gave out. Rough. The Rays have nothing to lose but a low level roster spot, so they're going to roll the dice and see what happens.
Magallanes and Cornelius are a pair of organizational depth players. The Royals and Cubs are just plugging some minor league roster openings. Magallanes, 22, has yet to make it out of rookie ball. He has a 6.89 ERA (4.78 FIP) in 160.2 career innings. The 24-year-old Cornelius smacked 15 dingers in only 63 games with Rookie Pulaski and High-A Tampa this year. He hit .292/.383/.584 (172 wRC+) overall and was way old for both levels. New York selected him in the 31st round of the 2013 draft.
The Yankees did made two picks of their own in the Triple-A phase of the Rule 5 Draft: C Jorge Saez from the Blue Jays and RHP Colten Brewer from the Pirates. Does Webb-for-Brewer qualify as the annual Yankees-Pirates trade? Eh, whatever. Anyway, the 26-year-old Saez hit .260/.314/.495 (126 wRC+) with 12 home runs in only 58 games between High-A and Double-A this past season. He's a defense first catcher who is probably going to be the backup at Double-A Trenton this year. Saez fills a roster need, that's all. He was Toronto's 32nd round pick in 2012.
Brewer, 24, pitched to a 4.09 ERA (3.67 FIP) in 70.1 innings across 13 starts and five relief appearances at High-A in 2016. The Pirates selected him in the fourth round of the 2011 draft, so he was kind of a big deal at one point. Brewer is a low-90s sinker guy who is still trying to figure out secondary stuff. The Yankees found gold in the minor league phase of the Rule 5 Draft last year with Yefrey Ramirez. I wouldn't get my hopes up with Brewer. Minor league Rule 5 Draft success stories are extremely rare.
So, after all of that, the Yankees lost seven players and gained two in this year's Rule 5 Draft. Torrens is, by far, the most important one to follow in Spring Training. The history of catchers sticking as Rule 5 Draft picks is pretty terrible, but Torrens is really talented, and the Padres might be determined to keep him around long-term. The Yankees simply didn't have enough 40-man roster space to protect him (or Webb). We'll see how it shakes out.