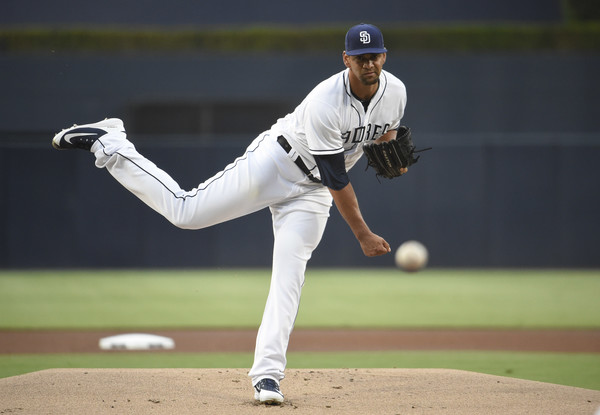 The state of the Yankees rotation is shaky at best right now, with precious little in the way of certainty beyond Luis Severino. CC Sabathia has been excellent, but he's a 38-year-old with balky knees and a ton of mileage on his arm; Masahiro Tanaka has been subpar and inconsistent, seemingly alternating good and bad starts; Sonny Gray is one of the worst starters in baseball in 2018; and the fifth starter's spot is currently a revolving door. As such, the Yankees have a clear-cut need for at least one starting pitcher – preferably one that can be counted on in key games down the stretch and in the playoffs.
Does Tyson Ross fit that mold? Or is he just a back of the rotation option?
Current Performance
The 31-year-old Ross has been a slightly below-average starter across the board this season, albeit by fairly slim margins. Check it out:
Tyson Ross: 21.1 K%, 9.5 BB%, 1.19 HR/9, 44.0 GB%, 110 ERA-, 111 FIP-
NL Average: 22.3 K%, 8.9 BB%, 1.09 HR/9, 44.1 GB%, 101 ERA-, 100 FIP-
His ERA and FIP check in at 10 and 11% below-average, respectively, as Petco Park – Ross's home for the time being – is generally among the most pitcher-friendly in the game. Though, interestingly enough, he has been better on the road in terms of ERA (4.12 vs. 4.53), FIP (4.28 vs. 4.78), and strikeout rate (24.2% vs. 16.5%), and his walk rate is nearly identical (9.7% vs. 9.3%). It's a small sample size within a partial season, so it could be meaningless, but it's diametrically opposed to most Padres pitchers.
What stands out the most about Ross's season may well be just how good he was prior to two disastrous starts to open July. He allowed four home runs and walked more batters (5) than he struck out (2), leading to 15 earned runs in just 7 IP. His numbers before those starts and since might paint a clearer picture of his current talent level, if you're an optimist:
Before: 95.0 IP, 22.7 K%, 8.8 BB%, 1.0 HR/9, 43.1 GB% 85 ERA-, 98 FIP-
After: 11.1 IP, 20.8 K%, 12.5 BB%, 0.8 HR/9, 48.4 GB%, 82 ERA-, 109 FIP-
His walk rate remains elevated, but everything else settled down. This is, of course, a small sample size revolving around selective endpoints – but it also goes to show just how much a bad start or two can skew everything.
Current Stuff
Ross is somewhere between a three and five-pitch guy, depending on the game. Roughly eighty-percent of his offerings come in the form of a four-seam fastball or slider, and another fifteen percent are cutters. He'll also mix in a sinker (4%) and a change-up (1%), but those are largely show-me pitches. He used his sinker quite a bit in 2014 and 2015 – his best seasons as a starter – but he's moved away from it over the last three years.
His pitch selection isn't the only thing that's changed, either: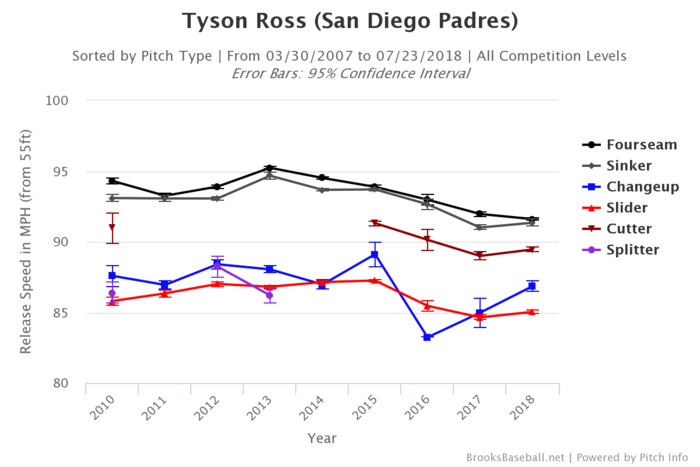 Ross's velocity has been slowly yet steadily slipping since 2013, and he has to reach back to hit the mid-90s nowadays. His fastball has topped-out between 92 and 93 MPH in several outings, including his most recent start. It's been fairly steady this year, though.
His best pitch is his slider, which – by FanGraphs' wSL metric – the 12th best in the game among starting pitchers, just ahead of Max Scherzer. It's a true swing-and-miss offering, and batters tend to beat it into the ground when they do manage to make contact. Just look at it:
Tyson Ross, Nasty 86 mph Slider (home plate view). ? pic.twitter.com/HsO7kugMpM

— Rob Friedman (@PitchingNinja) April 8, 2018
The rest of his pitches are average (at best), but having one elite pitch always comes in handy.
Injury History
This is shaping up to be Ross's first healthy season since 2015. His 2016 was over after one start, the result of persistent shoulder problems that led to thoracic outlet surgery, and he rehabbed until late-May. He's been healthy – but not necessarily effective – since making his first Triple-A start on May 23 of last year. The Padres have given him extra rest a few times this season, but he has not missed a turn in the rotation as of this writing.
Contract Status
Ross is on a one-year deal worth $1.75 MM, so he's strictly a rental – and he'll count for less than $1 MM against the luxury tax.
What Would it Take?
Last year's trade for Jaime Garcia feels like fair market value for someone like Ross. As a reminder, the Yankees sent Zack Littell and Dietrich Enns to the Twins in that deal, and neither ranked among the team's top prospects. They were essentially organizational arms that were close enough to the majors to (in an ideal world) make an impact sooner rather than later.
Does He Make Sense for the Yankees?
If the idea is to round-out the back of the rotation with a reliable starter, then yes. Shoulder injuries are scary, but Ross has been pitching regularly since May of last year, and seems to have regained a good amount of his pre-injury effectiveness. And, again, he'd be a rental, so the long-term concerns are out the window. While pitchers are never a sure thing, he seems a reasonably safe bet to be an upgrade in the fourth or fifth spot of the team's rotation.
Ross is not, however, a good option to solve the Yankees 'Severino, Sabathia, and pray for rain' status quo. Though, few available pitchers are.