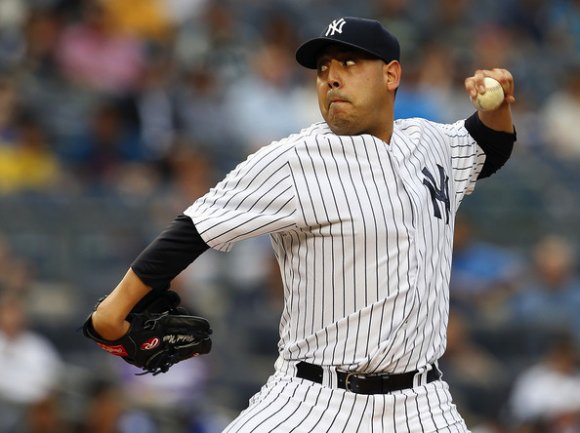 From 2009 through 2012, CC Sabathia and Andy Pettitte were the only lefties to start games for the Yankees. That's a little odd, considering the huge number of random lefties that got spot starts from 2004 through 2008. So odd, in fact, that I made a Sporcle quiz that no one has even the slightest chance of completing.
The Yankees broke that four-year drought in 2013, when David Huff and Vidal Nuno combined for five starts. Heading into 2014, Nuno was in the running for a rotation spot. He understandably lost out to Michael Pineda. But when Ivan Nova went down with an elbow injury, Nuno lined up for the next start. It was his.
And it was a disaster.
You could be charitable and say sure, Nuno had some not terrible starts here and there. For instance, he lasted 6.1 innings in a 1-0 win against the best-record-in-baseball Angels. There were five shutout innings against the Rays in April.
The Yankees did have something of a reason to believe Nuno could help. He pitched well during his brief MLB stint in 2013, which followed a lights-out performance in AAA. In 2012 he cruised through A+ and AA with a 2.54 combined ERA and a 3.82 K/BB ratio. He didn't have the stuff of an ace, but as a #5 starter it seemed he might cut it.
Cut it he might. Just not in New York. What stood out in his 14 starts was an alarming home run rate. In four of those 14 starts he gave up multiple homers, including three twice. In other words, when he's off even a bit hitters can take advantage. Out in Arizona, another hitters' park, he allowed a homer in nine of his 14 starts.
In other words, the Yankees might have given up a useful starter who, at the time of the trade, had five and a half years of team control. Yet they got back Brandon McCarthy, who seemed to find himself while wearing pinstripes. For a team with perpetual sights on contention, the trade was a coup for the Yankees. If they can re-sign McCarthy there will be no reason to ever look back on this one.
For a while it seemed as though the Yankees would forge ahead with a five-righty rotation. But in late July, three weeks after trading Nuno, they acquired Chris Capuano from the Rockies. And so the Yankees traded away a mediocre lefty and picked one up for cash considerations. Given the acquisition of McCarthy, that sounds like a great trade-off.
Yet Capuano did play a valuable role down the stretch. Rarely did he dazzle, but he also rarely had a breakdown. (The exception being his 0.1 inning, four-run start against Tampa, which he redeemed in his very next start by pitching six shutout innings against them.) Never did he allow more than four runs in a start, and three times he allowed none. It's more than anyone expected from a guy who couldn't hack it on the last-place Red Sox.
Were it not for the huge number of starting pitcher injuries, the Yankees might not have even needed Capuano. They wouldn't have run Nuno out there for so many starts. But when three fifths of your Opening Day rotation is on the DL by May 15, with two of them done for the year, you have to reach deeply into the pitching well. With a healthy Sabathia (potentially a problem of his own) and a healthy Pineda, chances are David Phelps takes over for Nuno. If Phelps still gets hurt in that scenario, there's Shane Greene.
All told, the lefty fodder combination of Nuno and Capuano didn't perform too too badly. They combined to pitch 143.2 innings to a 4.89 ERA, which is essentially what Mike Minor did. Given the unreasonable number of injuries to the staff, they could have done a lot worse.