Via Frankie Piliere of AOL FanHouse, the Yankees are exploring trade options for left field, and one player they may have asked about is Rangers' outfielder Nelson Cruz. Piliere makes it clear that this is an unconfirmed report, so make sure you take it with a big grain of salt. That doesn't mean we can't discuss it, though.
The 29-year-old Cruz was an All Star in 2009, his first full season in the majors. He's got power (33 HR, .264 IsoP in '09) and he can definitely defend in the corners (19.6 UZR in over 2,200 innings in RF), though his on-base skills are meh at best (87 unintentional walks in 1,125 big league plate appearances) and he had a ridiculous home-road split last year. Cruz is a sexy name that'll excite people because he hit lots of homers in 2009, but the price will likely outweigh the production. Unless we're talking a Swisherian type of heist here, I wouldn't bother.
Here's the layout of Cruz's 2009 home runs, all 33 of them, as they would play at Yankee Stadium.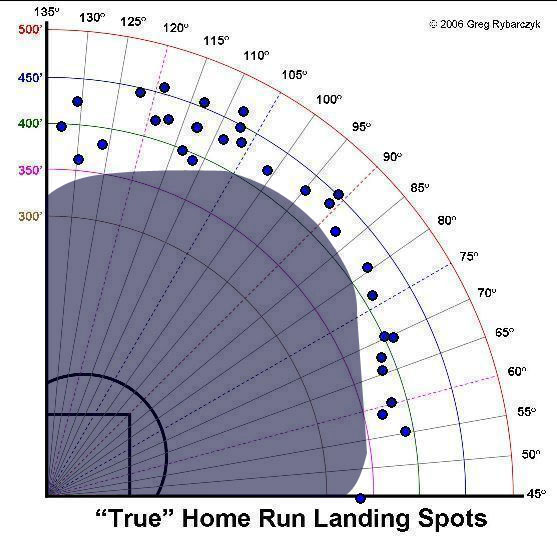 It appears that even had he hit all 33 of those home run balls at Yankee Stadium, they all would have left the yard. Cruz's average standard home run distance of 413.9 feet ranked fourth in the majors, and his 12 no-doubts ranked fifth in the AL.