Late last week we heard that the Yankees had spoken to the Astros about infielder Jeff Keppinger, prompting Joe and I discussed the possibility of expanding a trade to include a starting pitcher in that day's podcast. It was only natural with the Yankees in perpetual pursuit-of-pitching mode, and I figured it was worth exploring in greater detail.
Before we dive in, we have to eliminate some candidates. The Astros just signed Ryan Rowland-Smith so he's not an option, not that he should be anyway. Houston also picked up Aneury Rodriguez and former Yankee farmhand Lance Pendleton in the Rule 5 Draft less than two weeks ago, so it's unlikely either one of those guys will be available. J.A. Happ was one of the centerpieces of this summer's Roy Oswalt trade, and Bud Norris is their version of Phil Hughes, so for all intents and purposes we can cross those two off the list as well. That leaves a pair of veterans, which is really what the Yankees need. An experienced arm that will give them some predicable innings. Let's break 'em down…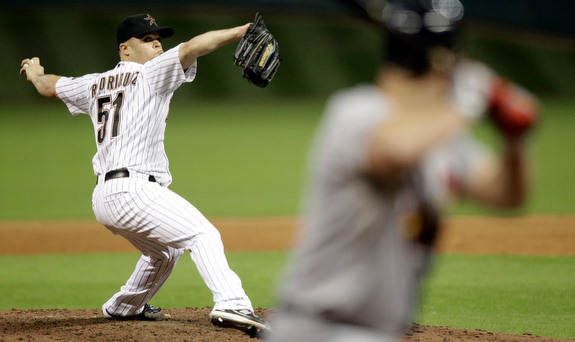 Wandy Rodriguez
After missing close to six weeks with a groin strain early in the 2008 season, Wandy has been one of the games least-heralded great starters. He's pitched to a 3.55 FIP in 538 innings since then, better than guys like Johan Santana, Roy Oswalt, Cole Hamels, Matt Cain, Andy Pettitte, and John Danks, just to name a few. In fact, just a dozen pitchers with that many innings since 2008 can top that FIP.
Wandy's a strikeout artist (8.40 K/9 over those last three years) that doesn't walk many batters (2.93 BB/9) and gets a good amount of grounders (44.8%), so the basics are there. His big breaking curveball has been the second best yakker in baseball over the last two seasons at 23 runs above average, trailing only Adam Wainwright's legendary curve (45.7 runs above average, absurd). He does have a platoon split, but it's not out of control; 4.18 FIP vs. RHB in his career compared to 3.58 vs. LHB. Over the last three seasons, those numbers drop to 3.80 and 2.47, respectively.
The Astros only have Rodriguez under contract for one more season. He'll earn something like $8M in 2011, his final season of arbitration-eligibility. He should easily top the two-year, $21.5M guarantee Jorge De La Rosa received as a free agent when he hits the market next winter, a price that might not jive with Houston's budget during their rebuilding effort. Even if GM Ed Wade decides to hold onto Wandy for now, there's a pretty good chance that he'll become available at some point during the season.
Brett Myers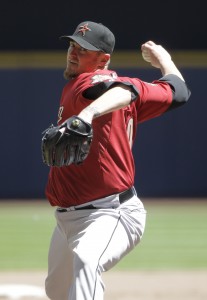 Ever so quietly, Myers was the best free agent signing of the 2009-2010 offseason. After agreeing to a one-year deal that paid him just $3.1M in 2010, Myers pitched to a 3.56 FIP in 223.2 innings for the Astros, racking up 4.0 fWAR. Not only did he make 33 starts, his most since 2005, but Myers also went at least six innings in every single start except his very last one, when he only mustered 5.2 IP. After having surgery to repair a torn labrum in his hip in 2009 and dealing with elbow trouble in 2007, this season was a brilliant rebound for the 30-year-old.
There's really nothing that stands out about Myers. His fastball averages almost exactly 90 mph (I'm guessing he tired late in the year after being hurt in 2009), and he backs it up with a curveball and slider. He has almost no platoon split (3.54 FIP vs. LHB, 3.57 vs. RHB in 2010, 4.24 vs. 4.50 career), a good but not great strikeout rate (7.24 K/9 in 2010, 7.46 career), a good but not great walk rate (2.66 BB/9 in 2010, 3.04 career), and a very solid groundball rate (48.7% in 2010, 47.5% career). The one thing that stands out from last season is his homer rate, which dropped off quite a bit last season and should creep back up next year. That said, Myers is a rock solid starter, capable of 30 or more starts that should be no worse than league average.
Myers was sure to decline his part of an $8M mutual option for 2011 after the season he had, but Wade (who had Myers in Philadelphia) was proactive. He signed the righty to a two-year contract extension with a third year club option worth no less than $23M. Myers would make a lot of sense for the Yankees, but I just can't imagine the Astros would be willing to trade him less than five months after giving him the extension.
* * *
I don't like Myers because he is a wife-beater, so I'm happy that he's the unlikely trade target. Rodriguez simply makes far more sense for the Yankees and their current needs. He's left-handed, can strike people out, and is on a short-term commitment. The Javy Vazquez trade could be a good comp in terms of prospect package required since both guys were coming off strong seasons with just one year left on their deals, so that means an average or worse big leaguer, a lower level pitching prospect, and a fungible relief prospect. Feel free to fill in the blanks, but just know that it won't take Jesus Montero or someone like Manny Banuelos or Dellin Betances to land him. Wandy definitely makes some sense for the Yanks, so I hope they've at least brought up the idea of acquiring him during the Keppinger talks.