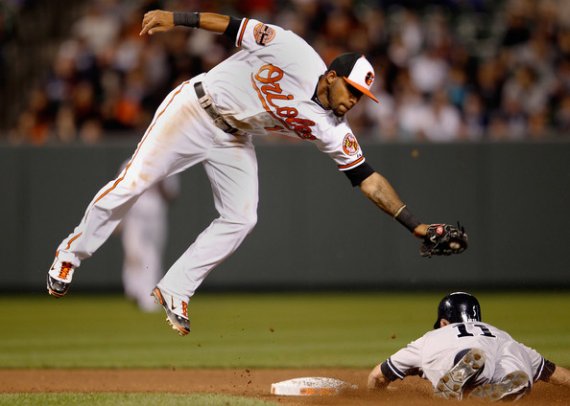 Update: And, of course, something has gone awry. According to Marc Carig Gardner is headed for an MRI. He "felt soreness and had swelling in his elbow." Sigh.
By no means is Brett Gardner a superstar. With his physical skills it's nearly impossible for him to reach that status. Yet he has played an important role for the Yankees in the last two-plus seasons. By providing speed on the base paths and superb defense in a spacious Yankee Stadium left field, he has provided plenty of value. The Yankees stand to improve plenty when he returns to action, presumably tonight.
In the Yankees' 30 games to date they've trotted out six different left fielders. None has been particularly close to Gardner in terms of defensive value, and Raul Ibanez, who has started eight game in left, is on the polar opposite end of the defensive spectrum. Adding Gardner back into that mix will help the Yankees pitchers greatly. There will be no more Ibanez dives, which occur in slow motion even though the ball is moving in real time. That substitution alone will save substantial runs. Even over the other, less terrible defenders, Gardner is worth a few runs every week.
On the offensive side of the ball the Yanks will also benefit with Gardner's return. Yankee left fielders have hit .216/.304/.343; that .647 OPS ranks 21st in baseball. Gardner, for his career, has hit .265/.355/.368. That .723 OPS would rank 11th in the majors. It's hard to believe that Gardner, an atypical left fielder in terms of offensive prowess, would provide the Yankees with an upgrade. Yet that is pretty clearly the case. That doesn't even take into account Gardner's value on the base paths. Last year Yankees' left fielders stole 44 bases, six more than any other team. This year they have just two, which is tied for 14th place.
While Gardner's skill set seems odd for his position, he's not alone as a defensive-minded left fielder with on-base skills and speed. The Rays have a similar player in Desmond Jennings, who, like Gardner, figures to return from injury tonight. For his career, which is quite a bit shorter than Gardner's, Jennings has hit .258/.346/.429. He has a bit more power, but he's not going to win a Silver Slugger any time soon. At the same time, he has plenty of speed; his eight stolen bases to date lead the majors. Also like Gardner, Jennings has the ability to play center field, but is blocked by an incumbent.
Getting Gardner back in the Yankees' lineup will provide many benefits, both the run-scoring and to the defense. It might be difficult to fathom Gardner being such an important piece of the high-powered Yankees' offense. Yet his speed and on-base skills provide plenty of value. At the same time, his defense in left is perhaps best in the league. His ability to run down difficult fly balls saves outs, which saves pitchers some labor. Given his fill-ins, we should all be glad to see No. 11 once again penciled into the lineup.
Update by Mike: Just as a heads up, Gardner is not listed as an available player on tonight's lineup card, indicating that he has not been activated off the DL just yet. He did not play for Triple-A Empire State this afternoon and the team could still make a move before first pitch.