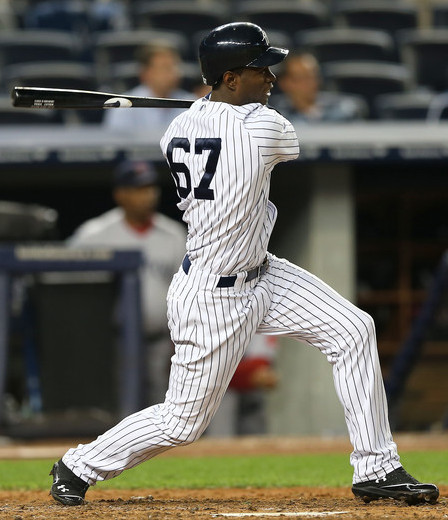 The Yankees have a full 40-man roster at the moment, and you'll notice they're carrying a lot of prospects who either qualify as fringy or are unlikely to contribute in 2013. Corban Joseph, Zoilo Almonte, and Francisco Rondon make up the former category while Jose Ramirez, Ramon Flores, and Nik Turley headline the latter. In the middle somewhere is outfielder Melky Mesa, who made his big league debut with New York as a September call-up this past season.
Mesa, 26 next month, is actually one of the longest-tenured players in the organization. The Yankees originally signed him as a 16-year-old way back in 2003, so his climb up the minor league ladder has been rather deliberate. Mesa broke out in 2010, when he won the High-A Florida State League MVP award by hitting .260/.338/.475 (133 wRC+) with 19 homers and 33 steals. He produced a .264/.325/.480 (~122 wRC+) batting line with 23 homers and 22 steals in 504 plate appearances split between Double-A and Triple-A this summer before the cup o' coffee.
The scouting report on Mesa is exciting, as he's a tooled up center fielder who could put together a Yoenis Cespedes-esque workout video that would make fans drool. He's got right-handed power, speed, a cannon arm, strong defense, durability … he just struggles to make contact. His career strikeout rate in the minors is a whopping 27.7%, and it's 26.0% since his 2010 breakout. To his credit, he did cut that down to 23.4% in 2012. Contact is the most important of the five traditional tools, and it's the one Mesa lacks.
The Yankees are currently seeking a right-handed hitter to pair with their all-left-handed hitting starting outfield, and Mesa is their only realistic internal option for the position. He's only hit .216/.285/.357 (29. K%) against southpaws over the last two seasons (.271/.343/.465 and 25.6% against righties), but the sample is only 249 plate appearances. We should hardly take that as definitive proof he's unable to hit lefties, but it's not encouraging, especially when you're talking about a team in hopes of contending. Still, the speed and outfield defense would be assets off the bench. The Yankees just need a little more offensive punch than Mesa could likely provide at this point.
Barring something unexpected, Mesa will begin the season in Triple-A, where he only has 133 career plate appearances. He's obviously older that your typical prospect, but there's enough tools here to remain interesting despite the lack of contact skills. Mesa's a guy you dream on, which is something New York has been doing since they added him to the 40-man roster after the 2010 season to prevent him from becoming a minor league free agent. He only has one more option left, meaning he can go back to the minors in 2013 (but not 2014) without having to pass through waivers, so next season is his final chance to work things out in the minors before a decision has to be made about his long-term future in the organization.