Only three questions this week, but they're good ones. Use the Submit A Tip box in the sidebar to send us anything throughout the week, mailbag questions or otherwise.

Many people asked: What happens with regards to the luxury tax if Alex Rodriguez retires or his contract is voided or he agrees to a buyout?
The answer to all three of those situations is: I have no idea. I imagine the Yankees would be off the hook completely if he voluntarily retired (which he would never do) or they were able to void the contract (which is extremely unlikely). Even if doctors said A-Rod was physically unable to play, he still wouldn't retire. He'd just force the team to stick him on the 60-day DL every year and keep collecting his money, like Albert Belle did with the Orioles back in the day. That's what I would do. The Yankees would collect insurance money in that case, but I don't think it would prevent his salary from counting against the luxury tax. I don't know that for sure though.
Until we have definitive word otherwise, I assume Alex and his entire $27.5M luxury tax hit will be on the books for the next five years. If they manage to work something out that changes his luxury tax hit, great. I'm not counting on it.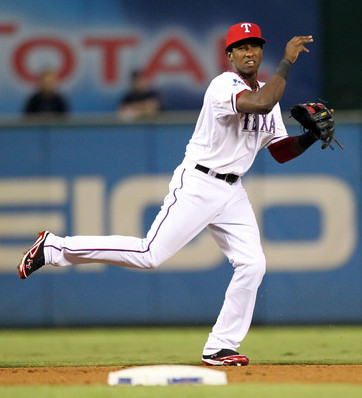 Anonymous asks: Hypothetical situation: if the Yankees had Jurickson Profar and you were the GM, would you hold him back in the minors, move Derek Jeter to a new position (or DH), or maybe something else entirely? This is obviously not a problem for the Yankees now, but it's fun to play what-if.
Profar, 20 next month, is the best prospect in all of baseball. He hit .281/.368/.452 (127 wRC+) with 14 homers and 16 steals in 126 Double-A games last year, then made his big league debut in September. He's truly elite, a great-defending shortstop who hits for average and power and can run. Profar is Hanley Ramirez — the good version with the Marlins from back in the day — with better defense.
If he was Yankees property and I was calling the shots, I'm pretty sure I would send Profar to Triple-A to begin 2013. It would be incredibly tempting to run him out there everyday if Jeter's ankle kept him on the shelf early in the season, however. Profar would be the obvious long-term solution at shortstop once the Cap'n retires, and I would try to push Jeter to third base or DH in 2014 (assuming he exercises his player option) to make it happen.
Daniel asks: Any chance of acquiring J.J. Hardy from Baltimore? I can see them sticking with him this year, but would they really block Machado two straight years? I don't think so and Hardy supposedly only plays shortstop.
Hardy, 30, hit .238/.282/.389 (78 wRC+) last season after putting together a .269/.310/.491 (113 wRC+) line with 30 homers a year ago. Given the dearth of quality shortstops, I totally would have traded Hardy this winter and handed Machado the shortstop job if I was the Orioles. Instead, Machado will play third base in 2013.
Baltimore owes Hardy $7M in both 2013 and 2014, so he's very reasonably priced given his great defense and power production. He'd be a great fit for the Yankees if the ankle forces Jeter off shortstop full-time, but I have a very hard time seeing the Bombers and Orioles getting together for a trade. Especially if the O's prove last year was no fluke and remain competitive. Hardy is too expensive to be a utility man and too good defensively to DH, but he'd be a great Jeter replacement.