Five questions and five answers this week. Use the Submit A Tip box in the sidebar to send up anything at any time, mailbag questions or otherwise.

John asks: Hypothetically speaking (how else would we speak when speculating about the offseason?), if Robinson Cano were to get say $29M per year for nine years from the Dodgers, could the Yankees sign Brian McCann, Stephen Drew and Omar Infante for $29M combined? And, if so, might that be a better strategy for 2014 and beyond?
I don't see how they could get those three for only $29M total. McCann is looking at Yadier Molina money on the open market ($15M annually) while neither Drew ($9.5M) nor Infante ($4M) have a reason to take a pay cut following their strong seasons. I think the best case scenario is something like $35M total, broken down into $15M (McCann) plus $12M (Drew) plus $8M (Infante). I'm probably underselling Drew and Infante given the dearth of quality middle infielders. It might be closer to $40M total than $35M when it's all said and done.
If the Yankees can't re-sign Cano — I would be stunned if they didn't at this point — then spreading the wealth around is pretty much the only thing they can do. There's no other superstar available this winter who is worth a nine-figure commitment. (Maybe Shin-Soo Choo. Maybe.) McCann plus Drew plus Infante would be a real good start, bhe Yankees need more pitching and outfield help though. This team isn't one or two players away from getting back into contention. This roster has an awful lot holes.
Chris asks: Would you be in favor of reducing the time between signing and free agency? Teams today are forced to decide between players hitting their free agency years around age 28-30. Small market teams won't pay for players past 30 and subsequently lose their players while big market teams continuously pay and pay. It hurts everyone. Isn't the answer to make players free agents earlier? Cano would be worth millions and millions more if he was two or three years younger.
Oh yeah, absolutely. I am decidedly pro player when it comes to this stuff. Let them become free agents as soon as possible. Teams would never agree to it and, frankly, small market clubs would have no chance to contend if they didn't get to control their young players for what is usually the most productive years of their career. If they knocked it down to five or even four years of team control before free agency, clubs like the Rays and Athletics would have no chance to contend. It would be a franchise killer. Baseball's salary system is screwed up in that players earn the most when they're on the decline, but it is what it is. The six years of team control are a necessarily evil.
Karl asks: How much amateur money is at stake over the possible variation in the final standings? Any chance a post-qualifying offer Hiroki Kuroda signs with the Dodgers to chase a ring and gets the Yankees a comp pick?
I'll answer the second part first: yes I could definitely see Kuroda signing elsewhere in hope of winning a ring. The Dodgers are an obvious destination but the Tigers, Rangers, Nationals, and Cardinals could also be fits. Despite his ugly finish to the season, I'd have no trouble making Kuroda a $14M qualifying offer. It's a no-brainer in my book.
As for the standings, the Yankees could finish with anything from the 12th through 16th best record in baseball. The Blue Jays have a compensation pick early in the first round, so that would give them the 16th through 21st overall pick. Right now they have the 17th overall pick and the only way they can move up to 16th is if they get swept by the Astros while the Diamondbacks sweep the Nationals this weekend. That's the only possible way to move up at this point.
Based on last season's slot values, that's the difference between the 16th ($2.3M) and 21st ($1.97M) picks is kinda small. Nice chunk of change but not a game-changing amount. The 17th overall pick was slotted for $2.16M, but the values are expected to increase next summer. Based on historical data and all that, the difference in expected future value of the 16th pick and the 21st (or 25th or 30th, for that matter) pick is negligible. That's all theoretical though, anything can happen in one given year. Obviously you'd like the higher pick.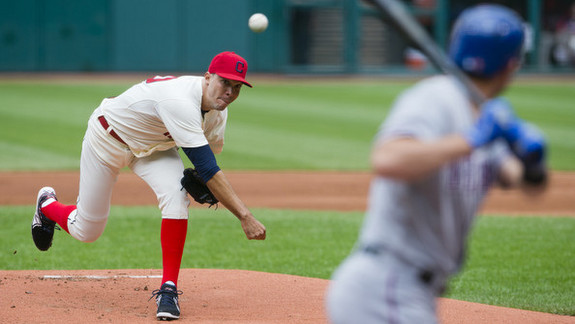 Christopher asks: Would you be interested in the newly back on track Ubaldo Jimenez at around $13M? I think there's great value there and he could be the steal that helps the Yankees get back on track.
Once upon a time I was in favor of trading Jesus Montero for Jimenez, and for a while there it looked like the Yankees dodged a serious bullet. Obviously that seems silly now because Michael Pineda still hasn't thrown a single pitch for the team in the 20 months (!) since the trade. Seriously, he's missed two years (and counting) with that shoulder injury. What a disaster.
Anyway, this is purely hypothetical because there is an $8M club option in Ubaldo's contract for next season and the Indians will surely pick that up. The 29-year-old has a 3.38 ERA and 3.57 FIP in 176 innings this season but he's been even better in the second half: 1.86 ERA and 2.39 FIP in 77.1 innings. Jimenez has been a big reason why the Tribe jumped over the Rangers in the wildcard race.
Update!: Turns out Jimenez's club option became a mutual option after the trade. He'll surely decline his half and become a free agent.
Now, as good as the second half has been, we have to remember Ubaldo was really bad just last season. Heck, he had a 4.56 ERA and 4.49 FIP in 98.2 innings of the first half this year. Last year it was a 5.40 ERA and 5.06 FIP in 176.2 innings. Jimenez would be worth a much deeper look if he was indeed going to be free agent — did he actually change anything? — but I'd be very skeptical about giving him $13M a year based on a good half-season. High reward but super duper high risk.
Donny asks: Since we might not actually get to see this come to fruition, I figured I would ask: What do you think the playoff roster might/should look like?

I've been saving this question for like, three weeks now. I didn't want to answer it while the team still had a shot at the postseason because I figured there might be serious playoff roster talk at some point. Now that they've been eliminated, let's have at it. Based on who is actually healthy and available right now, here's the 25-man roster I would take into the wildcard play-in game/ALDS:
| Catchers | Infielders | Outfielders | Rotation | Bullpen |
| --- | --- | --- | --- | --- |
| Chris Stewart | Robinson Cano | Curtis Granderson | CC Sabathia | Mariano Rivera |
| J.R. Murphy | Lyle Overbay | Ichiro Suzuki | Hiroki Kuroda | David Robertson |
| | Eduardo Nunez | Alfonso Soriano | Andy Pettitte | Boone Logan |
| | Mark Reynolds | Zoilo Almonte | Ivan Nova | Shawn Kelley |
| Designated Hitter | David Adams | Vernon Wells | Phil Hughes | David Phelps |
| Alex Rodriguez | | | | Adam Warren |
| Travis Hafner | | | | David Huff |
The opponent would dictate the bullpen to a certain degree. If the Yankees drew an opponent with a right-handed heavy lineup, I would probably take Phil Hughes Preston Claiborne over Huff. In this general case I'd take the second lefty.
The Yankees have an alarming shortage of useful position players. Brendan Ryan is not eligible for the postseason roster because he wasn't in the organization on August 31st, so Nunez is the starting shortstop by default. That leaves Adams or Reynolds as the everyday third baseman if A-Rod's various leg injuries don't heal up in time. Hafner is pretty useless, but I'd rather have the extra bench bat than the 12th pitcher. I'd trim the staff down to ten pitchers if there was another position player worth taking. That … is not an inspiring roster. Geez.