The Yankees lost ace Masahiro Tanaka for at least two weeks yesterday thanks to what is being called elbow inflammation. He still has to be looked at by team doctor Dr. Ahmad before a final diagnosis is made. Either way, the team was dealt a serious pitching blow that exposes just how little pitching depth they have at the moment, even after acquiring the adequate Brandon McCarthy.
Both the Diamondbacks and Cubs have already started selling off players in advance of the trade deadline. It's only a matter of time before more non-contenders follow suit, including the truly awful Padres. They come into today with baseball's eighth worst record (40-51) and are on pace to have the lowest team on-base percentage (.276!) since the 1910 White Sox (.275). You think the Yankees' offense is frustrating? Imagine watching that night after night.
Anyway, the Padres are in a weird place right now because they don't have a GM. Josh Byrnes was fired two weeks ago and they've been relying on front office staffer and  former Mets GM Omar Minaya to make personnel decisions (along with some others) for the time being. Will he be allowed to make trades in advance of the deadline, or do they want to wait for the new GM to make those moves? Either way, they have some players who could interest the somehow still in contention Yankees. Here are the pitchers. We'll look at the position players in the coming days.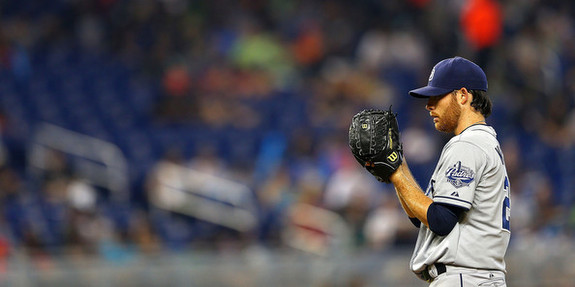 RHP Ian Kennedy
Kennedy, now 29, is having his best season since his surprise 21-win campaign for the Diamondbacks back in 2011. He has a 3.71 ERA (2.93 FIP) in 19 starts and 116.1 innings thanks to career-best strikeout (9.67 K/9 and 26.0 K%) and ground ball (41.9%) rates. Kennedy has never really walked anyone (2.32 BB/9 and 6.2 BB%) and spacious Petco Park has helped him keep the ball in the park (0.77 HR/9 and 8.5 HR/FB%) more than ever before.
Between that 2011 season and this year, IPK had a 4.43 ERA (4.30 FIP) in 389.2 innings from 2012-13, so he's sandwiched two very strong seasons around two very mediocre ones. Kennedy is what he is — a mid-rotation workhorse (180+ innings every year from 2010-13) who can be homer prone (career 1.06 HR/9 and 8.5 HR/FB%) because of his fly ball heavy style (38.1%). Fly balls aren't a bad thing, mind you, they are high percentage outs, but they do go over the fence from time to time. Here is the PitchFX breakdown of Kennedy's arsenal:
| | Four-Seam | Sinker | Cutter | Curveball | Changeup |
| --- | --- | --- | --- | --- | --- |
| Avg. Velocity | 92.7 | 93.0 | 85.6 | 78.5 | 84.1 |
| % Thrown | 59.4% | 1.1% | 6.8% | 17.9% | 14.5% |
| Whiff+ | 131 | 137 | 144 | 76 | 122 |
| GB+ | 87 | 40 | 95 | 136 | 90 |
Kennedy does not have a single pitch that rates as above-average at getting both swings and misses and ground balls. (Whiff+ and GB+ are like ERA+, only for the individual pitch's swing and miss and ground ball rates, respectively.) He's basically a three-pitch pitcher who mixes in some show-me cutters and sinkers per start, which is fine because he has a breaking ball for same-side hitters and a changeup for opposite handers.
Kennedy is owed about $3M through the end of the season and he will remain under team control as an arbitration-eligible player next year as well, so he wouldn't be just a rental. The Padres did an excellent job buying low on the right-hander last year — he cost them a big league lefty specialist (Joe Thatcher) and Double-A bullpen prospect (Mike Stites), that's it — and I doubt he will come that cheap this summer. With Jeff Samardzija and Jason Hammel now in Oakland, Kennedy might be the second best realistically available pitcher at the deadline behind David Price.
Other pitchers who were dealt a year and a half prior to free agency in recent years include Edwin Jackson (D'Backs to White Sox) and Dan Haren (D'Backs to Angels). Jackson cost Chicago two good but not great pitching prospects (David Holmberg and Daniel Hudson) while Haren fetched a four-player package that included big leaguer Joe Saunders and two top pitching prospects (Tyler Skaggs and Patrick Corbin). Kennedy is much more Jackson than Haren to me. Not even close. Remember, 2010 Haren was pretty awesome.
It's worth noting that, obviously, the Yankees know Kennedy well from his time in the organization. He's had a reputation for being a bit of a jerk and a hot head, most notably throwing at Zack Greinke's head during a game last season. That sparked a benches clearing brawl. (Kennedy led the baseball with 14 hit batsmen in 2012.) The Yankees value makeup and high-character players and all that. I wonder if it'll be a dealbreaker if and when Kennedy becomes available based on what they know.
RHP Tyson Ross
The Athletics are the best team in baseball and GM Billy Beane built that team by trading all of his young players, including Ross. The 27-year-old righty cost the Padres nothing but two Quad-A guys (Andy Parrino and Andrew Warner) two winters ago, and last season he gave the club 125 innings of 3.17 ERA (3.20 FIP) ball.
Ross has pitched to a 2.93 ERA (3.37 FIP) in 122.2 innings so far this year to earn a well-deserved spot in the All-Star Game. His strikeout (8.58 K/9 and 23.1 K%), walk (3.08 BB/9 and 8.3 BB%), and ground ball (58.1%) rates are almost identical to last season. It's kinda freaky (23.6 K%, 8.7 BB%, 54.9 GB%). The only significant difference is the long ball — Ross has allowed 0.73 HR/9 (12.8 HR/FB%) this year after managing a 0.58 HR/9 (8.2 HR/FB%) in 2013. Here is the pitch breakdown:
| | Four-Seam | Sinker | Slider | Changeup |
| --- | --- | --- | --- | --- |
| Avg. Velocity | 94.4 | 93.4 | 86.9 | 86.7 |
| % Thrown | 22.6% | 34.7% | 37.6% | 5.0% |
| Whiff+ | 89 | 104 | 157 | 89 |
| GB+ | 110 | 141 | 120 | 126 |
The changeup is basically a show-me pitch. Ross uses the sinker to get grounders and the slider to get swings and misses. As you might expect given the general lack of a changeup, lefties (.319 wOBA) have hit him harder than righties (.297 wOBA) over the years. Not many pure fastball/slider guys succeed as starters, but Ross is making it work. (Bud Norris, Garrett Richards, and Chris Archer are some others with a fastball/slider/no changeup repertoire.)
The Padres deserve a lot of credit for stealing Ross from Oakland. He will earn $1.98M total this season, his first of four arbitration years as a Super Two. That means he will remain under team control for another three years and not qualify for free agency until after the 2017 season. Ross would be furthest thing from a rental and that means the price will be rather high. Doug Fister was traded from the Mariners to the Tigers at a similar point in his career, and, as I detailed in our Scouting The Trade Market: D'Backs Pitchers post, Detroit gave up two top prospects and two pieces off their MLB roster to get him. Acquiring Ross would help both the 2014 Yankees as well as the 2015-17 Yankees.
RHP Joaquin Benoit & RHP Huston Street
Very quietly, San Diego has one of the most dominant setup man/closer tandems in baseball. Benoit has a 1.91 ERA (2.42 FIP) with a 30.9% strikeout rate and a 5.0% walk rate in 37.2 innings this season while Street has a 1.13 ERA (2.93 FIP) in 32 innings. He has a 28.0% strikeout rate and a 5.9% walk rate. They aren't quite Dellin Betances and David Robertson, but they're not far off either.
Bob Nightengale says the Padres have let teams know Benoit is available, and I assume Street would be as well. The last thing a bad team needs is a high-priced closer with an injury history on the wrong side of 30. Benoit is under contract for next season ($8M) with a club option for 2016 ($8M) while Street has an 2015 club option worth $7M. The Yankees could certainly use another shutdown reliever (what team couldn't?) and both guys would give them some protection for next season in case Robertson bolts as a free agent.
* * *
Righty Andrew Cashner would also make sense as a trade target because he is both really good (2.86 ERA and 3.19 FIP from 2013-14) and under team control as an arbitration-eligible player through next year, but he is currently on the disabled list with a shoulder injury. It's his second shoulder-related DL stint of the season and he has a lengthy injury history too. It seems like every pitcher to come out of TCU has arm problems. TCU is the new Rice.
Anyway, I'm not sure the Padres would be willing to deal Cashner right now for anything less than a knockout return, otherwise they'd be trading away their most valuable asset for less than full value. They're better off holding onto him, letting him finish the year healthy, then shopping him either over the winter or at next year's trade deadline. Kennedy figures to be very much available though, ditto Benoit and Street, but Ross is someone a team would have to pay a handsome price to acquire. The Padres have little reason to move him.