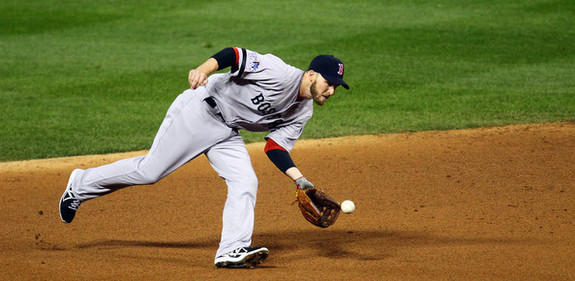 For the first time since the Mike Stanley trade in 1997, the Yankees and Red Sox have hooked up for a trade. The Yankees have acquired Stephen Drew and $500k from their division rivals in exchange for Kelly Johnson, the team announced. Brian Cashman told reporters Drew will take over as the team's everyday second baseman.
Drew, 31, has hit a weak .176/.255/.328 (56 wRC+) with four homers in 145 plate appearances this year after signing at midseason. He has been much better of late, hitting .237/.341/.474 (126 wRC+) with two homers since the All-Star break. After the long layoff and the lack of a proper Spring Training, it took Drew a little while to get going with the bat. He is a dead pull left-handed hitter who might be able to take advantage of Yankee Stadium's short right field porch.
The Yankees had interest in Drew in each of the last two offseasons, though he declined to sign with them because of questions about how much he'd play as well as his position with Derek Jeter entrenched at short. Drew has never played a position other than shortstop — literally zero innings somewhere other than short (and DH) at both the big league and minor league level — so the second base experiment might be messy. He could always see time at short whenever Jeter needs a day off, of course.
Johnson, 32, is currently on the disabled list with a groin injury. He hit .219/.304/.373 (88 wRC+) with six homers in 227 plate appearances this season while playing mostly first and third bases. The Yankees signed him to be at least a platoon player at the hot corner, but Yangervis Solarte's season-opening hot streak and Mark Teixeira's injuries forced Johnson to spend a lot of time first base. The signing made perfect sense on paper but it just didn't work out.
Like Johnson, Drew will be a free agent after the season, so this is a swap of rental players and the rearranging of some furniture. Drew is a very good defender at short but we have no idea how he will fare at second base. Brian Roberts, who was designated for assignment today, was giving the team neither offense nor defense in recent weeks, so it won't take much for Drew to be an upgrade. As he did with his other trades this month, Cashman grabbed a potential upgrade at minimal cost. Hard to complain about that.