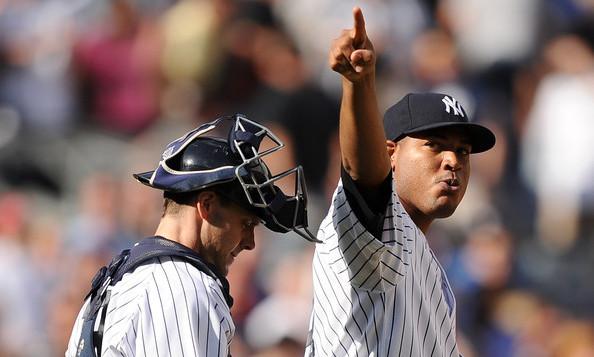 It's often said pitchers coming back from Tommy John surgery are vulnerable to erratic performances as they regain arm strength and command of their pitches. When you combine that thinking with the notion that Ivan Nova's career has largely been defined by periods of brilliance mixed in with extended stretches of mediocrity, it was probably inevitable that Nova was not going to be a model of reliability when he rejoined the pitching staff in late June.
Nova flashed signs of being that near-dominant pitcher in his season debut when he fired 6 2/3 scoreless innings against the Phillies, but two starts later was perhaps at his worst this season when he gave up four runs and had just one strikeout versus the Rays. And most recently against the Indians last week he put together another uninspiring start, allowing three runs before being pulled after five innings of work.
To his credit, Nova acknowledged that he's had his ups and downs this season. "You're going to have days like this," Nova told the Associated Press after his dud on August 20. "Not going to feel perfect every time you go out there."
Despite battling through bouts of inconsistency and posting a 3.72 ERA that is just barely above league-average (and a below-average 4.12 FIP), there are still a bunch of encouraging signs from Nova's first 10 starts. Digging deeper into his numbers, there is a hint of optimism that he can be a viable starter for the Yankees as they battle for a playoff spot and the division crown in the final six weeks.
***************************
The first thing you typically look for in a pitcher trying to come back from Tommy John surgery is changes in velocity and throwing mechanics. Nova passes that test with flying colors, as his velocity is on par with previous seasons and the release points on his pitches are unchanged. He's averaging 93.3 mph on his four-seamer and sinker, nearly the same as his rookie season (93.4) in 2011 and his last healthy season (93.9) in 2013.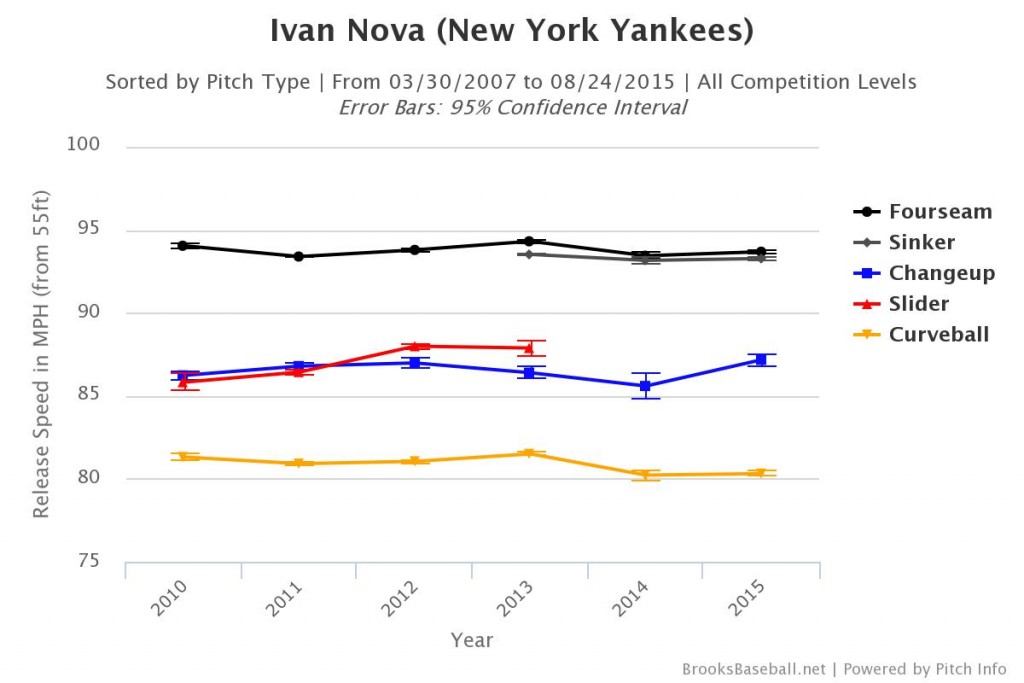 His signature curveball has also been really sharp, with a top-20 whiff rate (37 percent) and top-10 marks in both batting average against (.143) and slugging (.196). Maikel Franco is one of the top rookies in the NL this season, but he had no chance on this two-strike hook from Nova back on June 24: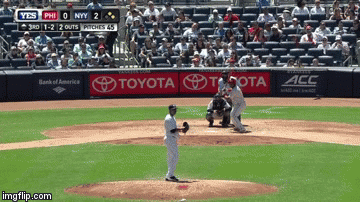 Pitchers returning from Tommy John surgery often struggle with their control but that hasn't been the case with Nova. His walk rate of 7.5 percent this season is identical to what he did from 2011-13 (7.7 percent), and although he's throwing pitches out of the strike zone at a career-high rate of 58 percent, he's also locating pitches in the heart of the zone at the lowest rate of his career (18 percent). It seems like he is still trying to get comfortable pitching on the edges of the zone, but he's done a good job of avoiding mistakes and grooved pitches right down the middle.
Another good omen for Nova is that he's back to being a ground ball machine, with a ground ball rate of 52.5 percent that almost matches his 2013 mark. His hard-contact and soft-contact rates are also his best since 2011, and he's generating popups at a rate that is nearly double his previous career best.

Despite those positive trends, one concern is that Nova's strikeout rate is below his peak 2012-13 levels, and he seemingly hasn't yet regained the feel for his four-seam fastball this season. Opponents are hitting .309 and slugging .546 in at-bats ending in his heater, and have whiffed on just seven percent of their swings against it.
Perhaps realizing its ineffectiveness, Nova has ditched his four-seam fastball recently in favor of the much more effective sinker that ranks fifth among starting pitchers in ground ball rate (68 percent).
The fact Nova has been able to make these adjustments mid-season is an excellent indicator that he's evolving as a pitcher and getting closer to reaching his potential.
Another sign of his maturity is the way that he's been able to get out of jams and pitch under pressure this season. Batters have a .151/.230/.236 line against him with runners in scoring position and he's stranded nearly three-quarters of his baserunners so far.
Although Nova is far from a finished product and is still clearly trying to find his pitching rhythm post-surgery, he's shown a lot of promise in his first 10 starts this season. He's keeping the ball on the ground with his sinker, mixing in a nasty curveball when ahead in the count, and pitching with confidence and poise from the stretch.
There's still one hurdle, however, that Nova has yet to overcome: the inconsistency that has defined not just this season, but his entire career. Sure, he can't shed that label in single game. But a strong performance tonight against the Astros would not only be an encouraging sign of progress in Nova's return from Tommy John surgery, but also a key step forward in his long-term development from a talented yet unpredictable pitcher into a reliable top-of-the-rotation starter.